10 camping safety tips to keep outdoor hazards at bay
Our 10 camping safety tips and tricks help protect you from weather, wildlife, burns, bites and trips to make sure you stay a happy camper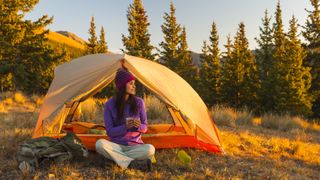 (Image credit: Michael DeYoung)
The rewards of camping range from communing more deeply with the natural world to feasting on tasty meals around the campfire, but having an overnight under the stars also carries some risks. Camping itself isn't especially dangerous, but practising camping safety does help protect you from weather, wildlife, trips and stings so you can keep enjoying the outdoors.
What are the risks of going camping?
Most of the risks involved with going camping are weather and terrain related, with some wildlife encounters and then the possibility of hazards like burns, falls, bites and tummy troubles. These particular risk factors are elevated when you're camping, but remember that when you're at home, you're surrounded by sharp objects, machinery and electrical items, all of which are hazards in their own right. Knowing the risks of going camping shouldn't deter you from packing up your tent and best sleeping bag; rather, they can help you prepare so you can have the most fun with the least amount of setbacks.
How do you stay safe while camping?
For injury-free camping, follow our ten tips and tricks for camping safety:
1. Check the weather
Before you go camping, check the weather forecast in the area where you're going. We're not saying that only dry, clear days are suitable for camping, but there are risks that come with camping in extreme cold, heat, rain and snow that you'll want to come prepared for, whether that means warmer clothes, more sun protection or camping up higher to avoid flooding.
2. Choose your campsite wisely
When you arrive at your campsite, you don't want to just throw your tent down any old place. Avoid pitching your tent near a road and under trees, to reduce your risk of being injured by passing vehicles, falling branches or trees. Don't set up too close to bodies of water either, since there is always the potential for flash flooding in these areas, and if you're desert camping, avoid dry creek beds for this same reason. Learn more in our article on how to pitch a tent.
Though there's no reason not to camp at high altitude, be aware that even on a warm summer's day, the night time temperatures will be much lower up high so you'll want a multi season sleeping bag and warm layers for night time.
3. Practise campfire safety
Campfires are hands down the best part of camping, but they require supervision and management at all times. You can read more in our article on campfire safety, but suffice to say you should never leave a campfire unattended, especially if you have children and pets with you. Don't throw combustible materials into the fire and make sure to extinguish it properly before bed so you don't start a wildfire.
4. Take care with your stove
Cooking on a camping stove is much safer than over a campfire for lots of reasons, but it's not without risk. Camping stoves can leak gas and topple over in the breeze, so read our article on how to use your camping stove safely, and make sure you never operate it inside your tent or leave the gas canister too close to your campfire.
5. Bring adequate illumination
Once the sun sets, gathering around the campfire in the shadows to share stories and drinks is truly enchanting, but the darkness also increases the risk of tripping over tent pegs and rocks which becomes even more dangerous when there's a fire nearby. Pack a headlamp for when you're moving around and consider bringing some camping lanterns to light the area as well.
6. Purify your water
If you're wild camping and can't carry in enough water for your entire trip, you'll need to make sure you know how to find good water sources and carry a water purifier to avoid any parasites and tummy trouble. Remember you can always boil water to make it safe for drinking in a pinch.
7. Watch out for wildlife
When you're camping, you're a guest in the house of the local wildlife and it is of the utmost importance that you don't bring any harm. Where you are will determine what kind of critters you might have to contend with, but for example you may want to know what to do if a snake slithers in to camp or how to check your gear for scorpions. In bear country, you'll have to know how to use a bear canister or how to hang a bear bag to keep your food from drawing any unwanted visitors. Don't feed any wildlife, since this makes them more bold when it comes to human interactions which can endanger everyone involved.
8. Know your plants
While wildlife encounters are actually pretty rare, there are plenty of plants out in the wild and not all of them are as innocuous as they look. Make sure you know how to recognize poison ivy and what to do if you have a brush with this painful plant. Meanwhile, if you've jumped on the foraging train these last few years, you'll want to be very careful when it comes to consuming mushrooms and berries in the wild.
9. Prepare for bug bites
Yes, insects are an unavoidable part of camping, but that doesn't mean you should just plan on being a bug buffet. Bites and stings aren't just annoying; they can get infected, and mosquitos and ticks can both carry nasty diseases so make sure you know how to avoid mosquitos and how to remove a tick if you find one burrowing in to minimize your risks.
10. Pack a first aid kit
You should always carry a proper first aid kit when you're camping. Your chances of stings, burns, bumps and bites are going to be increased and you're also going to be further away from being able to receive medical assistance. Make sure you've got everything you need to sterilize and cover wounds and relieve inflammation and pain in addition to any personal medications you need.
All the latest inspiration, tips and guides to help you plan your next Advnture!
Julia Clarke is a staff writer for Advnture.com and the author of the book Restorative Yoga for Beginners. She loves to explore mountains on foot, bike, skis and belay and then recover on the the yoga mat. Julia graduated with a degree in journalism in 2004 and spent eight years working as a radio presenter in Kansas City, Vermont, Boston and New York City before discovering the joys of the Rocky Mountains. She then detoured west to Colorado and enjoyed 11 years teaching yoga in Vail before returning to her hometown of Glasgow, Scotland in 2020 to focus on family and writing.