Are enamel mugs good for camping?
Enamel camping mugs are an iconic piece of camping gear, but do they stand up to the test of time?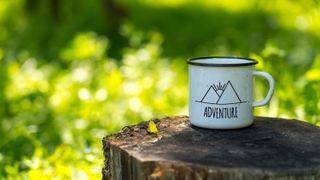 (Image credit: masterSergeant)
For a lot of us, pitching a tent in the woods and huddling around the campfire late into the night is a true exercise in nostalgia, reminding us of summers spent at camp and on family holidays in National Parks before they got crazy busy. Sure, our camping tents back then took an age to pitch and always sagged in the middle and our bodies ached from sleeping on thin foam mats instead of the plush inflatable sleeping pads of today, but we were happy.
Those of us that feel especially romantic about the camping adventures of yore might be tempted to relive some of those early, sepia-tinted memories. Perhaps you cook your camping meals in a Dutch oven instead of over a lightweight camping stove or keep using your flannel sleeping bag instead of upgrading to a compressible down sleeping bag. But when it comes time to gather round the fire and sip on hot chocolate with marshmallows, do you embrace the modern trend of lightweight camping mugs and clutch a featherlight, collapsible Stojo that can tuck away neatly in your backpack? Enjoy the reassuring weight of a meaty beverage tote like the Yeti Rambler 14oz mug which keeps your drinks both hot and cold? Or do you prefer the traditional familiarity of a good old fashioned enamel camping mug?
Enamel camping mugs are an iconic piece of camping gear. Their design is simple – a steel mug with a practical handle that's been sprayed or dipped in powdered glass then fired at a high heat to secure a hard, smooth glaze. They can come in any color or design, but the most classic look is white with a dark blue rim. In fact, even if you didn't realize it was enamel, if you look in your kitchen cupboard right now you probably have at least one, and if you don't, loads of great companies are still churning them out today, like the Coleman 12 Ounce Enamelware Coffee Mug and Mountain Summit Gear Enamel Mug.
They're definitely old school, so do these retro camping mugs have a place amongst your camping gear, or should you retire yours to the kitchen and upgrade to a sleek, modern vessel made of stainless steel, titanium or silicone? In this article, we take a look at the pros and cons of enamel camping mugs to see if they're actually any good for camping, or whether you should send yours down the river with your leather water canteen and safari hat.
Pros of enamel mugs for camping
1. Durable
Truly the main argument for using any type of enamel kitchenware for any type of activity is that it lasts a lifetime, and then some. If you root around in your kitchen, the chances are that you have a beautiful old enamel pie dish that you inherited from your great auntie Elsie that's a hundred years old and looks as good as new.
Enamel cookware is made by fusing powdered glass onto steel in an 800-degree kiln, which makes it nearly bombproof and means it won't rust. That means if your camping mug tends to get dropped, kicked and clumsily tossed into a disorganized camping bin between trips, you don't have to worry about it getting scratched, breaking down over time the way plasticware does, or shattering.
2. Eco-friendly
Because enamel is so long lasting, it's highly unlikely you'll need to replace it in your lifetime. That not only saves you money, it means less plastic in the landfills and fewer mugs getting made in the first place. Of course, the same goes for stainless steel mugs, but if you're looking for an environmentally friendly option that doesn't have any coating that sheds into our water systems, enamel is a good option.
3. No unwanted taste or odor
A common complaint with plastic camping mugs is that the materials retain the taste of whatever you put in them, so once a camping mug has had a coffee in it, it will always taste of coffee. My boyfriend and I have two insulated plastic mugs which we recently took with us on a road trip. His happened to taste of coffee even though both were filled with tea, and he hates coffee, which made for a grumpy driver.
Flavors and smells don't cling to enamel, so you can even eat some spaghetti out of your camping mug in the evening, wash it out, and drink coffee out of it the next morning without wrinkling your nose.
4. Easy to clean and care for
Unlike some of the more technical double walled vacuum sealed camping mugs, an enamel camping mug can just be thrown in the dishwasher to clean it, which is always a bonus.
5. Lightweight
Though glass fused to steel might not sound like it would be particularly lightweight, enamel camping mugs are actually among the lighter on the market, beat out only by titanium mugs. At just 3.5 ounces, I actually often just attach my enamel camping mug from Fjällräven to a loop on my backpack using a carabiner.
6. Not insulated
Enamel is a conductor of heat and this might sound like a con, which it can be, but we'll get to that in a minute. In terms of pros, enamel being not insulated means that when you put a warm drink in it, it gets warm. That means that on a chilly morning when you're sitting outside your tent watching the sun rise, you can warm your hands on your enamel mug while sipping tea.
7. Classic look
Obviously, we can't account for differences in taste, but the enamel camping mug has a classic appeal that a lot of campers really love, especially when compared to chunky, modern and brightly colored plastic versions.
Cons of enamel mugs for camping
1. Less technical
Generally speaking, enamel camping mugs mostly look the same. They're mugs with handles and no lids. A lot of the more modern camping mugs are a bit more technical, meaning they might have more of a streamlined design to be more packable, have leakproof lids or be insulated to keep hot drinks hot and cold drinks cold. Enamel camping mugs therefore might not be as versatile or high performing as other options.
2. Somewhat prone to chipping
Yes, we said that enamel is nearly bombproof, but is prone to chipping if you drop it at the right angle on a hard surface like concrete, which I've learned the hard way. Glass fused to steel honestly isn't as fragile as it sounds, but under the right circumstances it could chip, which doesn't mean you can't keep using it, but it won't be as pretty. If you're just using yours for camping, where the only type of surface you're likely to drop it on is a soft forest floor, this really won't be an issue, but in the interests of objectivity we feel we must mention that chipping is a possibility.
3. Not insulated
Enamel conducts heat, which means that you can warm your hands on a camping mug filled with soup, but it also means you can burn your hands if the liquid inside is too hot, and that your hot food and drinks won't stay as hot for as long as they will in an insulated mug. If you're the type who wants to cart around the same cup for coffee all day long, enamel is definitely not for you.
Are enamel mugs good for camping?
As you can see, there are definitely more pros than cons when it comes to enamel camping mugs, however when you consider the additional features of more modern styles, we definitely concede that choosing one may be a bit of a nostalgic choice.
That said, whether or not you go for enamel all depends on what type of camper you are. If you like warming your hands under a starry sky and take a no-frills approach to camping, or just prefer the vintage vibe, you'll love your enamel camping mug. For those who like a high tech mug that keeps your beverage warm all day without burning your hands, an enamel camping mug will feel a bit archaic.
All the latest inspiration, tips and guides to help you plan your next Advnture!
Julia Clarke is a staff writer for Advnture.com and the author of the book Restorative Yoga for Beginners. She loves to explore mountains on foot, bike, skis and belay and then recover on the the yoga mat. Julia graduated with a degree in journalism in 2004 and spent eight years working as a radio presenter in Kansas City, Vermont, Boston and New York City before discovering the joys of the Rocky Mountains. She then detoured west to Colorado and enjoyed 11 years teaching yoga in Vail before returning to her hometown of Glasgow, Scotland in 2020 to focus on family and writing.