How many pockets do you actually need on your hiking jacket?
You know your hiking jacket needs pockets, but how many do you actually need, and where should they be for optimal access and gear protection?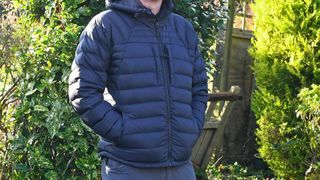 (Image credit: Pat Kinsella)
When you're seeking out a new jacket for hiking, whether it's a waterproof jacket to keep the rain off, a softshell for blustery days, a fleece jacket that can double as a mid layer, or a cozy down jacket for winter hikes, you know you want it to have pockets. But how many pockets do you really need in your hiking jacket?
If a jacket doesn't have enough pockets, reviewers will definitely complain, but does that mean every jacket should just have every pocket imaginable? And if not, where is the most practical place for your pockets to be? After all, picking out the perfect jacket and dropping a wad of cash on it only to discover you can't easily access the pockets or they're too small to fit your gear would be an expensive mistake.
In truth, what pockets you need and where you need them depends a bit on you. For example, I prefer to keep just about everything in my hiking backpack except for my phone, which I like to have handy for taking pictures, so I don't really mind if my jackets only have a couple of pockets. But if you like to stuff your pockets full with your map and compass, hiking gloves and hat, you're going to need a bit more zippered real estate.
Furthermore, the Science of Pocketry probably also depends a bit on the jacket. If it's a waterproof jacket that you only throw on occasionally, you might just want enough room for your phone, but if it's a softshell or fleece that's your primary hiking jacket, you might want more nooks and crannies for your granola bars and chapstick. It all depends.
Let's take a look at the types of pocket you'll usually find on a hiking jacket, when they're useful and any drawbacks to help you in your quest to find the perfect pocket formula.
Hand warming pockets
Hand warming pockets are the official name of the two standard pockets that are in front of your hips, since you could, if you wanted to, walk with your hands in those pockets to keep them warm. Obviously, you can also wear gloves and keep these pockets free for gear too.
They're obviously handy when you're only wearing the jacket, but they can become a bit of a nuisance when you use the hip belt of your backpack, because you suddenly find that you can't easily unzip your pockets, and the gear in your pockets is getting squashed against your body. Also, if you stuff them really full, it can be a bit uncomfortable to climb steep slopes, scramble or sit down for a break.
Napoleon pockets
The term Napoleon pocket isn't always used to describe these pockets and initially referred to that pocket that you sometimes find on the left side of your chest that has a vertical zip (where Napoleon might put his hand during his portrait painting session).
Nowadays, some great jackets are coming with two of these pockets, one on each side, such as the Jack Wolfskin Kammweg 3l Jacket and The North Face Stolemberg 3L Dryvent Jacket, which have been two of my favorite items to test this season. These are usually, but not always, in lieu of hand warming pockets and you use the right hand to unzip and access the left pocket and the left hand to operate the right pocket. The genius of these pockets is that they can be quite roomy, and they usually fall below the sternum strap and above the hip belt, so you can wear your backpack properly and have easy access to your gear. When they're larger, they can easily hold items like a map or a bigger smartphone.
Chest pockets
Usually smaller and a bit higher than a Napoleon pocket, your jacket might feature a chest pocket and I usually use mine to hold my phone as it's usually a bit snugger and holds my phone in place, and leaves my hand warming pockets for warming my hands. You probably wouldn't see these in addition to Napoleon pockets, but they can add a little extra storage space to a jacket with hand warming pockets, such as the Patagonia Storm 10 women's waterproof jacket. They also might be difficult to reach once you fasten your sternum strap, so again I'm in favor of Napoleon pockets even if my phone bounces around a little.
Inner pockets
Does your jacket need an exciting hidden pocket? These can be any size, may be inside your chest or lower, are often made from mesh and sometimes have zips and sometimes don't. If you're buying a waterproof jacket, there's not really any great need for an inner pocket since the outer pockets should keep your gear dry and you don't want to have to unzip in the rain to access your gear.
But if you're shopping for, say a fleece or softshell where you might see a bit of rain, an inner pocket would secrete your valuables further away from any damaging moisture. Furthermore, an inner pocket can mean you can keep your phone closer to your body heat if you're wearing a down jacket or softshell on a winter hike, which can keep the battery from dying, so they do hold some value.
Sleeve pockets
The best ski jackets will have a small, zipped pocket on the sleeve and the only reason that exists is so you can simply hold your arm out to get your ski pass scanned as you're getting on the lift. It's super handy for skiers and snowboarders, but there's really no need for it in a jacket that you're just going to wear hiking.
Other considerations when it comes to jacket pockets
So, it seems like there's an argument to be made for just about any pocket on your hiking jacket, but do remember that the more zipped pockets your jacket has, the more bulk and weight you're carrying on the hill. I personally like my jacket to have either two descent sized Napoleon pockets, or two hand warmer pockets plus a chest pocket.
Speaking of zips, though they add weight and bulk, they're generally the best option when it comes to protecting your gear. They keep everything secured and dry better than velcro or poppers and while they can break, they're also replaceable.
Finally, when weighing your pocket options, remember to consider size. As I've said, I don't use mine a whole lot so they don't need to be massive, but I've definitely heard from irate readers incensed that I didn't mention whether a jacket I was reviewing had pockets big enough to carry their magnum-sized iPhone Pro Max (I also don't carry a gigantic phone, sorry). You need to know what sort of gear you're likely to want to carry in your jacket pockets and make sure the pockets are big enough before you take the tags off.
All the latest inspiration, tips and guides to help you plan your next Advnture!
Julia Clarke is a staff writer for Advnture.com and the author of the book Restorative Yoga for Beginners. She loves to explore mountains on foot, bike, skis and belay and then recover on the the yoga mat. Julia graduated with a degree in journalism in 2004 and spent eight years working as a radio presenter in Kansas City, Vermont, Boston and New York City before discovering the joys of the Rocky Mountains. She then detoured west to Colorado and enjoyed 11 years teaching yoga in Vail before returning to her hometown of Glasgow, Scotland in 2020 to focus on family and writing.