Adventures at altitude: an expert guide to hiking Kilimanjaro
We speak to a Kilimanjaro guide with over 300 summits under his belt to uncover everything you need to know before conquering Africa's tallest mountain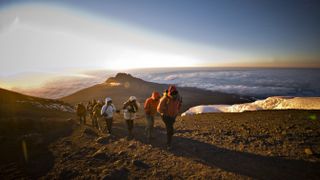 (Image credit: R. Tyler Gross)
When Sami Christensen reached the summit of Mount Kilimanjaro around 7 a.m. four years ago, she says she was exhilarated, exhausted, and overcome by how difficult the previous five days had been.
"It was honestly one of the most challenging things that I have ever done in my life, both physically and mentally," she recalls.
Christensen lives in Colorado's high country and is used to both high altitude and frequent long distance trekking. She'd spent months preparing for the expedition and though she wouldn't admit it until later, she didn't think she would struggle nearly as much as she did. It was, however, worth the pain.
"Watching the sun rise as we reached Uhuru Peak is something that will stick with me forever."
Christensen joins the 30,000 or so hikers who ascend Africa's tallest mountain each year, a staggering number compared to the mere 800 who climb the highest. The sheer volume of people who climb Kilimanjaro is a testament to how different the experience is to Everest.
Kilimanjaro is one of the few Seven Summits that is accessible to trekkers who possess only basic hiking skills and no mountaineering experience, making it a personal goal for many people who wouldn't think of donning crampons and heading to the Himalayas, but it still requires intensive training and detailed preparation.
In this article, we speak to mountain guide Justin Mtui, whose adventure travel company specializes in Kilimanjaro hikes to find out the whys and hows of climbing Kilimanjaro.
Is Climbing Kilimanjaro Worth It?
If you've read the book Into Thin Air by Jon Krakauer, you might have been left with the strong impression that climbing Everest isn't exactly the majestic experience that photographers make it seem. Like Krakauer, most climbers admit their time on the summit was brief and unrewarding, with many finding it hard to recall the details of the final push.
At 19,341 ft (5,895 m) above sea level, Kilimanjaro is a full 10,000 ft lower than Everest. That's not to say that the mountain, which stands in Tanzania near the Kenyan Border in East Africa, is easy, but the lower altitude allows hikers to have a much richer and more rewarding experience that they'll actually remember, and cherish.
"Kilimanjaro is not just a mountain; it's an iconic African adventure that combines nature, culture, and personal growth," explains Mtui, who has over 300 Kilimanjaro climbs under his belt.
"As you ascend, you'll encounter diverse landscapes, from lush rainforests to alpine deserts, and finally, the snow-capped summit. The views are truly awe-inspiring."
On certain routes, you may have incredible wildlife viewing opportunities, with the possibility of spotting elephants and buffalos, while Mtui also points out that climbing Kilimanjaro can be an opportunity to give back to local communities. Many tour operators engage in responsible tourism and support local projects, which allows trekkers to have a positive impact on the region. You will also learn about the rich culture and traditions of the Chagga people of Tanzania.
"It's an opportunity to challenge yourself, be inspired by the beauty of the natural world, and connect with the people and places that make the journey unique."
How hard is it to climb Kilimanjaro?
Depending on your route, you can expect to have to hike around 30 or 40 miles to summit Kilimanjaro and gain anywhere from 8,000 to 14,000 ft on your journey. A typical climb will take between five and nine days in total, so needless to say, it will test your physical and mental toughness, even if you're relatively active like Christensen.
In addition to fitness, Mtui cites two common challenges in climbing Kilimanjaro: altitude and weather.
"Climbing Kilimanjaro is a physically demanding endeavor, and the high altitude can make it even more challenging."
Even if you live at 8,000 ft and frequently recreate at higher elevations, like Christensen, you won't be fully prepared for the dizzying heights of Kilimanjaro and proper acclimatization is essential to minimize the risk of altitude sickness.
As for the weather, though you might not be expecting the freezing conditions and avalanche risk you'd expect in the Himalayas – Christensen recalls summiting dressed as she might for a fall hike in Colorado, wearing a softshell jacket and hiking pants – the weather extremes can be uniquely challenging.
"Weather conditions on Kilimanjaro can be unpredictable and harsh. The temperatures can vary from extremely hot to very cold, and the weather can change rapidly. Dealing with extreme temperatures and weather fluctuations can be a challenge," says Mtui.
Mount Kilimanjaro is close to the equator, so it doesn't experience major temperature changes from season to season, but temperatures fluctuate according to the altitude and time of day. Temperatures at the base are typically between 70 to 80 degrees while the summit, Uhuru Peak, lies in the arctic zone where night time temperatures can range between 20 and -20 degrees. Though you might not need the technical snow gear required for Everest, the variation can be difficult to adjust to.
How much hiking experience do you need for Kilimanjaro?
Mtui explains that one of the aspects that makes Kilimanjaro so accessible to different ability and experience levels is that there are so many different routes to the top.
"Kilimanjaro is often considered a trek rather than a technical climb, and it's achievable for individuals with various levels of hiking experience."
Beginner trekkers will find easier routes like the Marangu Route or Rongai Route are suitable for those with limited hiking experience. For routes like the Machame Route or Lemosho Route, which involve longer and steeper ascents, it's beneficial to have some prior hiking or trekking experience. If you plan to take more challenging and less traveled routes like the Umbwe or Western Breach routes, or if you want to do it in a shorter period of time, having significant hiking and high-altitude trekking experience is advisable.
How to prepare for your Kilimanjaro hike
Once you've chosen your route, obtained your Tanzanian tourist visa, received your vaccinations and booked your trip – something Mtui stresses you do through a reputable tour operator or trekking company that will help with permits, logistics, and local support – it's time to get in shape.
"Start a fitness regimen several months in advance. Focus on cardio exercises like hiking, running, or cycling to improve your cardiovascular endurance. Incorporate strength training exercises, especially for your legs and core," advises Mtui.
Though there are aspects of your training that can be done in a gym, such as strength conditioning, Mtui recommends you also practice walking or hiking with a loaded daypack – known as "rucking" – to simulate the weight you'll carry on the mountain.
If possible, acclimatize to higher altitudes before your Kilimanjaro climb by spending time at elevations above 10,000 ft. If you're in the US, that means heading out west: Alaska, Hawaii, Washington, Oregon, California, Montana, Idaho, Utah, Nevada, Arizona, Wyoming, Colorado and New Mexico all have high altitude zones where you can train in the month before your trip.
Once you arrive in Tanzania, you'll want to give yourself a few days during which you should get adequate sleep to ensure you're well-rested, enjoy a healthy diet and stay hydrated in the days before your climb.
"By following these steps and being well-prepared, you can increase your chances of having a successful and enjoyable Kilimanjaro trek. Remember that safety and acclimatization are paramount, so listen to your body and your guides throughout the journey."
What do you need for hiking Kilimanjaro?
Your tour guide will supply you with a detailed kit list for your trip, but here are some of the basics you'll need:
Mtui recommends renting equipment like sleeping bags and trekking poles to save on luggage space. If you're bringing your own, read our article on flying with camping gear to successfully transport your kit.
All the latest inspiration, tips and guides to help you plan your next Advnture!
Julia Clarke is a staff writer for Advnture.com and the author of the book Restorative Yoga for Beginners. She loves to explore mountains on foot, bike, skis and belay and then recover on the the yoga mat. Julia graduated with a degree in journalism in 2004 and spent eight years working as a radio presenter in Kansas City, Vermont, Boston and New York City before discovering the joys of the Rocky Mountains. She then detoured west to Colorado and enjoyed 11 years teaching yoga in Vail before returning to her hometown of Glasgow, Scotland in 2020 to focus on family and writing.