Adventure travel hacks – pack for an active vacation without checking a bag
Our travel hacks help lightweight adventurers skip exorbitant baggage fees and avoid the hassle of lost luggage so you can enjoy your active vacation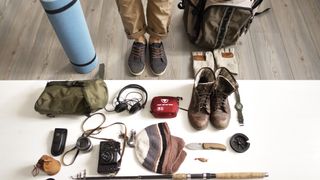 (Image credit: Cavan Images)
Being a lover of travel and outdoor action, I've taken a lot of active vacations over the years, some with a detailed itinerary of hiking and skiing in National Parks and alpine resorts, others just holidays where I brought my trail running shoes along in case the opportunity arose. Being a budget-conscious traveler, I've also made a bit of an art form out of packing for these trips without checking a bag, including a whirlwind two week trip where I flew from Scotland to Vail, Colorado for a week of skiing then onwards to Yosemite National Park to lead a hiking and yoga retreat, all of which I managed with only a carry on.
Checking a bag, after all, is a pain. It means you have to get to the airport early and stand in line before you stand in line again to go through security and again to board the plane. There's the constant fear that your bag isn't going to be waiting for you on the carousel when you get off the plane, which admittedly has only happened to me three times but caused a major headache each time. And let's not mention those exorbitant fees that usually come with carrying your personal belongings on a plane in modern times.
To avoid the hassle and expense, I rely on the following travel hacks to help me pack for a hiking or skiing holiday without checking a bag. With these trusted tips, I always have everything I need when I land, don't have to wrestle with overhead lockers and never worry about losing my gear.
How to pack for an active vacation without checking a bag
When it comes to time to prepare for your trip, I recommend working through the following list, laying out everything on your bed and packing it a couple of days ahead of time to make sure it all fits, and you can comfortably carry it before you set off.
Bags
The thing about an active vacation is that there are so many bags involved! Now, if you're going backpacking, it's all fairly easy as long as you have lightweight gear and a good backpack. For this trip, pack a backpack with around a 30 liter capacity with everything you need and take it on board as your carry-on.
When I'm doing this, I typically pack a small cloth bag somewhere inside my backpack and when I get to the gate, decant the things I want with me on the plane (passport, book, water bottle, face mask, snacks) and stash that under the seat in front of me while putting the backpack in the overhead locker. Ideally, you'll want a backpack that fits a decent amount of gear with loads of compression straps so that the airline staff don't grab you on your way onto the plane and make you check it or pay extra.
If you're not actually going backpacking, but enjoying day hikes during your trip, you can still use the same backpack (or a running backpack if it's a faster pace you're planning), but the main issue is that you also need a daypack for the trail to carry your water and waterproof jacket. Good daypacks like my Osprey take up a surprising amount of space inside your bigger backpack, while carrying two backpacks at the airport is a bit awkward, and also increases your chances of having to surrender a bag at boarding.
A smaller rolling suitcase on wheels that fits in the overhead can solve this issue, where you can pack the majority of your gear and then carry your daypack on your back to go under the seat in front of you, but my preference is my North Face Base Camp Duffel which holds tons of gear, including an empty daypack if you want, but squashes down and can turn into a backpack if needed. It also comes with a removable mesh zippered insert that you can use as your toiletry bag or to hold gear that you want to have under the seat in front of you when you board the plane.
When you're packing, put the bulkiest stuff like shoes and camping gear in first and stuff your clothes in around it. Use the zipped pockets for small gear you want to keep safe like a headlamp, travel documents, sunglasses, phone and wallet. That way it's always close to hand and all together to avoid frantic last-minute rummaging.
Footwear
Now that we've got bags out of the way, let's talk shoes. If your active vacation involves trail running or hiking on dry, well-maintained trails in an arid climate, you're in luck. Shoes are the bulkiest thing you'll need to bring, but you may simply be able wear your favorite trail running shoes for the whole trip. After all, they're comfortable and breathable for the journey, running, hiking and hanging out – just don't bring a waterproof pair if you can avoid it since they'll get sweaty.
If it's going to be warm, you can also pack flip flops to change into in the evenings, which won't take up much space in your pack and even fit in the mesh side pockets if needed.
If your trip involves more rugged hiking terrain or wet, muddy conditions and you need the protection of a pair of hiking boots, they are definitely a bit heavier and muddier, but there are ways to lighten your load. I recommend investing in a pair of lighter synthetic hiking boots like my Helly Hansen Switchback Trail HTs rather than a heavy leather pair so you can pretty comfortably wear them on the plane. Then you'll have room in your pack for a second, lighter pair of shoes. Stuff these full of items like your socks and underwear and pack them at the bottom of your bag.
Finally, for warmer weather excursions, I've found I'm able to really cut down on my footwear cargo by wearing my Keen Newport H2 hiking sandals on the plane, which serve me on the trails and at the beach, eliminating the need for a backup pair of lighter shoes. If you're leaving from a colder climate, you can wear socks with them to get to the airport so your toes don't freeze.
Clothes
Exactly what clothing you'll need of course varies from trip to trip and it's important to understand what conditions you might expect and observe any packing list that you have received for your trip. Cooler climates and high altitude adventures usually mean you need a warm insulating layer such as a down jacket, while for milder and low altitude trips you may just need a light fleece as your warmest layer.
However, with these few basic principles, you can usually really cut down on your clothing:
Merino wool: When possible, choose clothing made from merino wool because it doesn't get as smelly as synthetic fabrics and can withstand multiple wears.
Stretch: Choose clothing that has a decent amount of stretch so that you can wear it comfortably on the plane, for aerobic activities, yoga and even sleeping.
Multi use: Seek garments that can also be worn across multiple activities, such as leggings or joggers that you can wear for hiking, running, travel and yoga, or flattering T-shirts that you can wear hiking or to a restaurant.
Simple colors: Go for clothing in simple dark or neutral colors so you can easily mix and match outfits, but of course that's an entirely personal preference.
As I've already stated, exactly what you bring will be determined by the location, season and activities as well as your personal preferences, but to get you started, here's what I bring on almost every active vacation:
Tops: 2x merino wool base layers (one long sleeve, one short sleeve).
Pants: One lightweight pair of hiking pants (zip-off short/trousers hybrids are great) and one pair of leggings that can be used for hiking, yoga, running, as thermal underwear and even for going out at night.
Socks: Two pairs of merino wool hiking socks (at least one thick pair if it will be cold at night).
Jackets: Fleece jacket, waterproof jacket.
Pajamas: I personally go without pajamas unless I'm sharing a room, but if you need to travel with night clothes go for light and skimpy or use your thermals if you're camping.
Sun hat: I love my Arc'teryx Paltz cap which keeps both the sun and rain out of my eyes but doesn't have a stiff peak, so I can roll it up for any adventure.
Bathing suit: I never travel without something I can swim in, in case the opportunity arises, but remember that underwear can usually double as swimwear.
As you can see, I travel pretty light, but if you follow my lead and wear half of this clothing on the plane – usually the hiking pants, short sleeve base layer and fleece jacket in my case – not very much needs to go in your pack at all, leaving room for other gear like a hat and gloves, harness, or any dressy items you might want to pack for non-active components on the trip.
Another good tip is that if I have to bring a puffer jacket, I choose down over synthetic because it's usually less bulky. If I don't want to wear it on the plane, which I usually won't outside of winter, I use a stuff sack to compress it. My Rab Infinity Microlight jacket came with its own stuff sack but any smaller sack will help cut down on the bulk.
Other gear
Depending on the type of trip you're taking, you may need to bring other gear that can be less stuffable than clothes, but if you keep your clothing to a minimum and wear some of your active gear as travel clothes, you should have room in a 30 liter pack for the following:
Toiletries
Obviously, you're going to have to bring travel-sized toiletries unless you're able to buy them when you arrive. Once again, I keep things to a minimum and leave everything I don't need, like makeup and hair products, at home. Again, what you need depends on your trip and preferences, but here are some items I usually pack:
Hand sanitizer
Ear plugs
Face wipes
Face oil or moisturizer
Toothbrush, toothpaste and floss
Micro towel (a mini towel is enough for bathing while a full size towel can also double as a yoga mat)
I usually pack my so-called "dry" items like my toothbrush and ear plugs in a cloth travel bag and put all liquids in a plastic bag that I keep at the very top of my backpack to keep security hassle-free.
A final word of advice: if you are going to be adventuring in extreme conditions, it's more important to be safe than it is to avoid baggage fees. If the amount of gear you need requires checking a bag, do it and stay alive.
All the latest inspiration, tips and guides to help you plan your next Advnture!
Julia Clarke is a staff writer for Advnture.com and the author of the book Restorative Yoga for Beginners. She loves to explore mountains on foot, bike, skis and belay and then recover on the the yoga mat. Julia graduated with a degree in journalism in 2004 and spent eight years working as a radio presenter in Kansas City, Vermont, Boston and New York City before discovering the joys of the Rocky Mountains. She then detoured west to Colorado and enjoyed 11 years teaching yoga in Vail before returning to her hometown of Glasgow, Scotland in 2020 to focus on family and writing.