What is winter hot tenting?
Winter hot tenting brings your wood-burning stove inside your tent for harsh, cold winter adventures – but is it safe?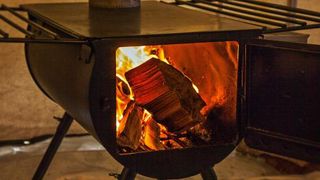 (Image credit: Camp Chef)
We've written plenty of winter camping tips to help you stay safe and warm if you're sleeping outside in the colder months, from choosing a four-season tent and sleeping bag to knowing how to build a campfire in winter. But let's be honest – even with all the gear, once you get out there it's going to be bitterly cold and uncomfortable at times. Sure you've got your best down jacket, your campfire to huddle round, but once you go to bed, it's a long, cold night and you'll find yourself wishing there was some way you could bring a warm fire inside – with winter hot tenting, some campers are now doing just that.
Winter hot tenting is one method that those who live with long, harsh winters are harnessing to keep their camping season going through the snowy months, introducing the ability to have a stove inside their tent. Warming your hands over the stove while you're inside your tent and sheltered from the wind certainly sounds toasty, but is it safe? Read on to find out what a winter hot tent is, and all the safety concerns you need to understand before you try hot tenting.
What is a winter hot tent?
A winter hot tent is a sleep shelter that is specially designed to work with a wood-burning stove for more of a glamping experience in winter. These tents come with an integrated fire-resistant sleeve called a "stove jack" that you can run the chimney of your stove through. This way the heat from the stove warms the inside of your tent, but the smoke ends up outside of your tent where you want it.
Winter hot tents clearly need to be well-ventilated, so they may have a window, and should be constructed from a breathable material such as cotton or polyester, but they also need to be windproof to help keep the heat in. They may also have other heat-saving details, such as the OneTigris CONIFER Canvas Tent with Stove Jack which comes with a detachable snow skirt to block out drafts.
Winter hot tents come in different sizes, but they're bigger than your average backpacking tent to accommodate your stove, your backpack and other gear which you probably won't want to leave outside in the snow, and even camping cots, which you might prefer over a sleeping pad for winter camping.
Is winter hot tenting safe?
Anyone who has camped in winter is going to be drawn to the idea of the comforting warmth of a wood-burning stove in their tent, but needless to say we had a lot of questions about the safety of hot tenting. We've long been trained not to set up our camping stoves anywhere near our tents or sleeping bags because that gear is extremely flammable, and of course carbon monoxide poisoning seems like a valid concern.
To understand the finer safety details of hot tenting, we got in touch with a representative from King Camp, a company which manufactures hot tents such as the KingCamp Khan Glamping Bell, to find out what risks involved users should be aware of, and what precautions to take if you're going to try hot tenting. They offered us the following safety advice:
When using a hot tent, it's essential to ensure that the stove is properly ventilated, and the tent is adequately vented to allow for air circulation.
Have a fire extinguisher and a carbon monoxide detector in the tent.
Make sure the stovepipe is properly installed and maintained to prevent fire.
Use a stovepipe that is recommended by the manufacturer of your stove and tent. The stovepipe should be the correct size and type for your stove and should fit securely into the stove's flue collar.
The chimney pipe of the stove needs to be long enough – at least 39 inches higher than the chimney mouth – to prevent the fire from being too hot and the sparks falling on the tent and causing hot spots. You can also prepare a chimney pipe with spark protection for protection.
Install a heat-resistant mesh around the chimney opening in the tent for double protection.
Always ensure that the stovepipe is properly secured and that there are no gaps or leaks between the stovepipe and the stove's flue collar or the tent's roof.
Never place anything on top of the stovepipe or hang anything from it, as this can cause it to tip over or shift.
When using the stove, it's important to remove the ground cloth of the tent or place a heat-resistant cloth under the stove to prevent hot embers from falling out.
Use camping lanterns around your campsite and place eye-catching signs on the wind rope outside the tent, such as fluorescent lights, to prevent others from tripping over the tent and causing the stove to fall.
Keep the stove a safe distance away from the tent walls, sleeping bag, and any other flammable materials. The safe distance for a sleeping bag or tent walls away from the stove in a hot tent will depend on several factors, including the type of stove, the size of the tent, and the outside temperature. As a general guideline, it's recommended to keep sleeping bags at least 2-3 feet away from the stove to reduce the risk of burns or melting.
Use only firewood and never burn garbage or other materials in the stove.
Never leave the stove unattended, and always supervise children and pets around the stove.
As you can see, there are a lot of precautions you need to take when considering hot tenting, from buying the right tent to setting it up correctly and making sure you're paying attention once that fire gets going.
All the latest inspiration, tips and guides to help you plan your next Advnture!
Julia Clarke is a staff writer for Advnture.com and the author of the book Restorative Yoga for Beginners. She loves to explore mountains on foot, bike, skis and belay and then recover on the the yoga mat. Julia graduated with a degree in journalism in 2004 and spent eight years working as a radio presenter in Kansas City, Vermont, Boston and New York City before discovering the joys of the Rocky Mountains. She then detoured west to Colorado and enjoyed 11 years teaching yoga in Vail before returning to her hometown of Glasgow, Scotland in 2020 to focus on family and writing.