Can I really wear merino wool in hot weather?
How can a material that retains your body heat also keep you cool?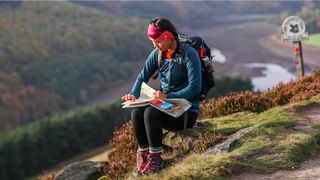 (Image credit: Jessie Leong)
Merino wool, you may have heard, is a miracle fabric for hiking and other outdoor activities. It's biodegradable, doesn't get smelly for ages even with heavy use and most importantly, it continues to insulate when wet. That means if you get sweaty on a hike, or your waterproof jacket can't hold up to a deluge and wets out, you won't freeze. For these reasons, it's a popular component in base layers and hiking socks where you often encounter cold and wet conditions. But what about hot and dry conditions? Does it make any sense then?
I'll admit to being a merino wool-wearer in all conditions. When it's freezing out, my first line of defense is a long sleeved base layer like my EDZ merino top which is extremely toasty. When things warm up, I basically just lose the sleeves and wear something a bit thinner and looser, but made of the same ingredients, such as my IBEX Springbok Tee.
But if you tend to run hot, or adventure in warm conditions, I can certainly understand why you might question the wisdom of wearing wool. Read on to understand how merino wool functions in hot conditions, and whether it's right for you.
How can wool cool you down when it heats you up?
Wool is well-known for its insulating properties, so if you're hiking someplace where you're not expecting low temperatures, you might really be asking yourself whether it makes any sense. If you're spending a week hiking in Moab in September, for example, do you really want the insulating properties of wool during the day? Wouldn't you be better off in bamboo or even a loose-weave synthetic fabric that doesn't retain so much body heat?
Manufacturers of merino wool clothing will definitely push the point that the material isn't just insulating – it's thermoregulating. That's a fancy term for something that keeps you warm when it's cold out but also helps you cool off when it's warm, and it's not untrue that merino wool bears these properties.
How can wool cool you down, you ask, when it also heats you up? Well, merino wool is breathable, meaning it allows heat and vapor to escape when you hit that steep section of the trail and start to sweat. It is also moisture-wicking, which means that it draws sweat off your skin and that's an essential part of how your body's cooling mechanism works (if the sweat stays on your skin, you don't cool off).
So in that regard, yes, merino wool really can help keep you cool under certain conditions. That said, however, it all really comes down to your physiology, your unique temperature tolerance levels and perhaps even the aerobic intensity of what you're doing.
Can I wear merino wool in hot weather?
I don't sweat a lot and I don't mind getting a little warm, but I hate being cold, so I often wear a merino wool T-shirt like my Icebreaker Cool-Lite Amplify Short Sleeve for summer adventures. However, when it's really warm (usually when I'm indoors on a hot plane or train), I definitely can start to feel a little prickly in merino wool. As long as there's a breeze and I'm outdoors, however, it's usually fine.
My friend Jon, a keen mountain biker and outdoors journalist, loves merino wool for cold weather adventures and daily use, but admits he finds it too warm for high energy activities in warm weather. Unlike me, he runs hot (he wears shorts from about March to November) and sweats a fair amount when he is exercising, and for him, that's part of the problem.
Despite being relatively fast drying, merino wool definitely holds onto moisture more than synthetic fabrics. This doesn't matter when it's cold, because it still insulates, and when it's very hot, it can kind of keep you cool by providing a wet layer, kind of like a damp towel on your forehead after a hot yoga class. But it doesn't necessarily feel great to someone like Jon, who understandably doesn't want to be wearing the equivalent of a damp towel on a warm mountain bike ride.
It also depends on the thickness, or weight, or the garment. My EDZ base layer is fairly thick, at 200gsm, so it's seriously toasty and I'm pretty sure I'd die if I wore it on a warm weather hike. My Icebreaker tee, in comparison, is much thinner and has mesh panels under the arms, so I had no issues wearing it on a pretty hot thru-hike on the West Highland Way last year. Be careful, though, in buying ultra thin merino clothing as this can deteriorate quite quickly with heavy use.
Finally, whether the garment is pure wool or blended with other fabrics will affect its performance, so it's a good idea to read the label before dancing off into the desert. A top that's a blend of merino and synthetic, like my Icebreaker top which also uses nylon and TENCEL, might actually be better for those who tend to suffer in the heat, though it may lose some of the qualities we love merino for.
So the long and the short of it is, it all depends. If you've never worn merino wool in warm weather, you'll most likely find it a lot more comfortable than you think, and the fact that it doesn't get very smelly is a big plus in warm weather, but the truth is you'll probably need to try it out for yourself. If you find that even a lighter merino wool layer is too hot when the weather is warm, try clothing made using synthetic material or bamboo instead.
All the latest inspiration, tips and guides to help you plan your next Advnture!
Julia Clarke is a staff writer for Advnture.com and the author of the book Restorative Yoga for Beginners. She loves to explore mountains on foot, bike, skis and belay and then recover on the the yoga mat. Julia graduated with a degree in journalism in 2004 and spent eight years working as a radio presenter in Kansas City, Vermont, Boston and New York City before discovering the joys of the Rocky Mountains. She then detoured west to Colorado and enjoyed 11 years teaching yoga in Vail before returning to her hometown of Glasgow, Scotland in 2020 to focus on family and writing.