Mosquito head net vs insect repellent for hiking
Should you ditch the DEET for a crime of fashion? We compare mosquito head nets vs insect repellents to help you make up your mind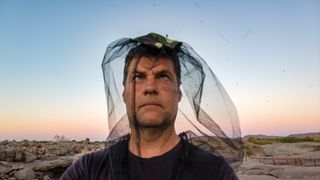 (Image credit: wilpunt)
For spending time outdoors in all but the most arid Rocky Mountain and desert conditions, most of us have become accustomed to dousing ourselves in insect repellent to avoid being feasted on, but there are lots of reasons why you might be looking for an alternative to repellent. Not all of us love the feeling of being covered in chemicals (which then get transferred onto your sleeping bag and camping pillow at night), some of us are sensitive to them and repellents can get pricey if you need a lot of them.
If you're heading out on a long thru-hike such as the Appalachian Trail or just planning on spending a lot of time outdoors this summer, you might be looking for other options. One alternative is the highly unfashionable mosquito head net, which is exactly what it sounds like – a very fine mesh net that you wear over your head. The simplest versions you just pull over your head and have an adjustable drawstring around your neck, while many hikers prefer those that are attached to a brimmed hiking hat, which keeps the netting away from your skin, eyes and mouth. If you've never seen someone wearing one, they do look as ridiculous as you're probably imagining, but they can be an effective and chemical-free solution to insect invasions.
So should you ditch the DEET for a crime of fashion? We compare mosquito head nets vs insect repellents to help you make up your mind.
Mosquito head net vs insect repellent: coverage
Obviously, when you're walking in buggy terrain, you want as much protection as possible, and a mosquito head net only covers your head. For some reason, mosquitos and other winged menaces always seem to go for your head, and this may be the most annoying place, so combined with a decent jacket and hiking trousers, you may be quite happy with this coverage and enjoy not finding dead mosquitoes stuck to your skin. That said, if you're hiking in warm conditions, a head net won't do much for your arms and legs. One other thing to know about head nets is that, if they're touching your skin, a mosquito or midge could actually bite you through it, so they're often more effective if they're attached to brimmed caps.
A thorough application of a good insect repellent should be enough to ward off any biting bugs from any part of your body, in combination with decent clothing coverage, but as you've probably experienced, you can't always guarantee that you won't come home with a few bites, and some are more effective than others.
Mosquito head net vs insect repellent: durability
If you're going to be outdoors for any length of time, such as on a backpacking trip, you also need to think about how long-lasting your bug shield is. A head net will last pretty much forever as long as you don't tear it, whereas insect repellent does need to be reapplied. A repellent with 30% DEET or more will provide protection for up to 10 hours, but for overnights in swampy areas you may need to reapply, and there's a limit to how much DEET you should apply within 24 hours.
Mosquito head net vs insect repellent: functionality
A mosquito head net definitely protects your head from bugs, but it also makes it slightly more difficult to see what you're doing. This can be made worse by the fact that lots of bugs might want to come and land on your head net, so you're looking at that mountain view through a permanent bug screen. Yuck. You can function with one on, but there is some obstruction to your vision and if yours comes attached to a brimmed cap, you may not always want the hat on. In muggy weather, you might also feel too warm inside your net which can get uncomfortable.
Insect repellent shouldn't affect your ability to see or do anything, unless it gets into your eyes of course.
Mosquito head net vs insect repellent: health risks
There are no health risks associated with wearing a head net; you just look a bit silly. However, a lot of us don't feel great about slathering our skin in DEET. Though studies show that DEET is toxic if you drink it, the jury is mostly out on whether or not it's toxic when you absorb it through your skin, while health officials generally agree that the health risks of not using it (malaria, dengue fever, etc) are worse than wearing it. We also need to acknowledge that if your repellent comes in a spray or aerosol form, it's really hard not to inhale some of it which also feels undesirable. But wherever you fall in this debate, it's possible that you might just have sensitive skin and find that DEET gives you a rash while other insect repellent alternatives don't provide the protection you want. In this case, consider a head net.
Mosquito head net vs insect repellent: weight
If you're fastpacking and looking for the lightest solution, a head net will always weigh out. They weigh next-to-nothing and will stuff into your pack or clip onto the outside no problem. A bottle of insect repellent will add a little weight.
Mosquito head net vs insect repellent: cost
For a long adventure, like a thru-hike, you can definitely save money by investing in a head net. They're cheap and essentially are a one-time purchase, unlike your repellent which takes frequent replacing and can expire.
Swipe to scroll horizontally
Mosquito head net vs insect repellent

| Header Cell - Column 0 | Mosquito head | Insect repellent |
| --- | --- | --- |
| Coverage | Covers only your head | You can spray it everywhere |
| Durability | Lasts forever | Needs reapplied |
| Functionality | Can be annoying to wear and make it harder to see | Won't disturb your ability to function unless you spray it in your eye |
| Health risks | None | Possible risks if using DEET, can incur a rash |
| Weight | Featherlight | A few ounces |
| Cost | A cheap, one-time purchase | Becomes pricey if you have to buy a lot |
Mosquito head net vs insect repellent: the verdict
Ultimately, we think this one comes down to your intended usage as both options can be effective. If you're looking for an alternative to coating your skin with chemicals or having to reapply every few hours, a head net can be an effective choice – but mostly only if it's cool enough for you to be wearing it with long sleeves and pants. It's probably not the best choice for all situations and certainly not the most stylish look in the world, but once you get over that, you can happily get on with pitching your tent and firing up the camping stove at dusk while wearing one without having to swat constantly.
If you're going to be hiking in warmer conditions and want to wear short sleeves and hiking shorts, however, you really need a repellent. For occasional use, a repellent is also probably the best solution, but for epic adventures where you're going to be spending days or weeks in the wild or hiking in the jungle, we'd recommend bringing both, so you can wear your head net to keep keep bugs and chemicals away from your eyes, nose and mouth and use repellent as needed everywhere else.
All the latest inspiration, tips and guides to help you plan your next Advnture!
Julia Clarke is a staff writer for Advnture.com and the author of the book Restorative Yoga for Beginners. She loves to explore mountains on foot, bike, skis and belay and then recover on the the yoga mat. Julia graduated with a degree in journalism in 2004 and spent eight years working as a radio presenter in Kansas City, Vermont, Boston and New York City before discovering the joys of the Rocky Mountains. She then detoured west to Colorado and enjoyed 11 years teaching yoga in Vail before returning to her hometown of Glasgow, Scotland in 2020 to focus on family and writing.