Should I buy the America the Beautiful pass this year?
An annual pass to America's National Parks is really affordable and delivers amazing access to the country's most stunning scenery, but you may not always need it – find out if it's the right choice for you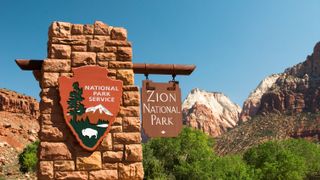 (Image credit: SageElyse)
The first time I was offered an annual National Parks pass, it was a no-brainer. I was driving into Rocky Mountain National Park in the early fall for a few days of camping and hiking and planning to pay the $35 charge which covered my vehicle, and everyone inside it. The chap at the entrance gate explained that for $80, I could buy an America the Beautiful pass which would cover all of my National Parks visits for the next year. It was definitely more than I planned to spend that day, but it only took a quick calculation to figure out it was going to be worth it for me, since I already had plans to head to Utah in the spring and visit more National Parks.
If your plans for the year ahead involve dusting off your hiking boots, loading up your hiking backpack and visiting more than one of America's stunning National Parks (and they should!) you might be wondering whether you should invest in an annual pass, or pay as you go. National Parks are much cheaper than just about any other trip you can take, but if you're visiting a few, the cost of entry can add up. And of course, some parks don't charge for entrance while some people are exempt from entrance fees. In this article, we outline how the annual National Parks pass works, all its benefits plus when you don't need a pass to help you decide.
Who is it for?
Basically, anyone can buy the America the Beautiful pass – including visitors to the US – but not everyone needs to. This is because certain groups receive free entry to National Parks anyway, or qualify for a better deal. If you fall into any of the following groups, here's what you pay for an annual pass:
Veterans: free
Current military member: free
Under 16: free
Over 62: $20
US citizens or permanent residents with permanent disabilities: free
If you're in any of these groups, you'll still need to obtain a pass which you can do online or in person if you have the right documentation, but once you have it, you don't need to part with a penny when you get to the entrance gate. If you don't fall into any of these categories, you can buy your pass online from the USGS store, though if you need it within 10 days it's advised to purchase it at the park entrance.
What does an annual National Parks pass cover?
The America the Beautiful pass gets you into all 63 National Parks as many times as you like over the course of a year from purchase date, so obviously if you live near a National Park that charges entry, you should get one, but there's more to it than that. It actually admits you plus up to three adults in your vehicle (remember under 16s are free anyway). That means that you could visit Yosemite with your partner, Yellowstone with your parents and Joshua Tree with three friends from college and no one would pay anything at the entrance gates.
Further, though it's non-transferable, when you receive your pass, it will have room for two signatures on the back, which means you and a friend can both share it, and independently visit as many National Parks as you like with up to three adults.
Finally, it doesn't just cover National Parks, but all lands managed by the National Park Service and US Fish & Wildlife Service and also standard day use fees at lands managed by the US Forest Service, Bureau of Land Management, Bureau of Reclamation, and US Army Corps of Engineers. The NPS alone manages 85 million acres of public land, the US Fish & Wildlife Service oversees another 20 million and the BLM is in charge of 247 million. In other words, for less than you pay for a whole year of scrolling on Netflix, you can get a lot of access to a lot of beautiful open spaces.
Now, you might be thinking, a lot of the areas listed such as Forest Service and BLM land are typically free to enter anyway, and that's definitely true, but there are instances where a small day-use fee is implemented. For example, the US Forest Service charges a fee to park up on Vail Pass in the winter and access the winter sports terrain, so when when I lived in Vail I often avoided it. Until I realized I could display my America Beautiful pass on my dashboard and avoid paying $10 each time I wanted to go snowshoeing or backcountry skiing.
Once you get inside a National Park, your pass doesn't provide discounts or cover additional fees once you get inside the park, such as permits for popular hikes like Angel's Landing, tours, camping, RV hook-ups, boat launching and backcountry permits.
Is an annual National Parks pass worth it?
So the price is good – less than you'll pay for a good waterproof jacket to bring with you on all your trips – and the rewards are high, but it all comes down to whether you'll actually use the pass, and how much you'll save.
In my case, about six months after visiting Rocky Mountain, I went on a little tour of some Utah National Parks including Arches ($30), Canyonlands ($30) and Capitol Reef ($20). If I'd paid for each park individually, I'd have paid $115, so all in I saved $35 on those visits, and then I had my winter sports visits up on Vail Pass and probably saved on other Forest Service access that I've forgotten about now.
It's a good idea to sit down with your calculator and figure out what kind of access you expect to require over the next year to figure out if it will be worth it, but if you're planning on visiting at least two National Parks, you'll probably break even or even save money.
One major caveat to the above, however, is that not all National Parks charge an entrance fee. In fact, the following National Parks are always free to enter, so if you only plan to visit these, you don't need an annual pass:
Biscayne, FL
Channel Islands, CA
Congaree, CS
Cuyahoga, OH
Gates of the Arctic, AK
Great Basin, NV
Great Smoky Mountains, TN and NC
Hot Springs, AK
Kenai Fjords, AK
Kobuk, AK
Lake Clark, AK
New River Gorge, WV
North Cascades, WA
Redwood, CA
Voyageurs, MN
Wrangell-St Elias, AK
Many of these parks are also some of the least visited, so they're a great place to start if you're looking to save even more money and avoid the crowds. There are also certain days that are free every year, including several public holidays and there's always National Park Week in April, but be warned that these days tend to be some of the busiest so plan ahead, enter early and seek out less popular hikes.
On the flip side of that same coin, if you're planning on visiting the more popular parks like Acadia, Rocky Mountain, Glacier, Yosemite and Zion, you may still have to contend with the reservations system to visit at certain times of year, even though your pass will waive the entrance fee.
Finally, you may have noticed that I've only mentioned the per vehicle rates. It can be cheaper to enter a National Park on foot or on your bike, but all parks vary and not all have great transportation access. Rocky Mountain National Park charges $15 for a foot passenger for one day, so if you happen to be in Estes Park, you could walk in and use the shuttle to get around if you're visiting between May and October. Yosemite charges $20 for a foot passenger or cyclist for a whole week, down from $35 for the week, and it's actually one of the few parks you can access on public transportation using the YART system to get there and free park shuttles around the valley once you're inside. Overall, however, you should know that America's National Parks in general aren't the easiest to get into or around without a car.
Is there any other reason to buy an annual pass?
There is one other reason to invest in an America the Beautiful Pass, even if you're not sure how many parks you'll really visit in the next year, and that's because it benefits the parks system. According to the Department of the Interior, all of the revenue generated from sales of the America the Beautiful pass directly benefits the parks, and if you buy it in-person at the park, at least 80 percent stays at the park where the pass was purchased. Your dollars help support critical investments in improving and enhancing federal recreation sites nationwide.
Of course, as a US taxpayer, you already pay for US National Parks through your taxes, but if you're a visitor or have a little extra to spare and care about National Parks, it's a good contribution towards keeping wild spaces wild, and makes an amazing gift for the outdoorsy person in your life, too.
All the latest inspiration, tips and guides to help you plan your next Advnture!
Julia Clarke is a staff writer for Advnture.com and the author of the book Restorative Yoga for Beginners. She loves to explore mountains on foot, bike, skis and belay and then recover on the the yoga mat. Julia graduated with a degree in journalism in 2004 and spent eight years working as a radio presenter in Kansas City, Vermont, Boston and New York City before discovering the joys of the Rocky Mountains. She then detoured west to Colorado and enjoyed 11 years teaching yoga in Vail before returning to her hometown of Glasgow, Scotland in 2020 to focus on family and writing.