9 awesome National Parks you can do in a day
Short on time but want an adventure? Check out these 9 incredible National Parks that you can see in a day, or less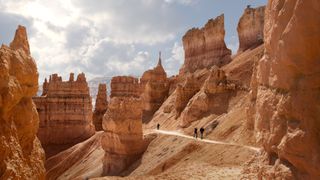 (Image credit: Ed Freeman)
Here at Advnture, we adore our National Parks, and while we've spent countless hours planning and executing days or even weeks-long trips around some of the best National Parks for hiking, we know that sometimes you're short on time. While there are many parks that really merit a longer visit, such as Yosemite and Glacier, believe it or not there are actually some parks that you can do justice to in a day. In this article, we've picked some of our favorite National Parks that you can get a feel for in a day or less that still deliver mesmerizing natural landscapes and great hiking opportunities. And just so we're clear here, you can definitely spend more time in any of these parks, but if you're short on time, you can see a lot in just a few hours.
1. Bryce Canyon, Utah
Utah's landscape feels a bit like landing on Mars and it's certainly worth spending some time visiting its five National Parks such as Zion and Arches. However, one of its five parks really lends itself to a short visit, and that's Bryce Canyon down in the southwest, about a two-hour drive from Capitol Reef.
Bryce Canyon is famous for being home to the world's largest collection of hoodoos. A hoodoo is a tall, thin rock spire (sometimes called a tent rock or fairy chimney) and Bryce's vast collection of them can be found on a high plateau at the top of the Grand Staircase. With its proximity to Zion and Capitol Reef, this park makes a great stop between the two where you can stretch your legs with a short, easy hike like Sunset to Sunrise and take in some stunning views.
2. White Sands, New Mexico
Considered one of the world's great natural wonders, White Sands in southern New Mexico is the largest gypsum dune field on the planet. Thousands of years ago, this desert basin boasted lakes and grasslands, but slow desert warming dissolved the gypsum from the surrounding mountains, leaving an otherworldly swath of white gypsum sand today.
Hiking is a great way to get a feel for the landscape and there are boardwalk and sand trails, but you can also enjoy the vistas via a 16-mile drive of the stunning Dunes Drive Road, which takes under an hour.
3. Great Sand Dunes, Colorado
In Colorado, Rocky Mountain National Park gets the most attention and it's such a big park that the best way to do it justice is to spend a few days there. The state, however, has a few other National Parks that are equally splendid and easy to see in a day.
Take Great Sand Dunes down near Pueblo, for example. This park is often overlooked because it sounds, well, just like a giant sandbox. In reality, here you'll find virtual mountains of wind-sculpted sand, some up to 750 feet high, making up the tallest sand dunes in North America over an area of about 30 square miles. The otherworldly dunes were formed by sediment from the surrounding mountain ranges after lakes receded from the San Luis Valley and are a must-see in Colorado.
The best time to see the sand dunes is at sunset, so plan to arrive by the late afternoon to head up the dunes.
4. Black Canyon of the Gunnison, Colorado
If you're touring Colorado, make sure to stop off and gawp at the Black Canyon off the Gunnison in the southwestern part of the state near Montrose.
Sometimes described as the Grand Canyon in miniature, this 48-mile long canyon plunges over 2,000ft into the earth and is easily big and deep enough to be vertigo-inducing. Carved out by the Gunnison River, and time, this near-vertical canyon is so-named because it is so deep that parts of the river receive no more than 33 minutes of sunlight per day. Fourteen miles of the canyon were declared a National Park in 1999 offering visitors the chance to marvel at geological history like the 2,250ft Painted Wall, the tallest sheer cliff in Colorado as well as activities like hiking, rock climbing, kayaking and camping.
Head to the ranger station on the North Rim for a quick view, or from there you can pick up the North Vista Trail and hike for up to seven miles.
5. Carlsbad Caverns, New Mexico
Carlsbad Caverns are in the Chihuahuan Desert of southern New Mexico and while there are above-ground with hiking trails that take you across the ancient sea ledges and deep rocky canyons, the true appeal of Carlsbad Caverns are its 119 caves, the longest of which is over 120 miles.
You can explore the caves on your own, but the best way to see them, especially if you're short on time, is to book a ranger tour. The landscape here was once part of an ancient underwater reef called Capitan Reef, and marine fossils can be found embedded in the rock.
6. Mammoth Cave, Kentucky
If you're heading down to south-central Kentucky, take a tour of these mammoth-sized caves with a park ranger. Not only is the cave system here twice as long as the next longest one (in Mexico), it might be even longer than we think. Some 400 miles of it have already been mapped out, but geologists think there may be another 200 miles of undiscovered cave system to go.
Most of the tours take around two hours so you can learn all about the fascinating subterranean geology between breakfast and lunch.
7. Pinnacles, California
A little south of the Bay Area and inland from Carmel lies Pinnacles and as one of the smaller National Parks, it's easy to see a lot in a day here. The landscape on show at Pinnacles displays started forming 23 million years ago, when multiple volcanoes erupted on the San Andreas fault 200 miles away and flowed to eventually form spectacular rock spires that are popular today among rock climbers.
Visitors here can explore eroded vestiges of a long extinct volcano, high rock walls, talus caves that are home to over 13 species of bats as well as excellent bird watching including peregrine falcons and California Condors which are released here.
8. Wind Cave, South Dakota
With 154 miles of explored passages, Wind Cave is the the third-longest cave in the US and the seventh-longest in the entire world. The cave is known for its extensive calcite formations, in particular honeycomb-like boxwork formations, and is so-named because the passage of air within the caves makes it feel as though it is breathing. You can only explore the cave in a ranger-guided tour and advance bookings are recommended.
9. Congaree, South Carolina
Congaree National Park is one of the least crowded National Parks in the country, lying down in South Carolina along the Congaree River. At less than 27,000 acres, it's relatively small but protects the largest portion of old-growth floodplain forest remaining in North America and the tallest trees in the eastern United States.
If you're just stopping by, the 2.6-mile Boardwalk Loop Trail is the main hiking attraction, taking you on a raised wooden path through the swamp and diverse forest, but you can explore deeper into the backcountry with trails made for tree viewing and bird watching, all for free.
All the latest inspiration, tips and guides to help you plan your next Advnture!
Julia Clarke is a staff writer for Advnture.com and the author of the book Restorative Yoga for Beginners. She loves to explore mountains on foot, bike, skis and belay and then recover on the the yoga mat. Julia graduated with a degree in journalism in 2004 and spent eight years working as a radio presenter in Kansas City, Vermont, Boston and New York City before discovering the joys of the Rocky Mountains. She then detoured west to Colorado and enjoyed 11 years teaching yoga in Vail before returning to her hometown of Glasgow, Scotland in 2020 to focus on family and writing.