Tent alternatives: 6 different ways to sleep outside on your next camp
Camping isn't just about nights under canvas. Here are 6 tent alternatives you could try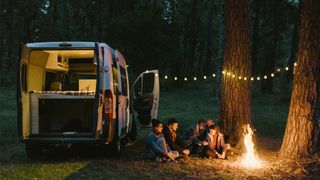 (Image credit: Getty)
When you think of camping, you probably think of a tent. The two things just seem to go hand in hand, like crampons and an ice axe, your best hiking boots and best hiking socks. When the end goal is to simply enjoy a good night's sleep in the great outdoors, however, there are tent alternatives out there.
For starters, a tent isn't always 100% necessary, nor is it always your best choice. Perhaps you don't have one to hand, for example, or maybe you'd prefer to sleep in something a little sturdier.
Whatever your reasons for wanting to try something else, here's a definitive look at 6 of the tent alternatives you can consider for your next trip – including the pros and cons of each approach.
Cowboy camping
When considering tent alternatives, it makes sense to start with the simplest option: camping without a tent. Or without any shelter whatsoever, in fact.
In a nutshell, that's exactly what cowboy camping is. It's camping at its most free — nothing but you, the warmth of an open fire and a blanket of a billion stars. Unfortunately, however, it comes with a host of downsides, namely the complete and utter lack of a plan B should the weather turn. After all, even the tiniest amount of rain can quickly render down sleeping bags useless (check out our guide to different types of sleeping bags for more on that), and there's nothing to stop creepy crawlies from joining you under your blanket. To be safe, we'd also recommend avoiding this tent alternative when night-time temperatures drop below the mid-teens (55-60°F/14-16°C).
Pros: This is the cheapest and easiest option on this list by far. And for those obsessed with weight, there's no lighter way to camp.
Cons: If it rains, good luck... There's also nothing stopping a scorpion from cosying up to you in the night.
Bivy camping
Bivy camping is a tent alternative that's kind of one step up from cowboy camping. Think sleeping under the stars in a sleeping bag with nothing but a waterproof sack for shelter – it's easy, lightweight and gives you additional confidence when out in unpredictable climates. Deriving from the French word bivouac, bivy camping (or bivvy if you're in the UK) is particularly popular among fastpackers, bikepackers and lightweight Alpinists due to the simple nature of the gear you need. And despite sounding brutally simplistic, technological advancements have made these glorified waterproof sacks reasonably comfortable considering their pack size and weight. These days, for example, most bivy sacks are made from waterproof and breathable Gore-Tex-like fabrics, and many come with a 'hoop' that allows you to zip the bag right up around your head (adding additional protection against both creepy crawlies and the weather).
Pros: If you keep it simple, bivy camping can be one of the simplest and cheapest ways to camp in a variety of conditions, especially when paired with a tarp. Bivy sacks also tend to be substantially lighter than any one-person tent as well as being so low-key that they make great stealth camping options if you don't want to be seen.
Cons: Despite many bivy sacks being waterproof, you still may not want to trust them in a downpour. Very few also have room for gear, so that will remain exposed to the elements through the night. Finally, condensation in a bivy sack is a renowned problem, meaning you'll need to air out your best sleeping bag after each use.
Hammock camping
Loved and loathed in equal measure, hammock camping is the Marmite of sleeping outside. As you might suspect, it involves suspending a hammock (ideally one specially designed for camping) between two trees and pitching up for the night. Unfortunately, however, it's not as simple as just that: In cool climates, you will need some sort of an under quilt to keep yourself warm, and in anything but the most reliably dry climates, you'll probably need a camping tarp to keep the rain off. But get it right and you're in for a fun night's sleep; one that many find more comfortable than sleeping on the cold, hard ground of a tent.
Pros: Hammocks are, for some, a more comfortable way to camp outside. They also tend to be a little lighter and have a smaller pack size than many tents.
Cons: If you like to stretch out or sleep on your side, hammock camping isn't for you. You are also heavily limited in regards to where you can pitch. If you're not 100% sure you'll find trees close enough together to suspend from, for example, you may be better off going for one of our other tent alternatives. Finally, the cost savings of a hammock may be less than you'd think. A full set-up (including under quilt and tarp) can be pricey – even to the degree that a tent might be the cheaper option.
Bothy camping
A mainstay of the British outdoors, bothies are small mountain huts out in the wilderness where people can get a safe night's sleep for free. Maintained by the Mountain Bothies Association, a UK-based charity that watches over more than 100 bothies across the UK, they're often little more than abandoned shepherds' huts that can be used as a place to bed down for the night. Similar options are also available all over the world, such as wilderness huts in many US national parks or the bivvy shelters dotted around the Alps. Check out this map of bothies in the UK and – if you visit one – be sure to follow the bothy code of conduct.
Pros: Bothies are free and readily available, and they offer a reliable place to get your head down for the night. They're also great places to meet like-minded campers and to share your best adventure stories around a campfire.
Cons: Bothies cannot be booked in advance, so there's no guarantee that you'll find a space in one when you arrive.
Car/van camping
Just search for #vanlife on any social media platform and you'll see that this tent alternative is perhaps the most popular of all. Spurred by lockdowns and the inability to travel far through the Covid pandemic, people the world over have upgraded their vehicles into temporary homes – perfect for hitting the open road and having the adventure of a lifetime. Affording you complete freedom, car camping is perfect for getting a convenient night's sleep in far-flung places, and you'll find thousands of designated parking spots suitable for overnight stays all across the US, the UK and Europe.
Pros: Car/van camping is super convenient: It allows you to visit faraway places easily and conveniently, without the need to book a hotel or wild camp.
Cons: Most of the outdoor's best places aren't connected to the main road, so a car, van or motorhome will only get you so far. A car is also quite conspicuous, so you should keep to designated areas where overnight parking/camping is officially allowed.
Glamping
A portmanteau of 'glamorous' and 'camping', glamping has grown to become a discipline of its own over the last several years. All of the benefits of camping with none of the drawbacks, it normally involves sleeping in luxury yurts, converted shepherds huts or purpose-built wooden lodges. And though you can't just pack one of these shelters up and take it out into the wilderness with you, their ubiquity at campsites all over the UK and US makes them a true tent alternative, even if the experience is slightly different.
Pros: Glamping really is luxury: it's a camping holiday in a tiny hotel where you can end each day in a hot tub with an ice-cold beer or glass of champagne. It's a means of enjoying nature without getting too close to it, perfect for newbies or people who don't want to give up any home comforts.
Cons: A night out 'glamping' is the opposite of spontaneous. You'll normally have to book your hut, lodge or yurt weeks in advance, and one night can cost almost as much as a medium-range tent costs to buy.
All the latest inspiration, tips and guides to help you plan your next Advnture!
Growing up just south of the glorious Brecon Beacons National Park, Craig spent his childhood walking uphill. As he got older, the hills got bigger, and his passion for spending quality time in the great outdoors only grew - falling in love with wild camping, long-distance hiking, bikepacking and fastpacking. Having recently returned to the UK after almost a decade in Germany, he now focuses on regular micro-adventures in nearby Snowdonia and the Brecon Beacons, as well as frequent trips to the Alps and beyond. You can follow his adventures over on komoot, or visit www.craigtaylor.co for more info.