The top is only half way – how to conserve energy for the second half of your hike
We need to stop thinking about the summit as the ultimate destination on a hike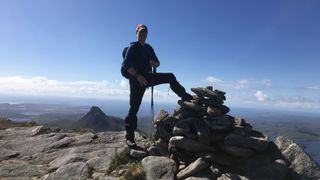 (Image credit: Fiona Outdoors)
Several years ago, I was hiking Buffalo Mountain just outside of Frisco, Colorado. It's an unrelenting climb and it was a hot, dry day so by the time I was heading down, I was suitably tired and focusing on not spraining my ankle whilst fantasizing about lunch.
Presently, I happened upon a group of three hikers that I instantly identified as tourists to the area due to the presence of flip flops on their feet. They were clearly struggling with the heat and terrain.
"How far have we got to go?" asked one dude.
I checked my GPS watch and replied, "You're about halfway."
"Halfway from the bottom or halfway to the top?"
This question had me wondering if we all had heatstroke but after a moment I collected myself and responded "both" with a reasonably straight face, then went on my merry way, confident in the notion that due to their inadequate footwear, they wouldn't make it far enough to get into much trouble anyway.
Though I doubt the fellow realized it, his question does actually pose an important topic in the field of hiking, however, and that is that you shouldn't only focus on how far you have to go until you reach the summit. In the world of mountain hiking after all, the top is only half way.
The top is only half way
I'm not trying to be philosophical here – unless you're hiking Berry Picker on Vail where you can ride the lift down, or Mount Evans where you could actually have someone waiting in a car to drive you back to the trailhead, when you get to the top of the mountain, you still need to walk yourself back down.
Five miles up means another miles in retreat. While it's true that hiking downhill won't be as taxing on your lungs as hiking uphill, it can still be really hard work on your quads and it's where most hiking accidents take place. In fact, according to a nine-year study conducted by a researcher at the University of Innsbruck, a full three-quarters of hiking accidents happen on the descent.
That's in part because you might be more likely to slip on loose rock going downhill than you are going uphill, but it's also because you're more tired than you were for the first half of your hike.
Hiking safety entails checking the weather, carrying a first aid kit and telling someone where you are going – but you also need to stop thinking about the summit as your ultimate destination. The top might have the best views, but the true terminus is the trailhead and you want to get there in one piece. Here are a few tips to help you conserve energy and supplies for the descent.
1. Get to grips with timing
When you're deciding what time you want to leave for your hike, don't just focus on what time you want to get to the summit. Figure out what time you want to be back at the trailhead, for example in time to eat lunch or to avoid afternoon thunderstorms. Generally speaking, you'll hike at least 1.5 times faster on the downhill, so if you take three hours to get to the top, you can probably get down in two hours. Don't forget to allow time to hang out on the summit too.
2. Pace yourself
Though hiking downhill poses its own challenges, hiking uphill certainly takes more energy from your heart, lungs and legs and the last thing you want to do is arrive at the top completely spent.
Find a sustainable hiking pace – ideally I'd like to be able to hold a conversation while I'm hiking – and take regular breaks on steep climbs to catch your breath and drink water. Use flatter sections to walk a little more briskly and make up time without exhausting yourself.
3. Know when to quit
The main problem I see with fixating on the summit is that you might use up all your available energy to get there, then be unable to get down safely. Listen to your body and pay attention to cues of depletion. If you start to get really sluggish or worse, feel nauseous or dizzy, it's time to stop, get some fluids and fuel, then turn back and see the summit another day.
4. Conserve water and snacks
If it's a punishing climb to the summit, you might be tempted to chug all your water and eat all your snacks at the top, or even before you get there. You'll be well fueled to reach the top as a result, but then you've got nothing for the descent, and the longer the climb, the more of a problem that is.
Make sure you save at least half a bottle of water for your downward walk and have an emergency hiking snack like trail mix in case you bonk before you get back to the car. If you're close to running out of fuel and you're still a ways from the summit, turn back.
5. Get your poles out
Not everyone hikes with trekking poles and they're certainly a hiking accessory rather than an essential, but where they can be truly valuable is when you're hiking downhill, especially when you're tired. I really recommend a lightweight pair of collapsible hiking poles (I love my Leki Makalu Lites) which can stay in your backpack for the ascent, if you want, but bring them out for the downhill and you can save your legs from becoming too tired, and reduce the potential for twisted ankles.
All the latest inspiration, tips and guides to help you plan your next Advnture!
Julia Clarke is a staff writer for Advnture.com and the author of the book Restorative Yoga for Beginners. She loves to explore mountains on foot, bike, skis and belay and then recover on the the yoga mat. Julia graduated with a degree in journalism in 2004 and spent eight years working as a radio presenter in Kansas City, Vermont, Boston and New York City before discovering the joys of the Rocky Mountains. She then detoured west to Colorado and enjoyed 11 years teaching yoga in Vail before returning to her hometown of Glasgow, Scotland in 2020 to focus on family and writing.