Can you go hiking in flip flops?
We do our best to offer a balanced explanation of why flip flops don't make good hiking footwear, plus what you can wear instead to satisfy your barefoot ambitions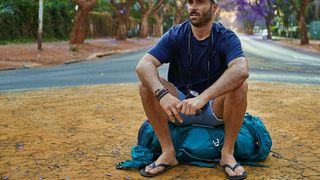 (Image credit: Westend61)
Every summer in Colorado, without fail, I'd see someone hiking in flip flops. It was usually when I was hiking a 14er, one of Colorado's 58 peaks above 14,000 feet that make up most of the highest mountains on the continent. I'd have left the trailhead before sunrise to summit before noon and get back down below treeline in case afternoon thunderstorms decided to make an appearance.
By lunchtime, I'd be striding down the last mile or two of the trail, feet getting a bit warm and tired in my hiking boots but otherwise feeling satisfied with my morning and ready for a slap up meal. Usually, I'd pass a few groups of hikers heading up, definitely a bit late in the day, but not a problem if they're not actually trying to summit, I'd think to myself. And based on the choice of footwear of at least one member of the party, I'd assume a summit was out of the question regardless of their intentions, since there was always that guy hiking in flip flops.
Among many mountain folks, hiking in flip flops has come to symbolize the clueless tourist, a flatlander that's traveled from some midwestern state, and heads up the first mountain they lay eyes on dressed as they would be for a trip to Walmart. I have no idea if these hikers actually were tourists – they might have been native Coloradans for all I know. But without fail, they were always struggling, unsteady on their feet and just not having a very good time, which is a shame when you're hiking in one of the most gorgeous mountain ranges in the world.
Now I'm a big proponent of hiking safety – checking the weather, telling someone where you are going, carrying a map and compass – but I'm also aware that the vast majority of folks hiking in flip flops get back to the trailhead without needing a helicopter or an ambulance. Statistically speaking anyway, you're more likely to just not get very far and have to turn back. But does that make it a good idea? Let's take a look at why flip flops aren't a great idea for hiking, even when it's hot out.
Can you go hiking in flip flops?
You can go hiking naked or dressed as a Yeti if you want to, but hiking in flip flops is a bad idea. Assuming we're talking about your typical 20 dollar flip flops made from foam and plastic that you wear to the grocery store on a Sunday morning from April to November anyway, there are some important reasons not to wear flip flops, and it's not just because the locals will laugh at you.
1. They offer no protection
First and foremost, flip flops don't provide your feet any protection. The soft soles make sure you feel every sharp rock under foot, and after four miles, that sensation gets really old. The open-toed design of flip flops also means no protection from stubbing your toes on tree roots and boulders, which isn't just painful, it can quite easily result in a broken toe.
At any time of year at high altitude, you can easily find yourself crossing snow or ice. Flip flops won't protect your skin from that coarse, grainy summer snow that's thawed and frozen thousands of times and shreds your skin as well as leaving you with cold feet, which can become a problem as you get higher in elevation and the air temperature cools (or if you get stranded due to a foot injury). You might also end up bushwhacking or hiking through long grass, and who knows what types of fanged critters might be lying in wait for a taste of your flesh.
2. They have zero traction
Next up, if you don't already know, hiking shoes are built for the mountains because they have thick, grippy soles with deep lugs. These prevent you from slipping and sliding on mud and slick rock surfaces as well as those steep slopes covered in rolly pebbles. Step onto any of those surfaces in flip flops and chances are your shoe will instantly slide back, your foot will slide out of it and you'll find yourself eating dirt. If you're really unlucky, you could end up like the flip flop wearing hiking who slipped 30 feet down a Utah waterfall. Hiking without slipping isn't just less annoying and a way to expend less energy, it also reduces your risk of falling and sustaining more serious injuries like a sprained ankle.
3. You have no ankle support
Speaking of sprained ankles, hiking boots and even shoes to a certain degree do arguably give your ankle a little support if you take a wrong step and roll your ankle. They're not a guarantee against an ankle injury, but combined with high side walls that let your foot sit nestled in your shoe, they do afford you some stability. In flip flops, there's no such support and if you go over on your ankle, you could be looking at a long limp out, or worse, a call to mountain rescue.
4. They cause blisters
Finally, though hiking boots can definitely rub, flip flops are notorious for hot spots. This is down to the materials they're made from, the fact that you don't wear them with hiking socks and the concentration of friction between the thong and the gap between your big toe and second toe. Sure, you might wear your flip flops all summer long with no rubbing whatsoever, but when you wear them for several miles, all the time gripping with your toes to try to keep your feet from sliding out, there's a better chance that you'll soon experience rubbing and blisters in between your toes, and that's just a difficult spot to place a blister plaster.
Are there any advantages to hiking in flip flops?
Now in the interests of balance, there are a few reasons why you might want to wear flip flops for hiking and we do understand that. First off, they're super lightweight compared to clumpy hiking boots, and there's no chance of getting blisters on your heels while wearing them. They're also super cool in hot weather and there's no hassle typing your laces at the trailhead. Flip flops can also be worn in the water, if your hike involves any swimming, though again they don't have much traction against slick rocks so we'd caution you to consider water shoes instead if you plan to get wet.
So should you go hiking in flip flops? Well, I still advise against it, but there is an alternative that might help you fulfill your desires to air out your feet and get your toes in the dirt, so keep reading.
Are hiking sandals good for hiking?
If you tend to hike some place where it's really hot in the summer, say Arizona, and the trails are always dry, you might be firm in your resolve against trapping your feet inside wool socks and heavy boots, and I can understand that to a certain degree (though synthetic socks and trail running shoes still seem like a better option).
If you're a flip flop devotee who wants to get out in the mountains, rather than risk having a miserable time, suffering flesh wounds or breaking an ankle, I highly recommend you look into a pair of hiking sandals instead.
Hiking sandals aren't quite as open as flip flops, but they do let your feet breathe, you can wear them without socks (though you don't have to) and they're lightweight as compared to regular boots and shoes. That said, a good pair will also be designed to afford your feet some good protection and best of all have thick soles with pretty decent traction. I personally own a pair of the Keen Newport H2 sandals and I've been really impressed with how much grip I get, even on Scotland's muddy trails. These types of sandals are designed to let you walk properly, and they're also waterproof, so they're great for hikes that also involve wild swimming, river crossings or water sports.
In fact, you might come to like your hiking sandals so much that they replace your flip flops for beach days, summer vacations at the lake and trips to Walmart.
All the latest inspiration, tips and guides to help you plan your next Advnture!
Julia Clarke is a staff writer for Advnture.com and the author of the book Restorative Yoga for Beginners. She loves to explore mountains on foot, bike, skis and belay and then recover on the the yoga mat. Julia graduated with a degree in journalism in 2004 and spent eight years working as a radio presenter in Kansas City, Vermont, Boston and New York City before discovering the joys of the Rocky Mountains. She then detoured west to Colorado and enjoyed 11 years teaching yoga in Vail before returning to her hometown of Glasgow, Scotland in 2020 to focus on family and writing.