Tips and useful ideas for bikepacking success
If you're a new (or fairly new) bikepacker, read our list of hacks and advice for easier cycling adventures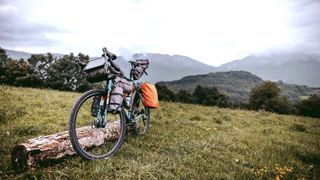 (Image credit: Getty Images)
Bikepacking is one of the newest – and fastest growing – trends in the world of cycling. Just strap your belongings and camping gear around your bike frame using a set of bikepacking bags, and set off for adventures of a couple of days, weeks, months or years. It's an awesome way to explore, and if you've not tried it before, this list of tips and hacks will help you avoid the most common beginners' mistakes and ensure your trip goes as smoothly as possible.
Pack – and pack again
Lay out all the kit you think you'll need for your trip. Then pack it neatly in your bikepacking bags. The chances are you will have fully loaded packs and perhaps even extra bits and pieces you can't fit in.
So, our top tip is to take out all your kit, lay it in front of you again and then cut it by a third. There are always items you think you might need but don't really need so its's a good idea to properly consider all your kit very closely and choose the essentials over the luxuries.
You might like to read this guide to weight-saving hacks for bikepackers.
Pack with thought
Check out our guide to bikepacking bags. Handlebar bags should be reserved for bulky but lightweight items, such as a down jacket and sleeping bag. Meanwhile, heavier items can be packed in the rear saddlebag. Longer, slimmer items, such as tent poles and a tire pump, will fit into a frame bag below the top tube.
Items that you want easy access to are better placed at the top of the rear saddlebag or in a cockpit bag. The smaller items, such as a phone and snacks, will be best placed in the cockpit bag.
Try your loaded bike
A bike loaded with kit will ride differently from an unladen bike. Learn the tips for riding with your bike packs and practise before you head off for an adventure.
Warmth and safety
Even if you think the weather will be warm and dry, you just never know what will happen, especially in the UK. It's a good idea to pack a waterproof jacket and insulated layer, such as a puffer jacket.
Add an emergency shelter, such as a bivy sack, and a small first aid kit in case you you have an emergency situation and need to stay put for a while.
If you will be cycling in the early mornings or evenings when it is dark make sure you pack bike lights as well.
It's also vital you pack puncture repair items and a few essential tools. Another important tip is that you know how to do some basic bicycle maintenance and repairs while on your trip.
Give your navigation device a trial
Good navigation will be crucial for an enjoyable trip. There are plenty of useful GPS devices that can be utilised, such as a bike GPS gadget or you can make use of a GPS watch. However, this is an area of bikepacking that requires some testing before you set off on a longer trip.
Before you go, try uploading routes to your gadget and then following them. You'll see if there are any issues or glitches, which hopefully you can solve with on-line tutorials.
Take a charging device
Bikepacking trips that will not take you between accommodation, such as hostels and guest houses, will require some kind of battery charger. A mobile battery charger can be used for your mobile phone, GPS bike gadget and sports watch. There are different chargers to choose from, including solar power chargers and power banks. There are some essential pieces of tech for bike packers.
Practise the mileage
You could build up your leg power and fitness after you set off on a bikepacking trip but it's much more pleasant to have put in some training before you go. Make sure you build up your distance and include the same sort of terrain that you will encounter on your bikepacking adventure.
Plan your food
If you will be camping and/or cycling off-the-beaten track on a bikepacking adventure, make sure you have planned what you will eat. Bikepacking burns plenty of calories so you will want to ensure you have sufficient fuelling with you. nything you take with you should be tried and tested.
Choose friends wisely
If you plan to go bikepacking with someone else, make sure you are compatible. Friendships and partnerships can be tested when travelling, especially in challenging conditions, and you should make sure you know you will enjoy spending a lot of time with your travel companion.
It could be a good idea to try a shorter trip before you head off for a longer adventure. Ask these questions: do you cycle at the same speed; do you want to travel the same amount of miles each day; will you both be keen to explore towns and tourist attractions; do you like to get up at the same time; do you both enjoy camping/hostels/hotels?
Sometimes, even the smallest things can cause a fall out on an active holiday ,so it's wise to think carefully about who you go bikepacking with.
It's also perfectly possible to go solo bikepacking!
Do your research
There are many great places to go bikepacking and it's worth doing some research first so you know what to expect and have the best trip. Read a bikepacking book or two, or search on-line. Ask bikepacking friends for recommendations. Also think about what bike to ride and the type of bikepacking bags you'll need.
Home... then away
If you hope to travel overseas on a bikepacking holiday, it's worth doing a few test trips closer to home first. You'll be able to iron out any problems you encounter when in familiar surroundings.
Also, learn how to take your bike apart and put it back together if you plan to take your bicycle on a plane.
Choose tried and tested kit
The best items for your bikepacking adventure are the ones you have used before. New kit that is not familiar to you might be the best product you have ever come across but, equally, it could be the worst and you don't want to find this out mid-trip.
If you plan ahead and do your research, there is every chance your bikepacking adventures will go smoothly.
All the latest inspiration, tips and guides to help you plan your next Advnture!
Fiona Russell is a widely published adventure journalist and blogger, who is better known as Fiona Outdoors. She is based in Scotland and is an all-round outdoors enthusiast with favourite activities including trail running, mountain walking, mountain biking, road cycling, triathlon and skiing, both downhill and back country. Her target for 2021 is to finish the final nine summits in her first round of all 282 Munros, the Scottish mountains of more than 3,000ft high. Aside from being outdoors, Fiona's biggest aim is to inspire others to enjoy the great outdoors, especially through her writing. She is also rarely seen without a running skort! Find out more at Fiona Outdoors.