How to get your kids outdoors more
An Olympic rower shares 5 tips for getting kids off screens and outside more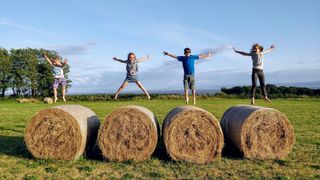 (Image credit: Cotswold Outdoors)
I don't know about you, but I'm constantly amazed by the similarities between my stepkids and indoor cats. My boyfriend and I love nothing better than to get up a hill, in literally any weather; meanwhile, left to their own devices, the kids have an insatiable appetite for curling up under a blanket, emerging only for meals, looking pale-faced and dazed. This isn't to say that we don't drag them up mountains, on bike rides and make them jump into lakes with us – we do, it just comes with a lot of whining, foot dragging and meltdowns.
So when I heard that Olympic champion rower Helen Glover MBE, a Cotswold Outdoors ambassador, was offering tips for getting your kids outdoors more, I jumped at the chance for some advice. After all, fresh air and exercise is vital for developing bodies and minds, and getting them outside more means we get to spend more time in nature together. Want your kids to spend more time in hiking boots and less time on screens? Try these five tips for getting your kids outside.
1. Do a treasure hunt
Everyone loves a good treasure hunt, and as Glover points out, this is a crafty way of getting your kids to walk further than they usually would as they follow the clues.
"The great thing about a treasure hunt is that it doesn't matter where you are. You could explore a woodland, draw clues on a sandy beach or mark pavements in chalk at your local park. It's an activity you can take anywhere," says Glover, who suggests even soaking the map in coffee to make it look old, if you're feeling creative.
But this strategy isn't just a distraction measure – it helps your children look closer into the natural world and develop their own interest in it.
"Searching for treasure and looking for clues makes the kids look for and appreciate those small details you find in nature. Every time we set foot in the natural world, I want the children to understand that we're so lucky to have this, and we need to protect it."
2. Build a den
One of our kids is seven and the other 14, so they might not have loads of interests in common, but one activity they both enjoy is building a den. Because they're indoor cats, this usually entails stringing a blanket up from the top bunk, over two chairs or using a mountain of cushions, but as Glover points out, you can still do it the old fashioned way – in the woods.
She advises finding the trunk of a tree that's fallen, but is well-balanced and resting securely, to act as your main beam. Then collect as many sticks as you can to lie against it. Once you've made your main A-frame structure, you can add smaller sticks on top and cover it with moss and leaves to help make it more weatherproof and feel cozier.
This gives your kids a spot to hang out in for hours, and will provide them the foundations of skills for the future, like building a natural shelter when they finally realize you were right all along and the natural world is worth getting to know.
3. Pick up trash on the trail
Picking up litter is something we already do on our block at home, but it had never occurred to us to use it as a means to get the kids on the trail and help them become stewards of nature. You might think your kids will turn up their noses at the idea, but Glover explains that they're often more open to it than grownups, who tend to overlook trash on the trail.
"Children these days are well-educated on the problems of our planet. Sometimes talking about climate change can be scary, but litter picking is a great way to bring that down to a small scale."
Plus, most kids love animals and wildlife, so take them time to explain to them that their efforts are helping to keep cute creatures safe from harm.
"Picking up one cup can save one hedgehog, which is amazing and empowering for kids," says Glover.
4. Build a bug hotel
We live in a city apartment, but out back is a lovely shared garden. Which our kids never set foot in without force. If you have a safe outdoor space that your kids can explore while you put your feet up, Glover suggests you get them out there by helping them attract small creatures they can inspect closeup in a bug hotel.
"Bug hotels are great for attracting ladybirds, earthworms and lacewings, which your garden loves, as well as earwigs and woodlice."
Glover recommends using an old plant pot, crate or even an old pipe to fill up with things from the garden. Line it with your bug bedding made up of hay, sticks and leaves and wait for the insect tourists to check in.
5. Bribe them
When all else fails, go with a good old fashioned bribe. If, like me, what you really want to do is to go on a hike, you can do that, you just might need to arm yourself with some treats to head off any meltdowns at the curve, and while you're at it, make sure you have plenty of extra clothing. Some of our more disastrous family hikes have involved not bringing enough pairs of rain pants for everyone, and thinking that the promise of a cake afterwards would be enough motivation to get to the top. It isn't.
"One of the most important things I always try to do when I set out with the kids is pack plenty of snacks and drinks. A good bit of bribery is also asking the children to find a good picnic spot so they can stop and have a bite to eat," says Glover, who advises sunscreen as well as warmer layers, and making sure they have decent hiking shoes that fit properly and don't rub. That's a recipe for a tantrum.
Bring a hiking backpack, pack it with snacks and a camping blanket, and call it a picnic rather than a hike – sandwiches and chips are a sure fire way to get most kids off the couch and into the wild.
All the latest inspiration, tips and guides to help you plan your next Advnture!
Julia Clarke is a staff writer for Advnture.com and the author of the book Restorative Yoga for Beginners. She loves to explore mountains on foot, bike, skis and belay and then recover on the the yoga mat. Julia graduated with a degree in journalism in 2004 and spent eight years working as a radio presenter in Kansas City, Vermont, Boston and New York City before discovering the joys of the Rocky Mountains. She then detoured west to Colorado and enjoyed 11 years teaching yoga in Vail before returning to her hometown of Glasgow, Scotland in 2020 to focus on family and writing.