I know you didn't drop it, but pick up that trash on the trail
If you've been hiking past trash on the trail for years, it's time to pick it up – here's why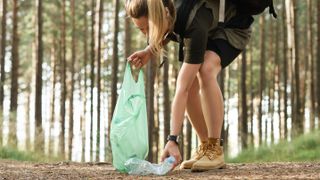 (Image credit: Jun)
I'm beginning to think that there are two types of hiker in the world, and no, I'm not talking about the staunch supporters of the sturdy hiking boot versus those that herald the virtues of a lightweight trail running shoe. I mean that there are hikers who march past litter on the trail, leaving it to the winds of time, and those who stop to pick it up.
Look, I know what you're thinking: but I never drop trash on the trail! That's hopefully true, but you should pick it up anyway.
I've become increasingly aware of litter on the trails since moving back to Scotland two years ago. When I lived in Colorado, I might clock one or two discarded water bottles or running gel packets over the course of a six-mile hike. Here in the UK, we're notorious litterbugs. On a recent one night backpacking trip along the shores of gorgeous Loch Lomond, my delight at having the whole place to myself quikcly turned to dismay when I discovered I was sharing my site with empty liquor and soda bottles. Worse, they had evidently been there for some time, making me suspect quite a few hikers before me had ignored them.
In the morning, I gathered up the rubbish in a plastic bag and carried it up the West Highland Way to a nearby hotel where I disposed of it. It's something I have to do more than I'd like, but not something I'm willing to avoid just because it's annoying and I didn't make the mess in the first place. No matter where you live and hike, if you've been hiking past trash on the trail for years, it's time to pick it up – read on to understand why.
1. It sets a good example to fellow hikers
Teaching by example isn't just something your parents and teachers told you to do in order to get you to behave – studies show that leading others by your good example does in fact influence their cooperation. Now granted, on my recent hike, there was no one around to applaud my efforts (and that's not why I did it), but these days, the chances are high that other people will be around to witness your behavior, whether that's your kids, your hiking partner, or just passing walkers or runners who'll probably notice you're walking with a bag of rubbish. They honestly might just not have thought to pick up that orange peel, but seeing you do it might serve as inspiration to other hikers, and before you know it you could have a whole army of stewards of nature on the trail. Researchers at the University of Leeds performed a study in 2008 which concluded that it takes a minority of just five per cent to influence a crowd's direction. Be in the five percent.
2. Litter begets litter
It starts with a tissue that might have fallen out of a hiker's pocket. That attracts a single trail mix packet. Before you know it, that's been joined by an empty water bottle, a protein bar wrapper and an apple core. A 2017 research paper titled Beacons of litter found that 35% of littering occurred in places where there was already trash present. And remember that University of Leeds study? The flip side of it means that a whopping 95 percent of people follow the herd without even realizing they're doing so. The bottom line is that even one piece of rubbish on the ground will probably incite other people to drop more, so if you pick it up, you could sizeably reduce the presence of future trash and positively impact the issue going forward.
3. It protects those more vulnerable than you
I'm not talking about other hikers here; the local wildlife needs your help and protection. Plastic wrappers can release harmful chemicals into the soil, nearby rivers and into the air and wild animals and birds might eat trash, which can ultimately lead to disease and death. Even eating your discarded organic matter, such as trail mix and fruit peels, can be bad for wildlife. It can cause digestive issues if it's not their native food (which it isn't, unless your hiking snacks entail insects and plants) and can cause gathering of different species that wouldn't usually collect, encouraging the spread of disease, according to National Geographic. If for some reason you're still not buying it, please read our article on the dangers of feeding wildlife and take it upon yourself to pick up anything they might mistake for food.
4. It feels good
Seeing litter on the trails doesn't feel good. In fact, it makes me feel angry and upset, and I know I'm not alone in this. Research commissioned by Zero Waste Scotland found that littering generally impacts people's mental health and is associated with higher crime rates. Picking up litter, on the other hand, feels good. As a self-confessed germaphobe, it definitely took me a little while to wrap my head around this, but once I figured out how to pick up people's trash without touching it directly, I discovered that it brings me a sense of accomplishment and personal responsibility. I'm speaking purely from personal experience here, but picking up trail trash makes me feel like I'm taking care of nature and providing a healthier space for others, which is a darn sight better than feeling grumpy.
5. It may have been dropped by mistake
Speaking of grumpiness, many of us instantly start playing the blame game when we spy a chewing gum wrapper on the trail, don't we? I know in the Colorado Rockies, we always pointed the fingers at the front rangers and tourists, with absolutely zero proof of their guilt. But not all trash is there because some ignorant hiker dropped it on purpose. You'll know yourself that hiking involves a lot of zipping and unzipping of pockets to pull out maps and cameras, often clumsily because you're wearing hiking gloves. It's definitely possible that that wrapper was dropped by accident, not through malice, which is all the more reason to pick it up. Hopefully if you accidentally drop your sandwich wrapper, the next hiker thinks so generously of you.
6. There's no janitor out here
Because US hiking trails in particular are so well maintained, what with their informative trailheads, handy trail signs and clear path, it can be easy to assume that there's some invisible army out who will sweep the trail at the end of each day, kind of like the cinema staff who clean up all that popcorn. Though trails are often managed by organizations like the US Forest Service, such organizations are often underfunded and volunteer-based. In 12 years of living in Colorado, I met a ranger on the trail precisely once. There isn't a custodial crew on hand to clean up, so if you don't do it, it's possible that no one will. And that just spells for less beautiful trails for all in the future.
How to keep the trails litter-free
Helping to keep the trails free of trash doesn't have to be a pain. Every time you set off on a hike, it's a good idea to stuff a trash bag into the side pocket of your hiking backpack in case you encounter litter. You don't have to hike with one of those plastic litter pickers – though you certainly can – but it's a good idea to bring thick gloves so you have a little protection against sharp items, and some hand sanitizer. Grab as much trash as you can carry – if it's an out-and-back hike, it's reasonable to save all this for your return journey, and dispose of it all properly when you get home, meaning recycle the recyclables.
Finally, join any trail clean up days if you can. These are often organized once or twice a year in the off-season and are a great way to pick up a lot of trash at once with more manpower involved, and a good way to meet like minded people who love hiking and care about nature. If none are taking place in your hiking area and there's a need for one, consider organizing your own. And if you're a business owner, consider signing your business up for an Adopt-a-Trail program, so you and your employees can take part in some team-building volunteer activities.
All the latest inspiration, tips and guides to help you plan your next Advnture!
Julia Clarke is a staff writer for Advnture.com and the author of the book Restorative Yoga for Beginners. She loves to explore mountains on foot, bike, skis and belay and then recover on the the yoga mat. Julia graduated with a degree in journalism in 2004 and spent eight years working as a radio presenter in Kansas City, Vermont, Boston and New York City before discovering the joys of the Rocky Mountains. She then detoured west to Colorado and enjoyed 11 years teaching yoga in Vail before returning to her hometown of Glasgow, Scotland in 2020 to focus on family and writing.