4 reasons for runners and hikers to get excited about the new Apple Watch Ultra 2 and Series 9
Apple's new Series 9 and Ultra 2 watches have just been released, and we have been busy running our adventure-focused eye over them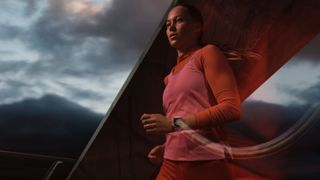 (Image credit: apple)
Ooh, how exciting, the new Apple Series 9 and Watch Ultra 2 sound like they have some hugely interesting and useful features for runners, trail runners and hikers – additions that might be about to rival the top end Garmin sports and navigation watches. Priced at $399 and $799 respectively, they don't come cheap, but they may be worthy of a place among the best GPS watches when they're released on Friday, September 22. Let's find out what Apple are promising, and why this could be good news for outdoor types.
1. Useful, new hands-free features
Apple Watches already use gestures like tap, swipe, wrist raise and cover to mute, but the new Double Tap feature on the new Series 9 and Ultra 2 watches allows you to operate the main watch button without touching it at all. Neat! Simply tap together the index finger and thumb of the hand that's wearing the watch and the faster Neural Engine will sense this movement by detecting the tiny changes in blood flow and your wrist movement, using it to answer/end a call, start/stop a timer and play/stop music and even take a photo without even touching the screen.
Double Tapping also opens the Smart Stack from the watch face and another Double Tap will the scroll through the widgets in the stack. We think this is potentially a pretty useful feature for focusing on fast workouts or strength work, and runners and hikers using poles, tackling rough terrain or trying in vain to operate the wet touchscreen in the rain.
The second hands-free feature on both the Apple Watch Ultra 2 and the Apple Watch Series 9 is On-Device Siri requests that don't need the internet, like starting a workout or setting a timer. Apple say the more powerful Neural Engine makes dictation up to 25% more accurate than the Apple Watch Series 8. Your health data is also secure, and you can ask Siri to access data from the Health app, like period details, weight info, medication taken, how many hours sleep you had, progress on closing Activity rings and blood glucose levels if you have a monitor connected. For the same reasons as above, hands-free access to this information is really useful for runners and hikers.
2. New sporty features
The new Series 9 and Ultra 2 will use the watchOS 10 update including an updated Compass app showing current elevation in real time with a 3D view of waypoints showing relative elevation. This sounds sounds super useful for trail runners and hikers. Even more excitingly, the new topographic maps in the Maps app should show important details like points of interest and trailheads, hill shading, contour lines, elevation, and cellular and Emergency SOS waypoints. Will Apple start to rival the trail-blazing navigational capabilities of the best Garmin watches, the tiny sat navs of the mountains? We're dying to test these new features out and tell you!
But we do know that the Apple Watch Ultra 2 boasts a large display where the outermost edge now displays real-time data including seconds, altitude or depth, and Apple say it will allow for the most customisation for sports, outdoor adventures and water activities of any Apple Watch. It also has the largest altitude range too, from 500m below sea level to 9,000m, so if you were planning that Everest trip, this might be the watch for you…
3. Increased battery life
Apple say the power efficiency of the Series 9 and Ultra 2, with their twice-as-fast compared to the Series 8 4-core Neural Engine and powerful S9 SiP chip – gives them an all-day 18-hour battery life. But this depends what you're using it for and we haven't yet got our hands on it to check out the battery life when doing a running workout or testing the new navigational features – watch this space for more soon.
4. The Apple is getting greener (although there is still some way to go)
David Starley, co-founder of The Green Runners says, "I'm pleased to see Apple making efforts to reduce the impacts of their products, however there is no mention of how recyclable or reusable they are, only that it uses recycled materials. The durability and ease of repair of the watches should be the number one priority. I would encourage Apple to publish a full Life Cycle Assessment of their watches and to disclose how they intend to reduce the overall footprint of them in line with their company wide commitments to achieving Net Zero."
Apple claim all their watches, including the new Series 9 and Ultra 2, now have carbon neutral options which "represents a significant milestone" in their plan to become carbon neutral across the entire business, manufacturing supply chain and product life cycle by 2030. However, this is only based on select combinations of watches, cases and straps with their new carbon neutral logo on the packaging.
As outdoorsy types it's a major plus point for us that Apple are heading in this direction by using more recycled components and materials, replacing leather straps with new, 68% recycled fabric FineWoven, reducing its own emissions from production and encouraging suppliers to switch to green energy. However they are still having to offset the remaining carbon emissions through CO2 sequestering projects.
The new Apple Series 9 and Ultra 2 watches are ready to pre-order now, and available from 22 September 2023.
All the latest inspiration, tips and guides to help you plan your next Advnture!
The co-founder and former editor of Trail Running magazine, Claire now runs the YouTube channel Wild Ginger Running, creating films packed with trail- and ultra-running content. An award-winning journalist, writing for outdoor and adventure sports magazines and websites, her first book The Ultimate Guide to Trail Running 5k to 50k is out in January 2021. Claire also speaks and presents at events and races.