6 science-backed benefits of camping
We look at the research to uncover why camping helps us feel so good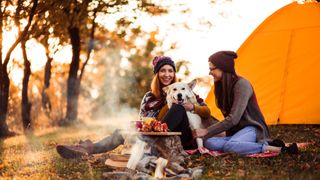 (Image credit: Kosamtu)
Camping for me was always just a lark – a necessity of going to music festivals or taking river trips in college. That's until I moved to Colorado in 2009, when I started to really notice some therapeutic aspects of camping. I'm sure the shift was facilitated by a few factors – I tended to camp more frequently there than ever before, often in more intimate groups and go deeper into the backcountry. Whether I was on an overnight backpacking trip to an alpine lake or spending a week desert camping in Moab, the effects were so profound that the actual camping itself soon became a ritual, where I went into the wild for the uninterrupted al fresco time, spending hours gazing at the stars and being awakened by the sun. I'd enter into a really calm, contemplative state with even just a single night of sleeping outside, and that state would stay with me long after I returned home.
With stress levels on the rise everywhere, it recently occurred to me that camping more could actually be a form of nature therapy in itself – not just an activity that bookends other things we like to do outdoors. So I set out to find out if there really is any evidence that camping is good for you, and came back with six amazing science-backed benefits of camping that might persuade you to get out your sleeping bag more often.
1. Reduces stress
Camping can be the perfect way to reduce stress and anxiety, and it's not just all that swinging in the hammock, although that certainly helps. A 2021 study is one of many that associates spending time in nature with lowered blood pressure and improved mental health, and you don't have to be doing green exercise to get those benefits – a 2013 study published in the Journal of Environmental Psychology found that just listening to the sounds of birds helps you to recover from stress and restore mental focus. Simply spending time in a green space, so long as it's a situation where you feel safe, can do wonders for your sense of wellbeing.
2. Gets you moving
It's true that you don't have to be exercising while you're camping in order to get a lot of benefit, and that's partly because camping by nature gets you moving more so than your daily life does. Packing up your gear, pitching your tent, inflating your sleeping pad and setting up your camp kitchen will all probably have you on the go around more than you ordinarily would at home where your bed and kitchen are already set up. It might not feel as rigorous as going up a mountain, but a 2020 study in the Journal of Family Psychology found that even light activity such as household chores improve physical health, as well as relationships and sleep.
3. Resets your body clock
When you're camping, you're going to be exposed to morning light in a way that you aren't at home, even if it's just through the walls of your tent as you oversleep. As we recently explained, morning light is crucial to your health because it resets your body clock, inhibiting the release of melatonin and stimulating the flow of cortisol, which wakes you up. This helps your hypothalamus govern many of your body's hormonal processes, and culminates in better sleep the following night, which then gives your physiology a chance to recover. You've also got the anti-inflammatory and anti-aging effects of that exposure to infrared light, only available at sunrise and sunset, which scientists are only just beginning to understand.
4. Helps your lungs
Getting away from busy roads and into the wild means you're breathing in less air pollution, which the World Health Organization identifies as one of the greatest environmental risks to health. You'll certainly notice this shift if you suffer from any respiratory conditions like asthma. However, there is a caveat here – if you're breathing in campfire smoke, or camping during wildfire season, you're going to end up with irritated airways. Feeling conflicted? Read our tips for camping without a campfire.
5. Boosts your attention span
Assuming you're not one of the people who brings their laptop to camp, and you don't spend the whole time scrolling, camping gets you away from screens and engaged in other activities, like playing games and conversation. Though we're still learning about the ramifications of so much screen time, there is a growing body of research, compiled in a 2017 review published in Frontiers in Psychology, that suggests it may impair our cognitive abilities and ability to concentrate, while a 2010 article in the New York Times proposed constant screen use deprives our brains of much needed down time. Unplugging, if only for a few nights, definitely gets your eyes and brains off screens and may restore some of your ability to focus. So when you get back to work and home life, you'll be less distracted and more productive.
6. Improves your relationships
Whether you go camping with your family or partner or go it alone on a solo backpacking trip, research suggests that it can enhance your relationships. Sure, it might just be down to the quality time together, the reduced stress, or the team building it takes to get camp set up, but a group of four studies published in the Journal of Environmental Psychology
in 2014 identifies time in natural environments as helpful with so-called prosocial behavior – generosity, empathy, trust and helping others, which are all indicators of healthy relationships. So if you're looking to spice things up, or build a more harmonious relationship, maybe axe the next date night at Applebees and head for the woods instead.
All the latest inspiration, tips and guides to help you plan your next Advnture!
Julia Clarke is a staff writer for Advnture.com and the author of the book Restorative Yoga for Beginners. She loves to explore mountains on foot, bike, skis and belay and then recover on the the yoga mat. Julia graduated with a degree in journalism in 2004 and spent eight years working as a radio presenter in Kansas City, Vermont, Boston and New York City before discovering the joys of the Rocky Mountains. She then detoured west to Colorado and enjoyed 11 years teaching yoga in Vail before returning to her hometown of Glasgow, Scotland in 2020 to focus on family and writing.