7 tips for camping with kids
Our tips for camping with kids help you maximize the fun, minimize opportunities for disaster and create lifelong memories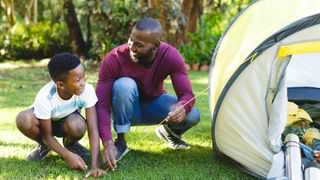 (Image credit: Wavebreakmedia)
Nobody ever said camping with kids would be easy. We've all been there: it's lashing with wind and rain, the tent is threatening to turn inside out as you desperately check each tent stake, and re-fix each and every rope.
The children, who got changed (for the third time today) into their final batch of fresh clothes only moments ago, decide now is the time to begin a game of chase around the tent, followed by supporting cast member, the dog. Inevitably, one of them goes face first into the soaking wet dirt, the dog begins barking with approval and now, buoyed with confidence, is contemplating cocking his leg against the side of the tent to properly dethrone you and claim its position as undisputed Lord of Misrule, head of the camp.
Just as you think things couldn't get any worse, the children start asking when dinner will be ready...
From packing and setting up your camp kitchen, to keeping the kids entertained and constantly fed, camping with kids can, at times, feel like a lot of work. However, camping with kids can also be great fun, and not just in retrospect. Trips into the great outdoors can result in the most positive of long-lasting family memories, and leave a wonderful legacy in the form of stories that will be told around future campfires, by your kids to their own little adventurers.
So, before you embark on your next family camping trip, we explain how to have a stress-free family camping holiday, with seven essential tips to help you maximize the fun, minimize disaster and make the most of your time away.
At some point you may also need to think about camping with teenagers – but that's a different story...
1. Be flexible
Not everything will run to plan on a family camping trip. It never does. Sometimes nothing at all will go as expected. Learning to roll with the punches can help you survive unforeseen incidents and bad luck moments. Don't build every trip up too much in your head, or in the children's imagination. Promise a realistic amount of fun and adventure, then try and deliver more if the winds of fate are blowing in your favor.
Usual home routines will have to be bent and adapted as excited kids look forward to later nights and more treats. Staying up beyond bedtime is part of the thrill of camping as a kid, and it's good to use this extra time in the evening as a family to sit around the campfire, stargaze, search for nocturnal animals, read together, share stories or play board games. You'll have spent more quality time together, and by the time the kids do hit the sack they will be exhausted. It's a win-win.
2. Gear up for comfort
Though we're huge fans of all the latest in ultralight camping gear, we'd be the first to bring our biggest and most comfortable gear for camping with kids, especially if you're car camping. Make sure you've got the best family tent for shelter, or two smaller ones if your kids are a little more independent. Consider bringing plush air mattresses instead of sleeping pads, especially if there are three or four of in one tent and bring everything you need for cooking up some great meals, from a double-burner camping stove and a Dutch oven to a camping table where you can safely prepare food. Make sure to bring your best camping lanterns too, to keep little ones safe after dark.
3. Prepare for fun... and dessert
When camping with kids, take plenty of toys to keep them entertained. We don't mean action figures or teddies (although there's no harm in letting little ones take their favorite soft toy from home along for the adventure), and we certainly don't mean screens. We're referring to camping toys – flashlights in particular can be used for all sorts of entertainment, from spotting nocturnal wildlife to making shadow puppets on the side of the tent, and illuminating faces during fireside ghost stories (just make sure each child has their own flashlight, or you'll only end up with more squabbling). Other fun items include compasses and, for older children, small camping knives for whittling sticks. Other toys, such as little sailing boats for sailing along streams, can be made from sticks and leaves. Looking for more ideas to keep them occupied? Check out our 11 camping tips for kids.
Further, while all camp cookouts are a blast for kids, make sure you plan on lots of fun, sweet treats with our easy camping desserts. They can always get back to clean eating when the holiday is over.
4. Expect loads of laundry
Kids being kids, they will make it their holiday aim to sully every last piece of clothing that you've carefully and neatly packed for them. Don't despair. A little dirt never hurt anyone and a lot of campgrounds now have laundry facilities onsite. By including a small amount of detergent in your essentials packing list, you can avoid the whining of the child who can't find any clean clothes as they toss each and every item you've packed for them around the tent in horror.
5. Embrace the rain and use your imagination
Rainy days can result in some families hunkering down together in the tent. While this may seem like a good option, often it's not. If the wet weather has set in for the day (or week), no amount of singing or tent games will stave off the boredom and frustration. When you're camping with kids, that's when things turn ugly, and no tent in the history of tents will feel big enough.
If you do your research before you depart, you can easily create a shortlist of viable local points of interest to visit should you be hit by a spell of inclement weather. There might be caves nearby, or historical buildings to explore. Outdoor adventure centres usually offer a plethora of bad-weather options, including climbing walls. But also, remember it's only a bit of cloud juice – pack your best waterproof jackets and other clothing and get outside regardless of the weather. Go make a den or explore a forest – make it fun and when you get back and climb into warm dry clothes, you'll feel a whole lot better. Looking for more ideas? Check our 12 camping activities for rainy days.
6. Prepare for accidents
Accidents will happen. Kids will trip over tent pegs and, while outdoor cooking and campfires can be amazing fun, no one is immune from all spills and sparks. However, by setting clear boundaries and rules from day one, you can minimize the likelihood of anything like this happening. Nothing reduces stress like knowing that you've already planned how to contain a situation, so ensure that you pack a good first aid kit capable of dealing with all likely trips and spills. Also familiarize yourself with the location of the nearest emergency department. Hopefully nothing happens, but if it does, you'll be fully prepared.
7. Take some time for yourself
Family camping trips may be 99 percent dominated by the little ones, but that's not to say that you can't reward yourself with moments of peace at certain points in the day or evening. Sit back and enjoy those moments when the kids are entertaining themselves; those dirty plates can wait a while. If you're on the go 24 hours a day, you won't be at your best. Remember this is a family camping vacation, so treat it as such. At the end of the day, when they're fast asleep in their best sleeping bags and there's still life in the campfire, pour yourself and your partner a drink, kick back, and contemplate the good life.
All the latest inspiration, tips and guides to help you plan your next Advnture!
An award-winning outdoor blogger and Ordnance Survey #GetOutside champion, David is most often found hiking, scrambling and skiing in the mountains, paddling on lakes, and wild camping with his wife and two young children. As a full-time English teacher, he weaves his love for the outdoors into his professional life by encouraging young people to explore, and once led a group of 32 teenagers on a month-long trip to Tanzania, an expedition that included climbing Africa's highest peak, Mount Kilimanjaro.