8 smart solutions for carrying your keys while running
Tired of jangling keys, or worse, losing your keys on the trail? Our eight suggestions for carrying your keys on a run are sure to provide you with a perfect solution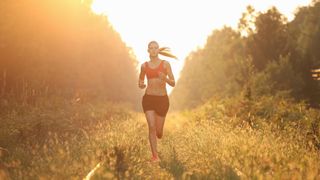 (Image credit: Stanislaw Pytel)
One of the things I love most about trail running is the minimalism. Compared to hiking, where I load up with trekking poles, extra clothing, food and water, for my typical 10k run I can hit the trail virtually unencumbered. Besides my phone, which I bring for GPS tracking and safety, the only thing I carry are keys – either the two needed to get back into my house or a single car key if I've driven to the trail.
Running clothes are also on the skimpy side compared to hiking clothes, so for years, I just shoved them in the pocket of my running jacket, which worked well until the time I also shoved my phone into that same pocket. I had driven up to the trailhead to hit the East Lake Trail near Vail and about 5k in to my run, when it was time to turn back, I realized my keys were gone. I recalled pulling my phone out a couple of times during the course of my run and figured it had pulled my keys out too.
I had no phone service back there, so there was no way of calling a friend for a lift. I was looking at a long return – 5k back to the car then another seven miles home! Looking for a key felt like searching for a needle in a haystack, but I headed back, keeping my eyes peeled and when I saw my car glinting in the distance and still no key, my hopes began to fade entirely. But upon approaching the car, there was my key, lying on the ground, waiting for me. Other hikers and runners were parked there but no one had disturbed it – or stolen by car. The joys of living in a small town!
The experience did, however, make me a lot more cautious about where I put my keys when I go for a run. These days, losing them on a trail run would mean seeking out a friend or family member for a spare set upon returning to the city. It's not like I'd be locked out forever, but it could turn a quick jaunt out in the hills into a long, annoying day. If you have other people relying on you, like clients or children needing picked up from school, losing your keys on a run could be even more inconvenient, I know, so I've come up with a list of smart ways to carry your keys on a run that I've tried and tested, plus a few of my friends' favorite methods.
First things first, if you run frequently, invest in a small, lightweight carabiner and use it for the keys you'll want to take with you when you run. If you're driving to the trail and it's your car key that you'll be carrying, put your car key on the carabiner, and if you're running straight out the back door and it's your house key you'll be running with, put your house key on it. Then attach it back onto your main bunch of keys and when it's time to go for a run, you can quickly and easily remove the keys you need to take with you (they can stay on the carabiner or come off, depending on how you want to carry them.
When finding a good way to carry keys on your run, there are three top priorities to take into account:
Somewhere they won't jangle if there's more than one key
Somewhere they won't dig into your skin and hurt or annoy you
Some place where you definitely won't lose them
Take a look at the following options and it should be pretty clear pretty quickly which ones are going to work for you and which aren't – for example if you live in Florida then #5 won't be an option – then you can lace up your best trail running shoes or road running shoes and give it your all without worrying about saving energy for shimmying up the drainpipe when you get home.
1. Don't carry them
The first option is to simply not carry your keys on a run, but stash them instead. If you're driving to the trailhead, you can hide them on top of one of the wheels of your car or even in a bush or under a rock. If you're leaving from home, use a designated safe space like your mailbox or a garden gnome, or invest in a lockbox. Obviously, the main downsides to this method are that someone else could come along and swipe your key, so make sure it's well-hidden and no one can see you stash it, and of course if you get too creative, you might not be able to find it again.
2. In a pocket
Fortunately, pretty much all running gear being made today comes equipped with small, hidden pockets ideal for stashing keys, so if you're running in your old togs from 2013, it might just be time for an upgrade. Seek running leggings that have pockets in the thighs or waistband, running shorts with concealed waistband pockets or a running jacket with pockets. Be sure that you don't make my mistake and put anything else in the pocket that you're going to pull out on a run – that way, you can be pretty certain the keys will still be there when you're finished cooling down.
3. Safety pin them to your clothes
Don't want to invest in new running gear? Fair enough. Grab a safety pin and pin your keys to the waistband of your pants or shorts instead. This also works as a backup measure if you're placing the keys in a pocket but are afraid they'll fall out – just pin them to the fabric inside the pocket. The disadvantage of this approach is that you're constantly poking small holes in your clothes, and it doesn't work so well if you have more than one key to carry.
4. Use a hair tie
Stretchy hair ties are another way to attach your keys to your person without damaging your clothes, and you don't have to have a ponytail to use this method. If you do have a ponytail, you can loop the hairband through the hole in the bow of the key first, then tie your hair up. My friend Carrie does this for every run and swears it doesn't annoy her, though with my larger house keys it wouldn't be a very fun option.
You can also wear the hair tie around your wrist if it's a small, light key, but try to avoid a too-tight hair tie that might restrict your circulation. Finally, you can thread the key around your shoelaces (go for the top of your foot, not the bow) which works fine as long as you're not running through long grass or low scrub where it could catch on something.
5. In your glove
I've heard of runners putting a key in the ankle part of their running socks, and I must say that I've never tried it and probably wouldn't, as it sounds too easy for the key to slides down inside my shoe. A similar but better solution that works for winter at least is, if it's cold enough to wear running gloves, then you can simply put the key in the palm of your hand. Again, this only works if you have only one key to carry, and if there's any chance of you taking your gloves off when you warm up, it may just be another way to lose your key.
6. In your sports bra
If you wear a sports bra for running, you can definitely stash one key in your bra, or even one key in each cup. The comfort of this will definitely depend a bit on the tightness of your sports bra and your own preferences, and it may not be great for long distance runs, but I've never had any issues with it.
7. In your phone case
Moving on from attaching your keys to your person, these days everyone should be carrying their phone inside a protective case, so if you bring your phone with you on a run, that's another safe place. If you only have one key and it's not too bulky, pop your phone out of its case, place the key in the case flat, then return your phone to the case.
If you carry your phone in an armband, such as the Quadlock that I use, you can also slide your key in before inserting your phone.
8. In your water bottle case
Finally, if you run carrying water, the carrying case for your bottle might be perfect for stashing a key or two. A key can slide into a simple water bottle sleeve and be held firmly in place, while lots of great water bottles for running like the CamelBak Quick Grip Chill Insulated Handheld Podium Chill Bottle come with a carrying sleeve that has a pocket for small items.
All the latest inspiration, tips and guides to help you plan your next Advnture!
Julia Clarke is a staff writer for Advnture.com and the author of the book Restorative Yoga for Beginners. She loves to explore mountains on foot, bike, skis and belay and then recover on the the yoga mat. Julia graduated with a degree in journalism in 2004 and spent eight years working as a radio presenter in Kansas City, Vermont, Boston and New York City before discovering the joys of the Rocky Mountains. She then detoured west to Colorado and enjoyed 11 years teaching yoga in Vail before returning to her hometown of Glasgow, Scotland in 2020 to focus on family and writing.