Dark sky stargazing: the best places in the US for viewing the cosmos
Where to go to see the best dark sky stargazing displays in America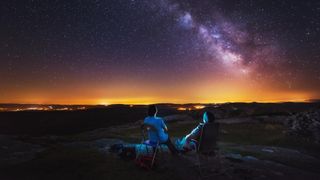 (Image credit: Getty)
Delighting in an overarching dome of glinting stars is one of the most memorable outdoor experiences you can have.
Marvelling at a meteor shower, or being bedazzled by Betelgeuse is pretty unforgettable stuff. But seeing constellations at their best isn't always easy. Skyglow – the layer of light pollution hovering over urban areas – makes it harder to see stars. It literally takes the shine off, in fact.
Getting out of town, away from all those street lights, gives an altogether different, more satisfying experience – whether you're looking with the naked eye or binoculars – make sure you're using the best optics with our guide to the best binoculars you can buy.
So, come with us on a trip around the best places in the US to experience dark sky stargazing – and make the most of the most wonderful sights in the northern hemisphere night sky.
Dark sky parks
If you're after unforgettable celestial eye candy, pinpointing places with dark skies is crucial. And, because people create light, we're basically talking about heading to places with fewer folks.
The International Dark-Sky Association (IDA) can help. It's the recognized global authority on the benefits of nighttime inky blackness and spearheads the campaign to limit light pollution. It's designated dozens of International Dark Sky Parks – places with high-quality starry nights and degrees of protection and public access. And the good news for Stateside star-gazers is that the US has more than 50 of these parks. To find your nearest, check out this full list of IDA International Dark Sky Parks.
Three top spots
Although the list of Dark Sky Parks is long, some places are particularly geared up for those of us itching to be mesmerized by the Milky Way. When hunting down sites for dark sky stargazing, look for places with star-friendly campsites, designated amateur astronomy zones and hardstandings for telescopes, as well as alfresco programs of talks and tours.
There are plenty of options – check out our guide to the least busy National Parks in the US, most of which feature brilliantly dark skies – but the following three stand out for their stellar credentials:
Cherry Springs State Park, Pennsylvania
While many of the best dark sky spots in the US are in the West or Midwest, Cherry Springs bucks that trend. Its 82 mountain-topped acres are surrounded by the vast Susquehannock State Forest, ensuring it's one of the best places near the eastern seaboard to see celestial displays. It also has a Night Sky Public Viewing Area for short-term star-gazing and an Overnight Astronomy Observation Field where you can register to gaze up into the heavens all night.
Bryce Canyon National Park, Utah
The remote, elevated position of Bryce Canyon guarantees spectacularly dark skies. In the right conditions, the glittering Milky Way stretches from horizon to horizon. Stargaze from four main viewpoints or on one of 100 annual astronomy events. These include free Constellation Tours, where rangers with lasers guide you around thousands of stars. They're currently running on limited numbers, with physical distancing. Book ahead and bring a blanket to lie on.
Central Idaho Dark Sky Reserve, Idaho
The Central Idaho Dark Sky Reserve has been awarded Gold Tier status by the IDA – according to the IDA, it's one of only a handful of such places in the world. Much of the reserve's 900,000-plus acres are in the Sawtooth National Forest and it offers some of the best stargazing in the country. The views are so good here on clear, dark nights that you can even see deep-sky objects, including nebulae, star clusters and galaxies that are outside our own Milky Way. The reserve's website celebrates the simplicity of stargazing ('just go outside and look up'), listing star-studded drives, notable celestial events and links to responsibly-run local educational programs.
Places near you
Having a hitlist of top spots can be useful. But in reality, sometimes the best place to count the notches in Orion's belt is somewhere that's fairly close to home and also fairly dark. National parks and state parks tend to be good bets. The map on the website Darksitefinder also provides a great visual of our light and dark locales; you can zoom into the area near you.

Helping Create Your Own
And as well as going to places with dark skies, we can all help cut light pollution in our own neighborhood, even if only a little. Along with celebrating remote, dark places, the IDA also recognizes sites in or near urban areas that are working to provide a better dark-sky experience, and cities and towns that are using sky-friendly lighting and educating residents. The International Dark-Sky Association also has a wealth of tips on how we can all be kinder to our views of the stars. These range from using sky-friendly lighting at home, to becoming citizen scientists and measuring light pollution. Time perhaps to bring out the binoculars and dim the lights if we can.

When to Look Up
Light pollution is the single biggest thing to avoid when you want to look at stars and planets, and the brightest object in the night sky is the Moon. So, the best time to reach for the stars is dung the days after each new Moon (the opposite end of the lunar cycle to the full Moon, when the lunar crescent is not visible in the sky because it rises in the morning and sets before dark). The months in fall and spring are especially popular times, because you don't have to wait up late for it to get dark. Winter can deliver the most star-spangled skies, but be sure to wrap up warm.
Sea swimmer, river paddler, hiker, wild camper and climber, Belinda is a guidebook author for Lonely Planet and produces podcasts for Ordnance Survey, for whom she is a GetOutside Champion. Belinda is also a media leader with the youth development charity British Exploring, which has seen her help lead wilderness expeditions to the Himalaya, Iceland and the Canadian Yukon. The latter involved some serious stargazing and northern lights viewing… while keeping a very careful eye out for bears.
All the latest inspiration, tips and guides to help you plan your next Advnture!
Thank you for signing up to Advnture. You will receive a verification email shortly.
There was a problem. Please refresh the page and try again.