Are flannel shirts really good for hiking – or just for hipsters?
Is flannel really good for hiking, or is it just for hipsters and nostalgic hikers? We get to the bottom of this sartorial dilemma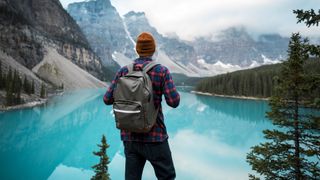 (Image credit: Jordan Siemens)
If you leaf through an outdoorsy magazine, you could easily come away from it thinking that flannel shirts are synonymous with hiking, filled as they are with shots of broody-looking men wielding camping axes and gazing wistfully into the woods. The lumberjack look of a cozy flannel might scream rugged and capable in the outdoors, but a flannel shirt is a far cry from the synthetic hiking shirts and merino wool base layers that tend to dominate the hiking market and trails today. So is flannel really good for hiking? Or is it a product of cultural nostalgia that belongs with jeans and Doc Martens – in your closet but not actually on the trail? Let's take a look at this outdoor staple to see if it's really just for hipsters, or if you should wear it on your next hike.
What is flannel?
First off, it's helpful to understand what flannel is, and isn't. Rather than being a distinct material, like nylon or silk, flannel is a woven fabric that was originally made from yarn or wool, and today is usually made from cotton or a synthetic fiber like polyester. Flannel is brushed on both sides after it is woven, which gives it its distinctive soft feel against your skin, and is commonly used to make shirts and bed sheets for winter.
Is flannel good for hiking?
First off, what clothing is good for hiking does depend in large part on where you're hiking. Colorado's arid climate and perpetual sunshine differ in almost every way from the rainy UK, for example, with the latter requiring serious wet weather gear like a waterproof jacket and pants, while in the former, rain coats usually stay squashed in the bottom of your backpack and quick drying fabrics will suffice.
Generally speaking, flannel is soft and warm, breathable and durable, so on the surface of things, it sounds great for working up a sweat somewhere chilly. It feels good against your skin, keeps you cozy when there's a cool breeze, has a loose enough weave to let perspiration evaporate and will hold up against backpack rub and sharp branches overhanging the trail. But as we've already mentioned, flannel can be made from different materials, so it's important to seek out the right flannel if you're planning on hiking in it.
Flannel made from cotton will have similar properties to other cotton clothing, and if you've read our article on why cotton is bad for hiking you'll realize it usually isn't ideal for a day in the hills. Cotton is a very absorbent material, meaning that it holds water, so if you get rain or sweat-soaked, you're going to stay soaked. In hot weather, this may just mean that your natural cooling system (sweating) doesn't work as well because your sweat isn't able to evaporate off your skin (and who wants to wear a flannel shirt on a hot hike, anyway?) while in colder weather it can be positively dangerous, because you'll get cold and stay cold. In arid, mild conditions, a flannel shirt made from cotton is probably alright for hiking, but generally speaking, it's a good idea to save these shirts for hanging out in Brooklyn.
Now, true flannel made from wool will have similar properties to regular wool, which you may know is a great fabric for hiking. Wool keeps you warm when it's cold out, but is breathable and moisture-wicking, meaning it helps to cool you off when it's warm out and you start to sweat. It's also somewhat hydrophobic, meaning it's even functional in a rainy climate, and it doesn't get stinky easily even when you sweat in it a lot. So a flannel shirt that is made from wool could actually be a great choice for hiking in lots of places in all but very hot conditions, and when it's very hot of course you can just tie it around your waist.
Then there's a third option, and that's flannel made from synthetic material, such as the Alpkit Woodsmoke or the Marmot Ridgefield Sherpa-Lined Flannel which are both made using polyester. This means they are breathable, moisture wicking, quick drying and also combat odor effectively. Again, these will likely be too warm for summer adventures, but that's just the nature of flannel shirts, no matter what they're made from.
So, as long as you get one that isn't cotton, you could actually do a lot worse than a flannel shirt for hiking in mild or cold temperatures, however, there are a couple of stipulations to that.
First, to be effective, your flannel shirt should really be part of your hiking layering system and should be considered a mid layer. Since you may get too warm in it once you start climbing, it's a good idea to wear it over another thinner layer, and that also has to be moisture wicking in order for the whole system to work. Layer yours over a white cotton tee like you do in Hipsterville and you're back to square one, but wear it over a tank top or thin tee made from merino wool or another moisture-wicking material such as Icebreaker's Cool-Lite Amplify Short Sleeve or the Montane Dart. Then, make sure you layer something breathable over it as well, such as a fleece jacket. With this system, you should be able to find comfort in many different temperatures even while moving vigorously.
The other thing to pay attention to is the presence of stretch. Traditional flannel shirts didn't have any stretch at all, which doesn't make them ideal for hiking or anything else where you're moving fairly dynamically, reaching up to tighten your hood or taking your backpack on and off. Nowadays, however, you can find flannel shirts that are intended to be activewear and therefore have some stretch – particularly if you like your flannel shirt to be form-fitting, look for at least 5% spandex, lycra or elastane so you can move comfortably.
So there you have it. If you just love the look and feel of a flannel shirt, now you know how to make the most out of yours on cool hikes.
All the latest inspiration, tips and guides to help you plan your next Advnture!
Julia Clarke is a staff writer for Advnture.com and the author of the book Restorative Yoga for Beginners. She loves to explore mountains on foot, bike, skis and belay and then recover on the the yoga mat. Julia graduated with a degree in journalism in 2004 and spent eight years working as a radio presenter in Kansas City, Vermont, Boston and New York City before discovering the joys of the Rocky Mountains. She then detoured west to Colorado and enjoyed 11 years teaching yoga in Vail before returning to her hometown of Glasgow, Scotland in 2020 to focus on family and writing.