Why is Mount Washington so dangerous?
Why is Mount Washington so dangerous? We examine why so many hikers fall afoul to this seemingly unassuming northeastern peak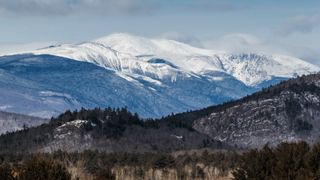 (Image credit: Marc Sadowski / EyeEm)
It might be the highest peak in the northeastern US at just over 6,000 feet tall, but many people are surprised to learn that Mount Washington has also claimed more lives than any other mountain in the country. So why is Mount Washington so dangerous? We examine some of the factors that make this seemingly unassuming peak so deadly for hikers.
What is Mount Washington known for?
Mount Washington stands at 6,288ft in the Presidential Range of the White Mountains in New Hampshire, just south of the town of Randolph, close to the border with Maine. Mountain Washington is primarily known for three things.
First, there's its prominence. It may not be on the same scale as peaks in the Rocky Mountains, but its bulk dominates the surrounding landscape and is visible from the Atlantic Ocean, as noted by early pioneer Giovanni da Verrazzano upon arriving on US shores in 1524. It is actually the most topographically prominent mountain east of the Mississippi River, making it popular with hikers and peakbaggers.
Second, the summit is crossed by two noteworthy routes: the Appalachian Trail which takes thru-hikers directly over the summit and the Mount Washington Cog Railway, which has been taking tourists on a ride to the top of the mountain via the western slope since 1868, meaning this busy mountain is populated by lots of visitors.
Third, and most importantly for us, Mount Washington is known for its volatile weather. Mount Washington stands in the pathway of several storm tracks which converge here. To the west of Mount Washington lie thousands of miles of relatively flat plains, so the west-to-east winds that generally blow in the US have a lot of time to pick up speed unimpeded. It is also much higher than any of the surrounding landscape, which forces any cloud and precipitation up and over the top, where it cools and creates treacherous conditions.
Why is Mount Washington so dangerous?
Before reading this article, if you were asked to name the most dangerous mountain in America, you might reasonably guess Denali. At 20,194ft above sea level, it's the tallest mountain in the US, but while it's certainly claimed its fair share of fatalities over the years, the tally doesn't match that of its much smaller cousin to the east. Mount Washington has claimed more than 160 lives since record-keeping began in 1849.
But Mount Washington isn't even a third the height of Denali, and it's not tucked away in remote Alaska either – in fact, it's just a few hours' drive from bustling metropolises like Boston and New York City. So what is it that makes Mountain Washington so dangerous?
1. The worst weather in the world
As you might have guessed, the biggest factor in rescues and fatalities on Mount Washington is the crazy weather, with wind being the most notable factor. The Mount Washington Observatory famously clocked a wind speed of 231 miles per hour back in 1934, which held the record for fastest wind speed ever recorded for over 60 years. Today, the mountain experiences hurricane-force winds approximately every four days. This can mean that the temperatures at the summit are frequently a full 30°F colder than at the base, and have been recorded as low as -50°F, so dangerous windchill is a common occurrence on Mount Washington, leaving hikers exposed to conditions like hypothermia and frostbite.
Hiking in the wind is dangerous at the best of times, but in addition to the near-constant howling gales, Mount Washington also experiences hefty annual precipitation. According to the Mount Washington Avalanche Center, the mountain experiences 280 inches of snow each year, which thanks to the winds, can land in drifts up to 40ft deep on the east face and obscures trails even in July. Precipitation here also falls as rain, freezing rain and freezing fog which also makes it difficult to navigate.
Making all of this more dangerous is that, even when the weather ghastly at the summit, it often appears warm and sunny at the base of Mount Washington, luring many an unprepared hiker into a false sense of security. At the top, the weather can change rapidly, catching hikers unawares and stranding people in weather that can easily lead to serious cold-related conditions. So, the weather is definitely accountable for a lot of hiker injuries and deaths on Mount Washington, but is it the weather alone that poses the problem?
2. Hike difficulty
Setting the wild weather aside for a moment, let's talk about the hike itself – how difficult is it? There are several, well-marked (when not snow-covered) routes up Mount Washington that range from eight to 10 miles roundtrip, but all involve pretty significant elevation gain. Though the summit might not sound very high if you're used to hiking out west, remember that you'll be starting at a much lower elevation – around 1,565ft – so expect to gain over 4,000ft in the elevation in your four or five mile ascent, depending on where you start, or at least a thousand feet per mile.
When put that way, it starts to look a lot like Colorado's highest 14er, Mount Elbert, and even gains more elevation gain per mile than the West Buttress of Denali (though to be clear here, climbing Denali does pose a much bigger challenge). Though you might not be dealing with high altitude hiking, every route up Mount Washington involves steep climbing that can feel a lot more advanced than other surrounding hikes in New Hampshire and Vermont.
Treeline in New Hampshire is at about 4,400ft above sea level, so for a lot of the hike, you're exposed and trekking over rocky terrain which is slow-going at best. The average hike time for Mount Washington is at least eight hours, which leaves you plenty of time to get tired, lose daylight and get lost, or for multiple changes of season to occur on the mountain. This, combined with the steep grade, can mean unprepared hikers tire quickly and run out of steam, leaving them dehydrated, exhausted and exposed to the ever-changing elements.
3. Poor preparation
Accidents do happen to even the most experienced hikers, but lack of preparedness makes the weather and hiking conditions on Mount Washington even more risky. In a recent news release detailing a high risk rescue that resulted in another fatality, the New Hampshire Fish and Game Department advised that many hikers that had fallen into trouble recently had not heeded weather forecasts and found themselves unprepared for being above treeline.
Though there are people who attempt tough peaks in flip flops and survive all the time, being unprepared is definitely a major risk factor for hiking injuries and fatalities. In the case of Mount Washington, preparing doesn't only mean training to improve your physical fitness before you set off and dressing in layers to reduce your chances of developing hypothermia – it can mean canceling your plans or turning back early if the weather turns on you.
Here, Mount Washington's proximity to large urban centers might increase the problem. Because getting to Denali requires a major journey just to get to the mountain and the climb itself typically involves a two-week expedition, most people attempting it should be in the frame of mind to prepare for serious mountaineering. On the other hand, you can feasibly wake up in Boston at 5 a.m. and drive up to Mount Washington for a day hike, which can lull you into a false sense of security regarding what's required.
Further, you've got all those AT thru-hikers crossing the summit every day and hikers doing the Presidential Traverse – a 23-mile endeavor that takes in all of the summits on the President Range – which means hikers who, albeit hardy, may also be tired and overly focused on a bigger goal rather than their own safety during the hike at hand.
4. Crowds
So these three factors – weather, difficulty and unpreparedness – all play into making Mount Washington dangerous, but are they the only reasons? It still manages to have almost three times the total fatalities as Annapurna, one of the most dangerous mountains to climb in the entire world. So is there some other aspect that makes Mount Washington so dangerous?
The final piece of the puzzle is probably just down to sheer volume of hikers. Less than 300 people have ever attempted Annapurna. Hike for Mental Health estimates some 250,000 people visit Mount Washington each year. Not all of these will be traveling on foot, however suffice to say that a lot more people hike Mount Washington than Mount Elbert, which draws only about 25,000 hikers on a busy year. Now, the crowds don't make the hiking dangerous in the way they have on Angels Landing, but with more people on the mountain each day, statistically speaking, more hikers are likely to get into trouble. So some good news, then, is that Mount Washington may not be quite as dangerous as the numbers suggest.
Hiking Mount Washington: how to prepare
Mount Washington might be known as the country's most dangerous mountain, but it's also called the crown jewel of the White Mountains. Like the entire state of New Hampshire, it is beautiful, and on a clear day the views are spectacular, especially during New England's fall foliage season. If you are thinking about setting off to conquer Mount Washington, however, make sure you take these preparations before you go:
Consider going with a guide – guided hiking is a great way to learn more about the mountain, mountain safety and support the local economy.
On the morning of your hike, check the weather forecast at the Mount Washington Observatory or using a reliable weather app.
Wear adequate footwear that you've broken in, such as hiking boots.
Dress in hiking layers suitable for winter, even if it's warm at the base.
Carry plenty of water in a hydration bladder or several water bottles and sip frequently.
Use trekking poles to help you hike more efficiently and to support you on the steep downhill.
Consider booking the shuttle to take you downhill (must reserve in advance) – 80% of all mountaineering accidents happen on the descent.
All the latest inspiration, tips and guides to help you plan your next Advnture!
Julia Clarke is a staff writer for Advnture.com and the author of the book Restorative Yoga for Beginners. She loves to explore mountains on foot, bike, skis and belay and then recover on the the yoga mat. Julia graduated with a degree in journalism in 2004 and spent eight years working as a radio presenter in Kansas City, Vermont, Boston and New York City before discovering the joys of the Rocky Mountains. She then detoured west to Colorado and enjoyed 11 years teaching yoga in Vail before returning to her hometown of Glasgow, Scotland in 2020 to focus on family and writing.