How do you eat while you're running? 5 tips for chewing on the trail
If you're running for more than two hours, you need to fuel while on the go, but how do you actually eat and run at the same time?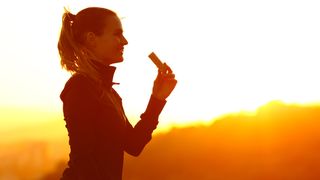 (Image credit: Pheelings Media)
We've written a lot about what to eat while running to stay fueled over longer distances. If you're planning on running for over two hours, your muscles will burn through their glycogen storage and you'll run out of steam if you don't replace it.
For those longer days in your trail running shoes, you'll want to carry some carbohydrate-rich snacks in your running backpack and plan to eat between 30 and 60 grams of carbs roughly every half hour, keeping an eye on timing with your GPS watch. But how do you actually eat when you're running?
Chewing and swallowing when you're moving quickly and bouncing up and down seems like a recipe for disaster, never mind the dry mouth that you're bound to have after all those miles on foot. Not only does it increase your risk of being plagued by GI issues, which is common among ultra runners, but it greatly increases your chances of choking.
As a long distance runner, you're going to have to find safe ways to stay fueled to support your performance without compromising your health. For training days, there's no issue at all with just stopping for a snack, but when it comes to the big race, how do you stay fueled without losing precious minutes? Elite runners at the UTMB have aid stations every 10k or so where they can stop and fuel, but for smaller races, you'll have to take care of yourself.
Five tips for eating while running
1. Stick with liquids and gels
Running gels might not be as appealing as, say, a PBJ, a banana or some salty pretzels, but there's a reason long distance runners love them so much. Gels are compact, sealed, lightweight, simple to carry and packed full of glucose, fructose and electrolytes. They're also pretty safe to consume while you're on the move.
If you don't want to slow down while you're fueling up, it's best to stick to gels and sports drinks, since when you're breathing hard and moving, you're more likely to accidentally inhale whatever's in your mouth. Even if you choke on gels, they won't block your airways like solid food will.
2. Choose high carb alternatives
If you must chew, you want to get the most bang for your buck per bite. A banana or a standard granola bar might only have 20 grams of carbs, which could mean you need to eat two at a time. Check out our top picks for active nutrition and find bars that have no less than 30 grams. The Maurten Solid C 225 has 44 grams of carbs per bar.
3. Walk while you eat
Much of ultra running is basically just hiking anyway, and those stretches where you're hiking the uphills are great opportunities to eat food that you have to chew safely, as long as you can hike with only one running pole. If you're bringing solid food along, like trail mix, slow down to a walk, wait until your breath slows a little so you don't inhale any food, then start eating.
4. Have your water at the ready
Your mouth will be dry from dehydration, which only makes it harder to properly chew and swallow, and that can again increase your risk of choking. Have your water bottle at the ready, or grab the tube from your hydration bladder, and take a sip before you take a bite of food, then take tiny sips of water with food to help you eat it faster.
5. Think big picture
When it comes to running long distances, there's a lot of miles to make up for lost time. It can be easy to make foolish mistakes out of fear of letting your competitors get ahead. If you slow to a walk and someone gains 30 seconds on you, you can probably claw that back over the next 30 miles pretty effortlessly, especially if you're well-fueled. Think about your race day performance as being the sum of many parts (training, rest, nutrition, hydration) and don't get too mired in a few seconds here and there.
All the latest inspiration, tips and guides to help you plan your next Advnture!
Julia Clarke is a staff writer for Advnture.com and the author of the book Restorative Yoga for Beginners. She loves to explore mountains on foot, bike, skis and belay and then recover on the the yoga mat. Julia graduated with a degree in journalism in 2004 and spent eight years working as a radio presenter in Kansas City, Vermont, Boston and New York City before discovering the joys of the Rocky Mountains. She then detoured west to Colorado and enjoyed 11 years teaching yoga in Vail before returning to her hometown of Glasgow, Scotland in 2020 to focus on family and writing.