The perfect running shoe? There's no such thing
We speak to a leading podiatrist for UTMB athletes to dispel some myths about running shoes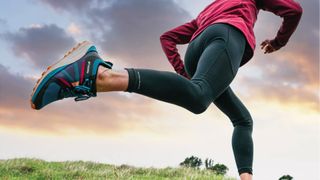 (Image credit: Columbia)
Is there such a thing as a perfect running shoe? After all there are a ton of variables in shoes these days, from trail running shoes to road running shoes, with factors like drop, stack, weight, barefoot options, carbon plates and rocker soles all muddying the waters. With constant advances in technology, it's getting more and more difficult to figure out what you need, what's just marketing, and whether any of it will really reduce your risk of injury.
We recently traveled to the UTMB with Merrell where we sat down with Olivier Garcin, a Chamonix-based podiatrist who heads up the podiatry staff at the legendary trail race and is president of 4Foot Solutions to get his take on what we need to look for in our running shoes. We may not have found our perfect shoe, but we definitely busted a lot of myths around running shoes that might help you whether you're heading out on the roads or trails for a sprint or an ultra – here's what we learned.
Weight impacts performance (sometimes)
When it comes to the weight of your shoes, between zero and 200 grams (seven ounces), your body doesn't know the difference, but above 200 grams you start to lose efficiency. In fact, scientists have figured out that for every 100 grams you add on your feet after that initial 200, you lose one percent of your running economy – this helps explain how Nike managed to come up with the Vaporfly 4% that improves economy by four per cent. They simply made a shoe that falls below that 200 gram mark.
This might be helpful in that, as far as your body is concerned, there's no difference between the Saucony Peregrine 12 and Salomon Wildcross, even though on the scale there's two ounces of difference. You can still expect to lose one percent of your running economy in either pair.
In case it isn't obvious, for shorter runs, this doesn't matter nearly as much as it does when you start to aim towards marathon distances, or longer.
We also don't know if and how the weight of your shoes impacts the risk of injury, only how it impacts performance.
Higher cadence isn't always better
You might have heard that a lot of great runners have a cadence (that's steps per minute) of 180 or higher, and assumed that should be your goal, but as it turns out, it all depends on what your goals are.
For example, if you want to run 10k in an hour, you should aim for 165 steps per minute, but if your sport is a 100 meter sprint, you need to be aiming for 240 steps per minute. Runners in the UTMB, however, find that a cadence of just 110 is the most economical as they pursue this 106.2-mile foot race, which believe it or not is most people's walking cadence.
So what does this all have to do with shoes? Well, it all comes back to weight. Light shoes, such as the The North Face Summit Vectiv Sky Trail Running Shoes, are best for higher cadence runs, while a heavier shoe like the Adidas Solarglide 5 is better for long distance, and lower cadence runs.
It's okay to be a heel striker
If you're a runner, you've likely heard that striking the ground heel first is bad, and will definitely leave you in need of new knees. Not so, according to Garcin. In fact, Shura Kitata, the 2021 London marathon winner, did the whole 26.2 on a heel strike. Rather than increasing your injury risk, how your foot hits the ground simply determines what part of the body takes the most load.
If you are a heel striker, you do increase the load on your knee and pelvis, and one of the most important things you can do is make sure your knee is slightly bent when your heel hits the ground. You do, however, decrease the load on your foot and ankle.
If you're a forefoot striker, you decrease the load on your knee and pelvis, but you're not out of the woods, necessarily – you're just placing more load on your foot, ankle and achilles tendon so you'll want to be on the lookout for repetitive stress injuries in those areas.
As for elite runners such as those in the UTMB, many change up their gait throughout the race, responding to their environment and switching between heel, midfoot and forefoot as the terrain dictates. Basically, there is no good or bad stride.
Stack is about distance, not preference
Recent history has seen a bit of a debate arise in the cushioning department when it comes to running shoes. The early 2000s saw the standard running shoe featuring a bit more cushioning, higher drop and arch support. Running purists argued that all this support essentially weakens your feet, and the backlash bore the so-called barefoot running movement, producing a wave of low or no cushion, zero drop shoes.
Over the last few years, however, the pendulum has swung back and we're now seeing shoes with truly giant stack (The Hoka Bondi 8's have a whopping 39mm of foam underfoot). Those who love the idea of "trail feel" scoff at chunky soles, but anyone who's had an ACL surgery or two loves the extra cushion. So who's right?
Well, no one, which you'll already have figured out if you're following along. As Garcin explains, if you're going for a really long distance, you need more cushioning, and that's regardless of whether you're heel or forefoot striker. Take Jim Walmsley, for example. He's a forefoot runner who just set a new record on the UTMB course wearing relatively chunky Hoka prototypes.
Minimalists hate to admit it, but while virtually all Hokas are chunky, the right runner can win the UTMB in them
Barefoot is best (for walking)
Since barefoot running shoes like the Vibram FiveFingers hit the market, there's been a level of debate around whether allowing your foot to move "naturally" really is as great as it sounds, with most moderates settling on the conclusion that it's a matter of personal preference.
Garcin has a different point of view. In fact, he thinks that barefoot (meaning zero cushion, zero drop) shoes are great for walking, but for running it's akin to putting regular tires on a Ferrari.
Living in the French Alps, his kids are avid skiers, and he's noticed that after cramming their feet into ski boots for a whole season, their feet have lost 20 percent strength over the winter. He and his family use barefoot shoes during the summer months for walking to restore strength and mobility to their feet.
The truth of the matter is that when it comes to drop, you just have to understand once again that you're shifting where you place the load. A lower drop shoe does decrease the tension on the front chain muscles like your quads and shins but it also increases the tension in posterior chain muscles (think: calves, hamstrings and glutes) and eases the pressure on the forefoot. A higher drop shoe increases tension on anterior chain muscles like your quads, but decreases the tension on your posterior muscles and encourages heel strikes. Now we know that heel striking isn't a problem, then that's not necessarily a problem.
Ultimately, drop might influence your stride, but there's no evidence that it has any influence on pathologies. If you are going to start walking in barefoot shoes to increase foot strength, Garcin recommends building up your distance slowly.
Cushioning might not affect stability
Though there aren't conclusive studies that show that running is bad for your knees, the high-impact sport is finding it difficult to shake that reputation. In reality, you do need some impact to maintain bone health, it's just finding a way to balance the impact on your soft tissue with bone density.
Those keen to keep impact to minimum might like shoes with a chunky sole, such as the inov-8 Trailfly Ultra G 300 Max. Those who love trail feel argue that they lose stability with thicker soles, and certainly this can be an issue on uneven trails, but even then, it's not that cut-and-dried. As it turns out, more foam means less stability, but only if you go slow, according to Garcin. Faster runners can get away with extra cush.
Finally on this point, if you want or need extra cushioning, it's important that you replace your shoes every 250 miles (400 km), which might be sooner than you think, because the foam midsoles will lose their cushioning but you won't change your technique. If you're wearing Hokas, which tend to lose their cushioning after 185 miles (300 km), or you're a heavier runner, you'll need to replace your shoes sooner because your weight will compress the foam faster.
Rocker soles help with ankle injuries
Rocker soles definitely feel like they're helping to propel you forward, but studies don't necessarily back this up. The science is a bit mixed on rocker soles, although they are increasing in popularity, but Garcin says they do have a clear purpose from a podiatry standpoint.
For any runner who has suffered repeated ankle sprains and has lost ankle flexion, a rocker sole can be really helpful to act as a substitute for that ankle motion. If you don't have much ankle flexion, you're likely to compensate by running with a pronated foot and externally rotated hips.
Carbon plates aren't for everyone
Suddenly, carbon plates are everywhere in running shoes, claiming to return more energy to you as you run and improving your running economy. There's no reason why you wouldn't want those benefits, so it makes sense that we all want carbon plates in our shoes. Or do we?
Ultimately, Garcin says that you need a strong foot to handle a carbon plate – you can test this by standing on one foot for 45 seconds then rising up onto your tiptoes a few times and seeing if you can keep your balance.
Carbon plate shoes obviously have a much stiffer sole, and if your foot has good strength and dexterity, this may be okay. But if you have a weaker foot where you can't flex well at your toes, then a carbon plate can again mean you adopt that gait where you externally rotate at the hip and pronate.
Carbon plate shoes aren't ideal then for slow trail running over long distances, but ones with stiff soles that only flex at the toes are, however, great for forefoot strikers.
Running leads to injuries, but your shoes don't
One out of every two runners will experience an injury over the course of their career, with patellar tendonitis, achilles tendonitis, shin splints, plantar fasciitis, sprained ankles and TFL pain leading the way. But as far as Garcin is concerned, there are far more health risks involved with leading a sedentary lifestyle and your shoes aren't likely to increase or decrease your injury risk. Rather, different shoes stress different tissues on different runners. There is no perfect running shoe.
And when you do find what you think is the perfect running shoe? Make sure you rotate it with at least one other pair of different shoes anyway, which studies show actually can reduce your injury risk.
All the latest inspiration, tips and guides to help you plan your next Advnture!
Julia Clarke is a staff writer for Advnture.com and the author of the book Restorative Yoga for Beginners. She loves to explore mountains on foot, bike, skis and belay and then recover on the the yoga mat. Julia graduated with a degree in journalism in 2004 and spent eight years working as a radio presenter in Kansas City, Vermont, Boston and New York City before discovering the joys of the Rocky Mountains. She then detoured west to Colorado and enjoyed 11 years teaching yoga in Vail before returning to her hometown of Glasgow, Scotland in 2020 to focus on family and writing.