Should you pause your running watch at traffic lights?
Does pausing at traffic lights give road runners better readings, or does it all come out in the wash?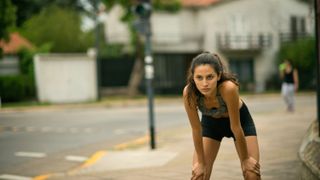 (Image credit: MStudioImages)
Lately, my running regime has been looking a little different. Ordinarily, I choose my trail running shoes over road running shoes every chance I get. A couple of times a week I'll head out of town and hit the soft stuff in my Merrell Peak 5 Agilitys where I can go for miles surrounded by mountain views, rarely seeing anyone else.
Lately though, family circumstances have meant I don't have as much free time as usual, and for once I'm finding the positives in being able to just lace up my Saucony Kinvara Pros at the end of the work day, head out the door and start running more on the pavement or less straight away. I start out running through wide, leafy residentials streets then I either join the River Clyde, which flows through Glasgow, or make a circuit of Pollok Country Park, the city's largest park that's home to extensive woodlands and doesn't feel like the city at all.
No matter which direction I go, I reach an intersection after about a mile where I have to stop and wait for lights to turn. At first, it was a little annoying as I'd just hit my stride around that marker, but I often used the time to catch my breath or fiddle with music. Now that I've started wearing a running watch, however, I've discovered a new conundrum – should I pause my watch at traffic lights?
I've been wearing the Coros Pace 3 for a couple of weeks, and I can easily pause it during any workout by pressing a button on the side. At first, it didn't occur to me to do so, but then when I got home I'd notice my overall time was a bit slower than what I'd expect from a trail run where I don't stop at all. I have to stand at the same set of lights on the way back, so it can add up to two minutes to my total time, roughly 12 seconds per kilometer, which my self-esteem dislikes.
A week or so ago, I decided to press pause while waiting at the lights, which I can do without even rolling up the sleeve of my running jacket, and hit the button again as soon as the lights changed. At the moment, I felt a bit better about things, but when I got home, I realized it didn't matter at all. After all, I'm not in training for a half marathon or indeed any running event. So why does a few seconds here or there even matter, except if I want to track my progress?
To pause or not pause
Growing curious as to whether pausing at running lights is common practice, I went to where the people are: social media. You can always count on folks to share their opinion there, so I posted a little Instagram poll in my stories then sat back and waited for the results to come in.
After 24 hours, the highly subjective results of my extremely unscientific poll came in: 67 percent of my virtual friends said they don't hit pause at the lights, and the remaining 33 percent said they do. Now the poll doesn't actually ask people if they even encounter traffic lights on their runs – they might be trail runners who just felt like joining the poll, or live in a town like my former home town in Colorado, which didn't have any traffic lights.
It didn't ask how many sets of traffic lights they encounter either – if you live in New York, pausing at every block could get old whereas if there's just one light between you and Central Park, maybe you do hit pause.
My informal poll also didn't ask whether their watch automatically pauses when they stop running, which is a function of some GPS watches like the Garmin Forerunner. But for the purposes of coming up with a general consensus, it seems as though the majority of runners don't pause their watch at the traffic lights and if I continue to do so, I'll be in the minority. But just because most people don't do it, or won't admit to it, does it mean it's the wrong thing to be doing?
Pros of pausing at the lights
As far as I can tell, the main advantage of pausing your watch at the traffic lights is that you'll arguably get a more accurate reflection of your time and pace. I say arguably because, while your watch will do a better job of keeping track of how fast you're running, it's also likely that you'll run a bit fast after a 30 second breather, so maybe it' all comes out in the wash.
However, the point is that, if you're training for a 10k or a marathon, you're going to want to know what your times are looking like without traffic lights, since of course you're not going to be stopping for the lights on race day. In a longer race, like a marathon, you might stop for fuel and water, but for shorter races, you won't be planning to stop at all, so you might get a clearer idea of what your race day performance will look like if you hit pause. Plus, it's worth noting that some running watch manufacturers must build in the auto-pause function because they think it holds some value.
If you're just running for general fitness or for the love of it, there's no real need to be pausing, but then again, there's no harm in doing so.
Cons of pausing at the lights
As I've already mentioned, pausing when you reach a red light might seem like it will give you more accurate readings, but I can say from personal experience that I definitely take off again at a slightly faster clip when the lights turn green. Even 30 seconds is ample time to give my legs a break and let me catch my breath, and I can feel the benefits when I set off again. So if you are pausing at every set of lights long enough to recover, then running faster than normal for the next 15 or 30 seconds, then your readings might actually not be as accurate as you think.
Then there's another potential scenario that could be cause to keep the clock running – what if you forget to restart your watch when the lights turn? I've done this a couple of times already, and I realized after after a few minutes, but naturally I was much more annoyed that stats were so wildly off than I ever would be at the thought of losing a minute or two to red lights. If you want to get the best picture of your performance, perhaps the best approach is to just leave the watch alone?
Ultimately, keeping the watch running might actually give you a fine reflection of your performance in real-time conditions, and constantly pausing might be more to do with your ego than metrics or performance.
Should you pause your running watch at traffic lights?
The answer to this question really all comes down to your running goals. If you're going for a personal best or training for a race, you might want to hit pause at those obstacles that you're certain you won't meet come race day, but remember that a brief acceleration following any break might actually balance out any time spent waiting at the lights. Look into watches that have an auto pause function, like the Apple Watch, so that you don't need to remember to hit start.
If you're just running for the love of it, and wearing a sports watch because it's interesting to keep track of things, you can probably ease up on the pause function – but if you decide you want to use it, that's your prerogative. After all, you're running for yourself, not anybody else.
All the latest inspiration, tips and guides to help you plan your next Advnture!
Julia Clarke is a staff writer for Advnture.com and the author of the book Restorative Yoga for Beginners. She loves to explore mountains on foot, bike, skis and belay and then recover on the the yoga mat. Julia graduated with a degree in journalism in 2004 and spent eight years working as a radio presenter in Kansas City, Vermont, Boston and New York City before discovering the joys of the Rocky Mountains. She then detoured west to Colorado and enjoyed 11 years teaching yoga in Vail before returning to her hometown of Glasgow, Scotland in 2020 to focus on family and writing.