I went trail running in the Alps to test how tough Merrell's newest shoes really are
When a trail running shoe company says their shoes are Chamonix-worthy, you need to find out for yourself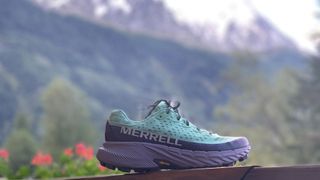 (Image credit: Julia Clarke)
I test outdoor gear for a living and with the Scottish highlands on my doorstep, I'm not usually short of challenging conditions in which to put kit through its paces, whether it's holding off sideways rain in a waterproof jacket or bushwhacking my way up a Munro in the latest hiking boots.
When Merrell asked me if I wanted to test out their new Peak 5 Agility trail running shoes during this year's UTMB, obviously I jumped at the chance – Chamonix is one of my favorite places in the world for outdoor adventure. However, I was also genuinely curious – if you're inviting a runner to test your shoes in the Alps, you'd better be pretty confident in their performance.
If you don't know, trail running in the Alps is, though magical, a special breed of demanding. In a lot of ways, it's like the Rockies, but the trails are often even steeper, the weather more variable and the terrain underfoot can be extremely rocky. Trail running here requires a very sturdy, grippy shoe indeed.
I've been familiar with Merrell shoes for about 15 years – when I moved to the Rockies back in 2009, I owned an early model of their Moab Speed hiking shoes and used them to climb some 25 or more Colorado 14ers. So when it comes to rough and rugged trails, I'm already pretty confident that they know what they're doing. In the last few years since moving back to Scotland, I've picked up the pace a little and got into trail running as well as hiking, and I've rated both the Long Sky 2s and the Skyfire 2s highly in the last year.
All that is to say, I'm pretty impressed with Merrell's showing in the trail running shoe department in recent years, but asking people to test them out during trail running's most legendary race, in the epicenter of trail running, seems like a big risk. If the grip isn't all but magnetic, the uppers aren't bulletproof-but-breathable and the run isn't stable, there's nowhere to hide out here.
Willing to bear the burden of a few days in France, however, I showed up in Chamonix last week and met up with the Merrell team as we assembled on Friday morning for a group run. I'd been given my shoes the night before and then gone straight to my hotel room, so I hadn't even had a chance to get them on my feet, but fortunately they fit perfectly and true to size. The group of about 30 of us were all wearing identical shoes, and as I chatted with some of the folk that work for Merrell across Europe and the UK, they revealed that this was also their first time wearing them.
As we got going on our warm up along the lovely soft trail that follows the Arve River through the valley, what struck me immediately was how comfortable the shoes are right out of the box. The stack is higher than the Agility Peak 4s with 31 mm of foam under the heel with 25 mm under the forefoot, leaving a 6 mm drop. As a heel striker, this works out well for my stride, but it's still a fair amount of cushion underfoot. Combined with a slightly increased rocker sole based on earlier models, you'd be forgiven if you think these will be too unstable for rough trails, but as we start to climb steeply up into the mountains on the northwest side of the river, I have no problem keeping my balance and my running mates also comment on how stable they feel.
Though many trail runners prefer more of the "trail feel" that comes with a thinner midsole, as I learned the day before in a lecture with a local podiatrist, for longer runs, you definitely need more cushioning. On this day, our total run is only about 10k, but later that day we hike another 7k in order to watch the beginning of the race from Les Houches Ski Resort so I get a decent amount of mileage in them for the first day and the bottoms of my feet never get sore or tired. This may be due in part to the fact that the updated model has a rock plate that doesn't extend all the way under my heel, allowing for more flex at my ankle and toes.
When we start climbing, it's late morning and the temperatures are already in the 70s without a cloud in the sky. These shoes come in a GORE-TEX version but fortunately we'd been given the non-waterproof model to test and I was really pleased with the breathability – my feet never felt hot even when the rest of me did. During one of our stream crossings, I decided to wade through the shallow water instead of across the log to test out the new fabric of the uppers, which is built to be extremely quick drying, and by that afternoon they're dry again, which really bodes well for me wearing these back in Scotland.
Even though the weather is glorious, we've just missed a good week of heavy rain so there is plenty of opportunity for me to test out the grip on muddy sections and I make sure you send every one, without slipping or sliding. After crossing the river and completing another steep climb on the other side of the valley, we begin our descent and I'm able to really test out the grip and lockdown. The 5 mm lugs on the outsoles definitely bite down into the trail, and no one in our group goes down here or later at night when we're hiking down the steep, gravelly section from Col De Vaz. I'm probably running faster than usual to keep up and wouldn't have been surprised to slip on this terrain, so I'm really pleased with the traction.
As for lockdown, I tested a UK 3.5 which is my normal size – I tend to size up to a 4 but there was no need to in these shoes. My feet are neither wide nor narrow and the fit around my feel and across the midfoot is perfect, which meant that even without using the extra lace hole, my foot isn't moving around which means I can focus on enjoying the stunning alpine views ahead.
Amazingly, just when we're running out of steam, the Merrell shuttle bus has driven around to meet us and set up brunch in a meadow, so before I know it we're sipping lemonade and eating French cheese and bread, during which I looked at my neighbor's shoes and noticed a cool detail I hadn't realized before – there's a little lace keeper where you can tuck your laces in to keep them from getting caught on the undergrowth. It's not essential, but a nice touch for those of us that like to get off trail (and if you don't know, in Scotland there isn't always an actual trail).
Anyway, I kept the shoes on all weekend and of course, combining it with watching a record-breaking race in one of the most beautiful places on the planet certainly gave me the warm fuzzies about these shoes. If I had to come up with a criticism, it's that later that evening, when I foolishly pair them with no-show socks (or pop socks), the top of my foot starts to ache as I have high arches, but that's definitely related to my poor sock choice. I wear them for the entire day with proper running socks and have no issue.
When I got home I packed my other trail runners away and these have moved into top rotation for the rocky, steep and often wet trails here in Scotland, which should tell you all you need to know about them.
All the latest inspiration, tips and guides to help you plan your next Advnture!
Julia Clarke is a staff writer for Advnture.com and the author of the book Restorative Yoga for Beginners. She loves to explore mountains on foot, bike, skis and belay and then recover on the the yoga mat. Julia graduated with a degree in journalism in 2004 and spent eight years working as a radio presenter in Kansas City, Vermont, Boston and New York City before discovering the joys of the Rocky Mountains. She then detoured west to Colorado and enjoyed 11 years teaching yoga in Vail before returning to her hometown of Glasgow, Scotland in 2020 to focus on family and writing.