What is stealth camping?
The practice of stealth camping is picking up steam on both sides of the Atlantic – but what is it, and why do people do it?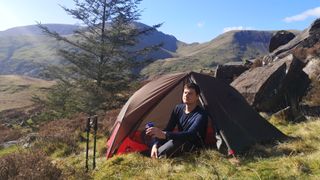 (Image credit: Matthew Jones)
Have you ever camped somewhere you probably shouldn't? I know I have. Not just for kicks, but I've definitely taken a spontaneous trip to Moab, arriving after dark only to discover that all the campsites are full. After a couple of hours of fruitless searching, I found a quiet road to park on and pitch my tent near for the night, crossing my fingers that no one came along. And while I'm being honest, when my boyfriend and I drive down south to visit his parents, we virtually always park the van on a side street in a beach town, climb in the back for the night and hope none of the residents is too keen on neighborhood watch.
Whether you're trying to avoid the expense of paying for a hotel or you just don't have any other option, you've probably had the experience of discreetly camping somewhere unsanctioned, and it turns out that not only is there a name for this – stealth camping.
Different from dispersed camping or wild camping, which is legal camping outside of developed campgrounds, stealth camping involves covertly sleeping in areas where it's either explicitly or implicitly forbidden. But why do people do it? Is it just to save a buck, or is there more to the matter? We take a look at stealth camping both in the US and the UK, where the definition varies slightly, and explain some of the reasoning behind this growing trend.
What is stealth camping in the US?
As we discovered, the practice of stealth camping can be slightly different in the US versus the UK, though the definition is largely the same. Certainly in states with lots of public land, like Colorado, there's no need to stealth camp in a tent, though it may be more common back east and down in Texas. West of the Atlantic, stealth camping can also refer to the practice of van camping outside of designated RV campsites. Rather than pay to park at an RV site, where you can enjoy amenities like hookups, showers and trash and there's no issue about setting up your double-burner stove for a cookout, stealth campers will park their vans in public areas such as downtown in a city or in a residential area near the beach. In these locations, overnight camping (AKA sleeping in your vehicle) is often prohibited, but with curtains on your camper van, or a windowless van, no one really needs to know you're in there. It just looks like another passenger vehicle parked on the street.
Why would you do this? Well you save money on camping fees and on hotel rooms if you're in a city environment, and the practice is likely growing in response to a lot of cities and municipalities cutting down on tent sleeping to curb the presence of homeless people. It also means you can camp close to the action you want to explore, whether that means surfing or exploring the city, maybe having a few drinks and not worrying about driving anywhere afterwards. If you're traveling during a major holiday or event, you might also find that there aren't any hotel rooms available and it could be your only option at times.
Of course, stealth camping in a van may be illegal and you could end up with a fine if you get discovered. Since parking and sleeping rules vary from one area to the next, it can be difficult to know if what you're doing is truly breaking the rules or just worthy of a frown, but obvious "No overnight parking" and "No sleeping in vehicles" signs are a dead giveaway.

Some stealth campers choose quiet neighborhoods, though that might elicit suspicion from eagle-eyed residents, while others prefer to hide in plain sight, on busier city streets where it will be noisier, but no one will suspect that you're sleeping inside.
For this type of stealth camping, you obviously need a van to begin with, and it's worthwhile making it as discreet as possible, with blackout shades or curtains over the windows, and a screen between the front seats and back so that even a curious dog walker (or cop) can't see you back there in your sleeping bag.
What is stealth camping in the UK?
In the UK, the term stealth camping can refer to the same practice as it does across the pond, but it has really evolved to refer to a type of wild camping that's focused on survival, and like in the US, it's being escalated by increasing restrictions on wild camping. Since wild camping in the UK is now limited only to Scotland, people who camp outside of designated campsites in England and Wales without landowner permission are technically breaking the law. In response, so-called stealth campers may try to covertly pitch a tent without being detected, or asked to move along.
One reason for this is that many residents of the UK believe that they should rightfully be able to spend time in nature in their own country, and the activity has become a moral crusade in areas such as a Dartmoor, where wild camping that has been allowed for generations was recently banned by a stingy, rich landowner. In return for being able to pass the night undetected in the wild, true stealth campers agree to pick up any trash they find on the trail, and otherwise do good deeds for wild spaces.
Among some groups, stealth camping has become an activity in its own right as it allows people in England and Wales to practice their backcountry bushcraft skills and survival skills, which of course you can't do in a frontcountry campground (though the showers can be a scary test of your mettle). These people might approach it a bit like they're contestants on the TV show Hunted, moving from place to place unnoticed and without leaving any signs of their visit.
For this type of stealth camping, you might seek woodland areas where you can be obscured by the brush, or large stretches of remote wilderness, and use a dark or camouflaged tent or hammock. You might even ditch the tent altogether and learn to build your own shelter using natural materials to make yourself less conspicuous. You need to be judicious about lighting campfires to avoid attracting attention. If you are stealth camping in a wild area, you'll have to understand backcountry safety, learn navigation, and carry everything you need for survival, including a first aid kit, camping knife and water purification.
No matter what continent you're on, and whether you're on foot or wheels, stealth camping can definitely be thrilling and may even strengthen your outdoor skills. Of course, we can't recommend breaking the law and must insist that any treading on the natural world be done lightly, leaving no trace.
All the latest inspiration, tips and guides to help you plan your next Advnture!
Julia Clarke is a staff writer for Advnture.com and the author of the book Restorative Yoga for Beginners. She loves to explore mountains on foot, bike, skis and belay and then recover on the the yoga mat. Julia graduated with a degree in journalism in 2004 and spent eight years working as a radio presenter in Kansas City, Vermont, Boston and New York City before discovering the joys of the Rocky Mountains. She then detoured west to Colorado and enjoyed 11 years teaching yoga in Vail before returning to her hometown of Glasgow, Scotland in 2020 to focus on family and writing.