13 tips for climbing a 14er in Colorado for the first time
Our tips for climbing a 14er in Colorado help you prepare for an amazing adventure, and live to tell about it afterwards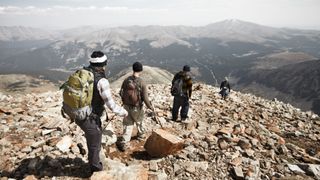 (Image credit: Daniel Milchev)
If you've recently moved to Colorado, or are even visiting from another state, the chances are high that you've set your sights on summiting a 14er sometime in the near future. Climbing a 14er in Colorado isn't a rite of passage by any means; it should be taken seriously and deserves due preparation and consideration. That said, it's also one of the most awesome things you can do in any state while wearing your best hiking boots, and if you approach it with a good dose of planning and common sense, it will probably be something you look back on fondly for the rest of your life.
Colorado has more peaks over 14,000ft than any other state and they're all pretty awesome. If you love challenging yourself in the wild, you're going to love climbing a 14er. But as you may also be aware, hikers are rescued from Colorado's 14ers every year, and each year seems to bring an increasing number of injuries and fatalities among peak baggers here. Put simply, climbing a 14er in Colorado is not to be taken lightly, and our 12 tips help you prepare for an amazing adventure, and live to tell about it afterwards.
1. Go in season
One of the most important things to know about climbing a 14er in Colorado is that you can't just do it any old time. Hiking season in Colorado is already short, and above 14,000ft it's even briefer. Though you definitely hear about people hiking 14ers in early June and October, it's generally not a good idea and it's the reason why you also often hear about people being rescued – if they're lucky – at these times of year. Avalanche risk is still high in late spring and once September rolls around, you can experience snow at any time.
The best months to hike a 14er are July and August, and in some very warm, dry years, late June and early September might be passable.
2. Start with an easy one
Colorado has 53 14ers (58 depending on how you measure them), but just because they're all high and made of rock, doesn't mean they're all cut from the same cloth. Some 14ers, such as North Maroon Peak near Aspen, are actually quite technical and require safety gear to summit, but there are plenty that really just involve a long, steep walk on a well-marked trail.
Most of these, conveniently, are near the Front Range and we've made a list of the easiest 14ers in Colorado to help you choose the best one to start. It's highly recommended to start with an easy one to get a feel for it, then you might tackle a more challenging route down the line.
3. Do your research
Part of picking your 14er means doing a fair bit of research. Don't just rock up to the trailhead and start walking. You'll want to know how to get to the trailhead (so you know what time to leave), which route you're taking (there are often several), plus what distance and elevation gain to expect.
It's helpful to know what the average hike time is and to make note of landmarks along the way as boulder fields are disorienting and hikers do get lost on 14ers every summer. Our favorite comprehensive guide to 14ers is 14ers.com
4. Go on a weekday
Every year, Colorado's 14ers get busier and busier as more people move to the state and more people discover hiking. For the quietest trails, if you can, go on a weekday and you'll enjoy much more solitude (but rarely ever actual solitude).
5. Don't go if there's weather
Colorado is known for its bluebird skies and 300 days of sunshine a year, but up high, conditions can change quickly and be more severe. As you probably know, in the summertime, afternoon thunderstorms frequently roll in and you don't want to be anywhere near a mountain top when they do. You can read up on how to avoid being struck by lightning, but frankly, the best method is to stay off the mountain.
Even wind or rain down low can be deadly up high, obscuring the trail or making it impassable. The morning you're supposed to set off, check the weather forecast for the area you intend to hike and if there's anything other than the sun in the forecast, change your plans and live to hike another day.
6. Leave before dawn
Once you've picked a peak, planned your route and checked the weather, it's crucial that you leave early. And by early, we mean early. In most instances, you want to be on the trail slightly before dawn (we explain why in the next tip), so pack your best headlamp.
Often, there can be quite a long drive to the trailhead as the last few miles can involve slow-going four wheel drive roads. If you want to be hiking at 6am you may need to leave the house at some horrific hour like 3am, but on the plus side, you'll probably be the first hiker on the trail, which feels fantastic. If that sounds like a dealbreaker to you, consider driving in the night before and camping near the trailhead.
7. Expect altitude symptoms
If you're planning on hiking a 14er, you should really be acclimated and have done some high altitude training beforehand. Ideally, you've been in Colorado for a few weeks at minimum, and have been hiking regularly.
However, even with all that, and even if you don't typically experience much in the way of altitude symptoms, be aware that hiking a 14er can be a whole different kettle of fish altogether. Expect more shortness of breath than usual, a faster heart rate, lightheadedness and weird, swollen fingers. You won't necessarily experience all of these things, but it's common to experience some of them. Know the signs of altitude sickness, and be prepared to have to hike more slowly than usual, and take more breaks.
8. Don't wear flip flops
We're not totally sure why this needs to be said, but every summer you can almost count on passing someone making their way up Quandary Peak in flip flops. Don't wear flip flops. Don't wear sandals. Don't even wear trainers. Wear your best hiking shoes or boots with good tread. Even the best paths are rocky and it's not uncommon to encounter snow in any month up high. The last thing you want to do is sprain your ankle on a hike.
9. Wear layers
We know, we're always harping on about hiking layers, but it's really, really important that you know how to dress for a 14er. If you're starting out at dawn, even in July, it will be chilly so you'll probably be wearing your best fleece jacket and beanie. After a few minutes though, those will come off and go in your backpack, so you'll just be in your base layer and will probably soon be working up a good sweat, so make sure it's moisture-wicking.
Eventually, you'll reach the top and it will probably be cold and windy again, so you'll want to get your fleece back on and even though you're not likely to experience rain, you'll want the best waterproof jacket possible to keep the wind off. You might also want to carry your best hiking gloves even if it's a warm day down at the trailhead. As you might imagine, all these layers slowly come back off as you descend. Climbing a 14er in Colorado involves a fair few wardrobe changes.
10. Keep sipping water
You already know how incredibly dry it is in Colorado, and add sweating and breathing hard to that and you'll need more water than you think for a 14er. It's a good idea to bring a couple of water bottles and a hydration bladder. Chug as much of one bottle as you can before you leave the trailhead so you don't have to carry it, take the bladder with you, and save a bottle for when you get to the car.
11. Get off the summit by noon
When you get to the summit, you'll have some of the best views in a state that is chock full of amazing views, so you're going to want to hang out for half an hour, take a load off and fuel up with some hiking snacks or sandwiches. But the rule of thumb in Colorado is that you want to get off the summit before noon. This pretty much guarantees that you'll be back below treeline (11,500ft in Colorado) before any afternoon thunderstorms roll in, and that's the safest place to be if you're on a mountain.
All of this brings us back to the issue of timing again. When you're planning your route, you really need to understand how long it's likely to take you, and figure out when you need to leave to get to the summit by 11:30am. So even though we said you should leave before dawn, there may be some easier, shorter 14ers where that's not a hard-and-fast rule, but for a longer hike, you really do need that early start.
12. Know when to turn back
Knowing when to turn back is perhaps the most important survival skill in the mountains. We all want to reach the summit. When you've put in all that time to planning, got up at 3am and driven all that way, of course you want the amazing views, to scratch that 14er off your list and get that picture for Instagram. We get it. But trust us, it's not worth risking your life over.
If the weather changes, you experience more altitude symptoms than you expected or tire quicker than usual, you have to know when to call it. If you press on out of some misplaced sense of obligation or you let your ego take over your common sense, you could end up in a very dangerous predicament indeed.
Furthermore, keep an eye on the time. If it's taking you much longer than you planned and you're realizing that you might not summit any time close to 12 p.m., turn back and leave earlier next time. Remember, the mountains aren't going anywhere, and you can always just try again next week.
13. Consider going with a guide
If you've been reading this and climbing that 14er is all starting to sound out of your comfort zone or skill level, hire a guide. Guided hiking may not be as common in these parts as it is in Europe, but it's a great way to learn more about hiking and the local area, support the local economy, and stay alive when you're hiking a 14er.
All the latest inspiration, tips and guides to help you plan your next Advnture!
Julia Clarke is a staff writer for Advnture.com and the author of the book Restorative Yoga for Beginners. She loves to explore mountains on foot, bike, skis and belay and then recover on the the yoga mat. Julia graduated with a degree in journalism in 2004 and spent eight years working as a radio presenter in Kansas City, Vermont, Boston and New York City before discovering the joys of the Rocky Mountains. She then detoured west to Colorado and enjoyed 11 years teaching yoga in Vail before returning to her hometown of Glasgow, Scotland in 2020 to focus on family and writing.