White hiking shoes are a thing and we don't understand why
White and primary-colored hiking shoes are flooding the market – but don't they just look dirty? And does the color of your hiking shoes matter?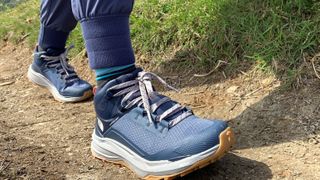 (Image credit: Julia Clarke)
Does the color of your hiking shoes matter? This is not a question I'd ever have thought I'd be asking, because surely the answer is no. If you're anything like me, you either pick the color you like the most or the color that is on sale (which is rarely the color you like the most, incidentally). Lately, however, I'm increasingly seeing hiking shoes arriving in blinding white, and I'm starting to think that maybe it does matter.
Hear me out. The shoes in question are great. Take the North Face Vectiv Taraval hiking shoes for example. These shoes are super comfortable and breathable for summer hiking, and despite plush rocker soles they provide great grip on rough ground and good protection against stubbed toes. Then there's the Columbia Facet 75 Outdry Waterproof hiking shoes, which are lightweight, have good grip and keep your feet dry when you're marching through a downpour, wet grass or a bog, which I often am. What these shoes had in common is that they both opt for that more urban vibe, so even though they're built for the hills, you could wear them on the high street and not look like you just came off the Appalachian Trail. Also, they're both white.
What I discovered in both field tests is that when I got them out on a mountain all shiny and new, all it took was one bog crossing to make them look totally grubby. By the time I got home, they'd turned from that fresh out-of-the-box appeal to grimey-looking trainers that reminded me of my old gym shoes in high school. I tried hand washing them, machine washing them and scrubbing away at both pairs with Nikwax, but to no avail – the mesh uppers are permanently stained brown and gray.
Did this affect their performance? Not at all. Would it determine whether or not I choose to buy white hiking shoes in the future? Absolutely. The trend towards footwear that looks like an urban trainer but performs like a hiking shoe is flooding the market with white hiking shoes and I, for one, am not convinced it's for the best. A good pair of hiking shoes doesn't come cheap, and even though they're going to get beat up if you actually use them for their intended purpose, it's fair to not want them to look like they've been through the ringer when you've just dropped a wad of cash on them.
Does the color of hiking shoes matter?
For a long time, hiking shoes were all hiking boots, they were leather and therefore they were brown. When synthetic uppers came into play, the tradition of demure continued and hiking shoes and boots really only came in dark colors like black, brown or navy blue, or neutral colors like beige and gray. But soon, brands realized they could make their footwear any color they like.
As more and more people have taken up hiking, some brands are trying to make their footwear stand out more or appeal to a wider audience, and that means a kaleidoscope of colors flooding the market. I recently tested out The North Face Vectiv Exploris II Mid Futurelight hiking shoes which come in an appealing shady blue and at a recent outdoor trade show, I noticed shoes and boots in even brighter hues like yellow and red.
If you're in the market for some new hiking footwear, when faced with such an array of colors you might wonder if indeed it matters which you go for and the short answer is, no. You can wear hiking shoes in any color you like, really. But there may be some arguments for and against certain colors, which I've outlined below in case you're struggling to decide whether to go with basic brown or garish green.
Dark or neutral colored hiking shoes
These are your classic colored shoes. Think black, brown, gray and maybe navy at a push. Something like the Scarpa Rush Trail GTX. Are they exciting to look at? Not really, but honestly when you're hiking I don't think anybody is looking at your shoes, unless they're wondering why you're up a muddy hill in bright white shoes.
Dark or neutral colored shoes blend in nicely with the landscape, so you don't scare the local marmots, and they'll go with any color of hiking pants that you're wearing, if that sort of thing matters to you. But most importantly, they won't show the dirt easily, so you can hike in them time after time and they'll look pretty good. In fact, I found a Reddit thread on this exact subject where one user pointed out that since your hiking shoes will probably end up being brown, it's not a bad color to start off with.
I've been putting my black Helly Hansen Switchback Trail HT through some serious paces so far this year, and even though they look like they've seen a few Munros, they don't actually look like they're covered in mud all the time, even when they are. Dark or neutral colored hiking shoes are probably your safest bet and most practical option.
Bright and primary colored hiking shoes
If the last sentence made you nod off, you might want to look at shoes that comes in bright, bold colors like yellow, blue, green and red. This has been more common in winter hiking boots and mountaineering boots such as the bright yellow Asolo Piz GV, but the vibrant approach is slowly making its way into hiking shoes like the Salomon Outpulse Gore-Tex hiking shoes, available in hues like estate blue, apricot buff, leek green and poppy red.
If you love primary colors, you'll be naturally drawn to these shoes and they definitely make a statement on the hill, which might just be your thing. If you love to share photos of your hiking adventures on social media, brightly colored footwear might stand out well against the rocks and trees. By that same argument, shoes that sing a song might make it easier for mountain rescue to spot you from a distance and for hunters to tell you apart from that elk they're searching for, so I can actually see some arguments here. Then again, if you want to move stealthily around the backcountry, you might want to ditch the fuschia shoes.
They're definitely fashionable, but do they suffer from the same drawback of white hiking shoes? So far, what I can tell you is that if your choice of lively footwear is waterproof, as in those North Face Vectiv Exploris shoes I mentioned earlier, the mud has a better chance of just rolling off them, leaving them looking pretty good post-hike. If they're not waterproof, they're more likely to end up looking a little worse for the wear, so you'd do better to opt for something in a bright blue than a daffodil yellow.
White or light colored hiking shoes
Now let's say you really don't dig the granola vibe that comes with sturdy boots, trekking poles and safari hats. You like hiking, but you don't necessarily want your choice of clothing or footwear to scream that at everyone you pass. You might well be drawn to a pair of hiking shoes such as those I've recently adventured in, that to the naked eye look more like a chunky city trainer and may come in shades of white, pale mint, light sand or frosted lilac.
The main issue with white or light colored hiking shoes is that they don't stay that way for long. No matter how lovely they look when you buy them, after a couple of wears they'll be gray, dirty-looking hiking shoes. An exception to this might be if you only hike on the trail during the summer months in very arid climates like Colorado and Utah where you're not likely to experience rain or mud, but even then the red dust of those places is likely to stain the uppers and make them a little unsightly.
To be honest, I can't really think of any huge benefit to wearing white hiking shoes. They're just going to look dirty, which if you've spent a lot of money on them, might make you sad. If you just love that street look, you could always buy them and only wear them around town I suppose, but that seems like a lot of money and extra protection for city shoes. Why not just wear comfortable trainers?
All the latest inspiration, tips and guides to help you plan your next Advnture!
Julia Clarke is a staff writer for Advnture.com and the author of the book Restorative Yoga for Beginners. She loves to explore mountains on foot, bike, skis and belay and then recover on the the yoga mat. Julia graduated with a degree in journalism in 2004 and spent eight years working as a radio presenter in Kansas City, Vermont, Boston and New York City before discovering the joys of the Rocky Mountains. She then detoured west to Colorado and enjoyed 11 years teaching yoga in Vail before returning to her hometown of Glasgow, Scotland in 2020 to focus on family and writing.