5 wool alternatives for outdoor adventurers with sensitive skin
Wool is wonderful, but what if you're one of those people who can't stand the feel of wool against your skin?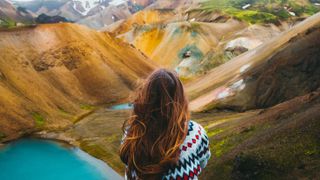 (Image credit: Anastasiia Shavshyna)
If you're in the market for some high performing gear for hiking and other outdoor adventures, you'll no doubt have heard all about the many benefits of wool. Wool is really commonly used in gear like base layers, thermal underwear, hiking socks, hats and hiking gloves because of its ability to wick moisture, meaning you don't freeze to death if you get sweaty on a winter hike, while also keeping you cool during summer adventures. Wool is beloved by many hikers for its ability to keep you warm even when it's wet, its breathability and great odor-control, and of course it's a natural, biodegradable fiber. Wool is wonderful, but what if you're one of those people who can't stand the feel of wool against your skin?
It's really common for people to find wool products scratchy and uncomfortable, even if scientists don't fully understand why. A 2017 review found that, while in its purest form, wool contains lanolin, which is an allergen, lanolin sensitivity affects only 1.7 percent of the population, and it's highly unlikely that modern wool garments would contain enough lanolin to cause a reaction. But let's cut to the chase – if you find wool itchy, it doesn't really matter what the cause is, so you'll be looking for an alternative to wool for your outdoor adventures.
For everyday wear, meaning clothes you wear around town or to work, you can easily substitute wool with cotton, linen, hemp and silk, but when it comes to outdoor gear, you'll be looking for an alternative that shares similar properties to wool. Namely, it needs to keep you warm, let your skin breathe, ideally dry quickly and be comfortable. Let's take a look at five wool alternatives for your outdoor gear that can help keep you safe without scratching.
1. Merino wool
Before we get into the true alternatives to wool, we'd be doing you a disservice if we didn't take a moment to clarify that while you can find hiking socks and other garments out there that are made with plain old wool (often mixed with synthetic materials), what you really want to look for in outdoor gear is merino wool. Unlike other varieties of wool, wool from merino sheep is ultra-fine – a single fiber of merino wool can have a diameter of as little as 11 microns, which is about a third of the diameter of a human hair – and therefore it bends, rather than prickles, when coming into contact with your skin.
We can't guarantee it, but even if you find regular wool intolerable, there's a chance that items made with merino, such as the Icebreaker 200 Oasis base layer, won't bother you at all. Not all merino products are created equally, of course, and how they feel depends on what, if anything, they're blended with, but definitely don't discount all merino products just because they're wool. If you can tolerate it, you'll love the warm-when-wet, sweat-wicking, non-stinky thermoregulating properties of merino.
2. Bamboo
For those with very sensitive skin looking for a natural alternative to wool, bamboo might be your new best friend. Bamboo rayon starts out life as a reedy plant and is treated with chemicals to turn it into a supersoft fabric which is biodegradable and insanely soft on the skin. Though there are questions around how eco-friendly bamboo really is, which we've discussed in our article on bamboo clothing, no one is arguing that, being hypoallergenic, it's great for those with sensitive skin.
Not only do bamboo products like the Novea base layer from BAM feel fabulous, bamboo is breathable, so it's good for sweaty adventures. That said, when it's dry, bamboo clothing provides an extra insulating layer, but once it's wet it doesn't have those same insulating properties as wool and it is slower to dry, so it may be better for arid climates. It likely won't hold up to as much wear, tear and washing as your wool base layer, but overall, bamboo products tend to run a bit cheaper than merino wool versions, so that's another point for the plant.
3. Fleece
If you're not too fussed about wearing natural fibers versus synthetic and are just looking for something that provides a lot of the benefits of wool without itching, fleece clothing is arguably the most straightforward solution. Fleece is woven from polyester to create a soft fabric that is warm, breathable, lightweight, sweat-wicking, quick drying and durable, so it checks a lot of boxes for outdoor pursuits, with the main exception being that it's not great for the planet. And that's a biggie.
There are recycled fleece garments on the market these days, such as the Helly Hansen Power Air Heat Grid fleece jacket, but any fleece item once on the landfill will remain there forever. While you might think of fleece just being a bulky fleece jacket, there are lots of different types of fleece out there these days, meaning it's a really versatile option that you can find in lightweight base layers like the Montane Protium Lite as well as mid layers and the lining of gloves like the Mountain Equipment Couloir Glove.
4. Alpaca
In a lot of states out west (and Ohio), alpaca farms have been springing up over the last 15 years, and if you've been wondering why, it's partly for their amazing wool. Clothing made from alpaca fiber is known to be much softer than even cashmere, and hypoallergenic, so there's a great chance you'll be able to tolerate it against your skin. Despite being buttery soft, alpaca fiber is quite tough, so in that regard, it makes a good choice for an item such as a jacket that's going to be rubbing up against your backpack straps. It's also really warm and water resistant too for rainy day hikes.
Alpaca clothing is out there, but it isn't super widespread yet, and it's more common in luxury clothing than outdoor gear. You can find hats, socks and mid layers made using alpaca fibers, however. Alpacas are slower to breed than animals like sheep, so expect your alpaca base layer to come with a high price tag.
5. Acrylic
For another synthetic solution, the most common wool substitute out there is acrylic. Invented in the 1940s and made from plastic, acrylic commonly used in outdoor gear, from beanie hats like the Helly Hansen Logo Cuff Beanie to hiking and ski socks, such as the Falke SK2s.
Acrylic looks and feels a lot like wool, but it doesn't necessarily behave exactly the way wool does. It is lightweight, soft and hydrophobic like wool, but it's not as warm and is far from breathable, making it less than ideal in clothes you're going to get sweaty in. It also gets very smelly as opposed to wool's natural odor-resistance. Like polyester, it tends to build static and acrylic fabric is also highly flammable, making it a poor choice for anything you might wear near a camping stove. But it is a low-cost alternative if your budget is the bottom line here.
All the latest inspiration, tips and guides to help you plan your next Advnture!
Julia Clarke is a staff writer for Advnture.com and the author of the book Restorative Yoga for Beginners. She loves to explore mountains on foot, bike, skis and belay and then recover on the the yoga mat. Julia graduated with a degree in journalism in 2004 and spent eight years working as a radio presenter in Kansas City, Vermont, Boston and New York City before discovering the joys of the Rocky Mountains. She then detoured west to Colorado and enjoyed 11 years teaching yoga in Vail before returning to her hometown of Glasgow, Scotland in 2020 to focus on family and writing.