Yellowstone vs Yosemite: which National Park is for you?
We size up the best features of Yellowstone vs Yosemite to help you figure out which of these world-famous parks to visit on your next adventure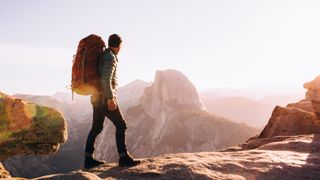 (Image credit: Peter Amend)
As a lover of the outdoors, there's no way that both Yellowstone and Yosemite National Park aren't high on your list of places to see before you die, but which are you going to visit first? Both parks are UNESCO world heritage sites, boasting unparalleled natural beauty and drawing crowds from around the globe. Yellowstone hosts nearly five million visitors each year compared to Yosemite's 3.3 million, but it's also three times the size, so basically you can expect crowded summers in either location. So setting aside the crowd factor, if you're eyeing up both National Parks for your next adventure, you'll be considering factors like natural features, wildlife, travel, weather and expense. To help you decide, we size up the best features of Yellowstone vs Yosemite to help you figure out which of these world-famous parks to visit first.
Yellowstone vs Yosemite: landscape and natural features
Obviously, the main reason you want to visit either park is to be awed by the landscape and both places absolutely ooze natural splendors, albeit of a different variety.
Head to Yellowstone and you'll be stunned by its 500 or so geysers (erupting hot springs) as well as bubbling mud pots and thousands of other hydrothermal features, waterfalls, the largest high elevation lake in North America and of course, the Rocky Mountains.
Yellowstone might sound hard to beat, but Yosemite Valley is one of the most extraordinary sights you can ever lay eyes on. This glacier-carved valley cuts 3,500ft deep into the earth and is walled by massive granite summits like El Capitan and Half Dome. You'll enjoy some of the longest and most stunning waterfalls you will ever see cascading over the edge of steep granite cliffs plus tranquil lakes, colorful wildflower meadows, sun-dappled giant sequoia groves and the Sierra Nevada mountains.
We honestly can't choose a winner here, the only fair conclusion is that you'll be stunned into silence by both parks.
Yellowstone vs Yosemite: hiking and adventure
Here at Advnture, we're all about hitting the trails in our hiking boots and exploring the natural world at a contemplative pace. Yellowstone is home to more than 900 miles of hiking trails and the best hikes in Yellowstone range from the relatively flat walk to the spouting Old Faithful geyser to an 19-mile wilderness backpacking trip on the Sky Rim Loop. Yellowstone is also a fly fishing mecca.
Meanwhile, the best hikes in Yosemite span over 800 miles of trails including gentle strolls on the valley floor and through giant sequoia groves, the steep climb to thundering Vernal Falls, the thrilling ascent of Half Dome and epic backpacking trips in Tuolumne Meadows. Yosemite also delivers some of the world's best rock climbing and some of its trails turn into cross country ski and snowshoeing areas come winter.
Again, you'll find some world-class hiking in either place, though Yosemite might edge Yellowstone out of the top spot here by virtue of the diversity of trails and activities on offer.
Yellowstone vs Yosemite: wildlife
National Parks exist to protect precious ecosystems and as such, they are homes to an incredible array of fauna. One of the main reasons to visit Yellowstone is to get up close (but not too close) with wildlife you may only have read about before, such as grizzly bears, bison, wolves, moose, pronghorn, bald eagles and bobcats. Exciting!
Lots of black bears call Yosemite home and you do stand a decent chance of seeing one if you're there for a few days. There are also bighorn sheep, bald eagles and mountain lions as well as snakes and turtles. However, we have to say that if wildlife viewing is a top priority for you, Yellowstone is the no-brainer choice here.
Yellowstone vs Yosemite: getting there and getting around
So far, it's sounding like you can't go wrong in either park in terms of what's on view and things to do, but you'll need to get there and simple logistics and economics might be the deciding factor here. Situated in north west Wyoming and Montana, Yellowstone is not close to any major urban centers. If you're driving, the closest major city is probably Denver which is more than eight hours away without traffic or stopping, otherwise you're looking at flying into Jackson, Bozeman or Billings, all of which are pricier regional airports. You'll also need a car to explore Yellowstone as there's no public transportation within the park, though it is well-served by roads.
Yosemite, on the other hand, is an easy drive from major west coast cities like San Francisco, Sacramento and San Jose which are all about 3.5 hours away. You can also find affordable flights into nearby Fresno and Merced which are even closer. Amazingly, Yosemite is also easy to reach by public transportation via the YART bus system – get yourself to Merced on the train or bus then transfer to a bus into the park. And, once you're in the park, there is a free shuttle system to all the popular spots. With all that said, it's fair to say that Yosemite easily takes this round.
Yellowstone vs Yosemite: weather conditions
Obviously, when spending time outdoors is one of your passions, you'll be used to pulling on a waterproof jacket or a fleece and braving some inclement weather, but Yellowstone can be a bit more volatile and unpredictable. Though the park is open year-round, it is known to close due to heavy snow and flash floods, and winter here is long.
Yosemite really heats up in the summer, so much so that wildfires can be a problem, but for the rest of the year you can usually depend on comfortable temperatures and sunny skies, with the snow in winter remaining mostly at high elevations and rarely causing closures.
Yellowstone vs Yosemite: cost
So how much is a trip to Yellowstone or Yosemite going to set you back? Though camping in Yellowstone starts at $29/night, the campsites book up well in advance. However, you can find plenty of affordable lodging options in surrounding towns like Cody, Gardner and West Yellowstone. The main expense of visiting Yellowstone will be in getting there, since the chances are you're looking at a pricey flight or a lot of gas money.
Yosemite's campgrounds start at $20/night but again, it takes nothing short of a miracle to get a reservation. You can find affordable lodging options in nearby El Portal, Mariposa and Fish Camp, however, and with the transportation options available, you can definitely make a trip to Yosemite a budget-friendly adventure.
Yellowstone vs Yosemite: the verdict
So, which National Park needs to be first on your list? Well, both have absolutely jaw-dropping scenery and world-class hiking, but if it's wide open wilderness, spouting geysers and wildlife sightings you're looking for, you'll want to make a beeline for Yellowstone. Mind that you'll need a vehicle, the weather might be wild and you may be looking at a bit more of an expensive trip ahead of you though.
If you want more diverse scenery and a variety of trails and activities, good weather, less time on the road and a more budget-friendly choice, it's Yosemite all the way. Just remember, you can't go wrong with either choice!
All the latest inspiration, tips and guides to help you plan your next Advnture!
Julia Clarke is a staff writer for Advnture.com and the author of the book Restorative Yoga for Beginners. She loves to explore mountains on foot, bike, skis and belay and then recover on the the yoga mat. Julia graduated with a degree in journalism in 2004 and spent eight years working as a radio presenter in Kansas City, Vermont, Boston and New York City before discovering the joys of the Rocky Mountains. She then detoured west to Colorado and enjoyed 11 years teaching yoga in Vail before returning to her hometown of Glasgow, Scotland in 2020 to focus on family and writing.