How to choose a backpacking tent: venture into the wilderness with the right shelter
Our guide to picking the optimum backpacking tent for your adventures, whether you're going solo or thru-hiking with buddies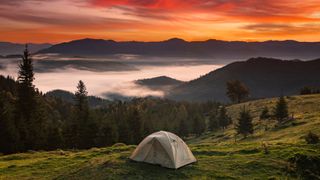 (Image credit: Getty)
If you're about to embark on an epic expedition, knowing how to choose a backpacking tent could be crucial to your enjoyment and your success. The good news is that, in this day and age, we are truly blessed by all manner of innovative shelters for all manner of adventures. Nevertheless, zoning in on the one that's right for you is no easy feat, while understanding the jargon that comes with it can have you pulling your hair out and searching for mountain huts and wilderness lodges instead.
However, once you've got the finest shelter for the job, you'll be planning future expeditions with glee and abandon. Our guide for how to choose a backpacking tent cuts through the jargon to provide you with a comprehensive view of what you will need, whether you are wild camping for the night or setting out on a long-distance thru-hike.
How to choose a backpacking tent: quality
Choosing the best camping tent for the backcountry is not like choosing a shelter for the campsite or a festival. The occasional full-on assault from the elements should be expected when you are pitching up in the backcountry. If your fortress of fabric can't stand up to strong winds and heavy rain, you're going to have a miserable time out there. If you buy cheap, you generally buy twice.
Look for a tent that is termed as a backpacking model. It should give the level of performance you need for the wilderness and the durability to last through many adventures. Keep an eye out for tents boasting super light yet strong carbon fibre poles and avoid cheaper options with fiberglass poles, which are prone to shearing. You will want a tent that assembles relatively quickly but be very wary of pop-up tents, as they do not usually have the stability and robustness needed for a wild camping expedition.
How to choose a backpacking tent: season and hydrostatic head ratings
On a long expedition, keeping everything dry is paramount to your safety and enjoyment. There are probably times when you are going to get a soaking, but as long as you have a decent backpacking tent and a good set of dry bags, this isn't an issue.
Consider the tent's season rating when perusing models and think about the environment you intend to use it in. A one- to two-season tent will be ideal for warm climates and will be lighter than a shelter designed with winter in mind – making them perfect for fastpacking expeditions in mild conditions. A three-season tent will give you enhanced protection from wind and rain, while a four-season tent is designed to keep you warm and dry even in a blizzard.
Tent fabric is designed to be wind and water resistant; its waterproof rating is known as its Hydrostatic Head (HH). The higher the HH, the more water pressure your tent can withstand. The legal minimum requirement is an HH of 1,000 mm, however this won't be enough to cope with the fierce conditions encountered in the wilderness. A rating of 3,000 mm will keep you dry in most conditions and some high-end tents boast an HH upwards of 5,000 mm.
The compromise will be how much you are willing to spend. As the number of seasons you can take your shelter out in increases and the higher the HH becomes, the more you'll have to part with your hard earned dough.
How to choose a backpacking tent: type of tent
In terms of structure, there are broadly four different types of tent: dome, geodesic tunnel and ridge tents. But more advanced alloys in tent poles and stronger, lighter fabrics have made a host of different designs possible. Increasingly, many small backpacking tents have utilized innovative geometry and hubbed poles to maximize internal space and headroom, without unduly affecting stability, weight or strength.
Dome tents are the usual go-to for backpackers and the most frequently sighted in campsites across the world. They are made up of two flexible poles that are slid through the tent fabric, crossing over at the top and then anchored in the corners. This makes them quick and easy to erect and gives them a good degree of stability.
For mountaineering expeditions, geodesic tents are all the rage thanks to a latticed pole structure that creates great stability. The downside to this is that they are often more complicated to erect and come with a heftier price tag. However, if you're a serious adventurer, you may want to consider a one for your backpack.
Tunnel tents are not as commonly used in backpacking situations as they are in the campsite. This is because they are often large tents, designed for family camping trips and are not as stable in challenging conditions. A series of flexible poles loop from one side of the tent to the other, forming a tunnel shape that the flysheet goes over.
Ridge tents are the classically triangular shaped shelters that you might have drawn as a kid, comprising canvas stretched over a horizontal pole, which is supporting by vertical poles at either end. However, they've been left behind by advances in tent technology and are relatively rare these days.
How to choose a backpacking tent: picking the right weight and size
A word of warning here, don't take the label of a "2-person tent" to mean that you, your buddy and all of the hiking gear you have between you will fit comfortably. Tent sizes are often veer a little bit on the tight side of things, so while a 4-person tent will happily fit three, four might actually be a squeeze.
If you are solo backpacking, or in a group but sleeping in your own shelter, your tent's weight and the size it packs down to are going to be of utmost importance. Basically, the smaller its packed dimensions (the total volume of the tent, poles and pegs bundled together in the stuff sack) are, the better. One-person tents and even 2-person models are often light enough to be carried by a solo backpacker and work well for fast and light expeditions. Even more minimalist options include taking a hammock or just a bivvy bag and tarp.
If you are sharing a larger tent with friends, you should be able to spread the weight burden too, by sharing out the shelter's constituent parts across everyone's backpacks. This can actually be more efficient that everyone lugging their own tent and means you can erect something markedly more palatial at the end of the day.
All the latest inspiration, tips and guides to help you plan your next Advnture!
Alex is a qualified Mountain Leader, adventure writer and content creator with an insatiable passion for the mountains. A Cumbrian born and bred, his native English Lake District has a special place in his heart, though he is at least equally happy in North Wales, the Scottish Highlands or the European Alps. Through his hiking, mountaineering, climbing and trail running adventures, Alex aims to inspire others to get outdoors. He is currently the President of the London Mountaineering Club, training to become a Winter Mountain Leader, looking to finally finish bagging all the Wainwright fells of the Lake District and hoping to scale more Alpine 4000ers when circumstances allow. Find out more at www.alexfoxfield.com (opens in new tab)