How to charge phones when camping: stay juiced up in the backcountry
Our guide on how to charge phones when camping will ensure you never run out of battery, whether you're wild camping or at the campsite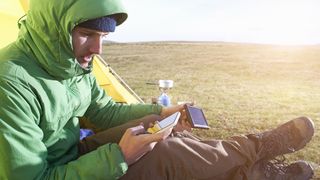 (Image credit: Getty)
Fundamentally, knowing how to charge phones when camping, particularly in the wilderness, maintains the crucial safety net your device gives you. Considering a smartphone gives you the ability to pinpoint your location, call a mountain rescue service if needed, keep an eye on the weather forecast or liaise with your hiking buddies, being without power can cripple an adventure.
Beyond this safety net, the knowledge of how to charge phones when camping also allows you to capture photos and videos, keep in touch with loved ones and even keep in touch with what's happening in the wider world. On one end of the spectrum, you've got traditionalists who consider the backcountry as a place to escape and leave technology behind, while on the other you've got people who use technology throughout the experience.
Whichever camp you're in, you'll still value having a working phone, whether it's for a quick call to your better half or for keeping your Instagram followers updated on your progress. When you set off with your best camping tent, power can be a hard thing to procure if you haven't prepared properly. In this feature, we share five top tips on how to charge phones when camping, as well as tips on how to retain its battery for as long as possible while you're out there.
Of course, these tips go for any electrical device that can be charged via a USB cable. It's often the case that you'll need to decide what's most crucial for the days ahead between your phone, your best headlamp, best camping lantern or your GPS device. With these tips though, it shouldn't be a stressful decision.
How to charge phones when camping: our five top methods
Below, we present of quintet of ways to keep your phone topped up while you're camping.
1. USB power bank
A USB power bank is a wonderfully portable option. From tiny little units that give your phone a couple of extra charges and are lithe enough to slip into your down jacket pocket, to larger bricks designed to charge multiple items at a time, there's plenty of choice out there. The unit you opt for will depend on the length of your trip and whether or not weight is an issue.
The capacity on USB power banks is measured in mAh (milliamp hours), a unit used in batteries to show electric power over time. A unit with 20,000 mAh should be enough to charge your phone around four times. For a one-night wild camping expedition, this is perfect as realistically you will also want to periodically charge your headlamp and potentially your smartwatch too. So, this amount of power should be enough to leave you with a little bit spare.
For a longer car camping trip, you may want to consider a high-capacity power bank that boasts an mAh in excess of 30,000. These units are heavy and bulky but will enable you to charge your phone, laptop, tablets and portable games consoles, usually all at the same time too.
2. Solar charger
Eventually, a USB power bank will run out of juice unless you have access to household power. An alternative is a solar charger. The best solar chargers give you unlimited renewable energy, even on the go. Simply angle your panels towards the sun and replenish your supplies every day. This is easily done at a campsite, while backpackers and bikepackers often attach panels to their pack in order to collect the sun's energy on the move.
It should go without saying that the effectiveness of a solar charger depends on the amount of sunlight, so they aren't always ideal for winter camping trips. However, during the warmer months they collect enough of the sun's rays to keep your phone going, even on overcast days. You won't have as much power at your fingertips as with a quality power bank, so don't expect to keep a laptop alive for weeks on end. But for giving your phone a boost each evening, they're a great choice.
3. Electrical hook up
The best family tents usually feature flaps and ties to give you access to household electricity at the campsite. This means that you can treat charging your phones, laptops, tablets and the rest just like you would at home. For a small fee, many campsites provide the electrical hook up needed. If you're using a campsite as your expedition basecamp, this is a good opportunity to fully charge your USB power bank.
4. Using household power wherever you find it
This one will depend on the style of your adventure, but if you're embarking on a long-distance trek, you might be considering a hybrid approach where you spend some nights camping and others at mountain huts or in guesthouses etc. One of the many advantages of such an approach is that it gives you access to household power every once in a while.
It can be tempting, upon reaching such luxuries after long days on the trail, to immediately grab a hot shower, head to the bar, have a few drinks and then conk out on your blessedly comfortable bed. By all means, do all of the above, but first take time to get everything charging, ready for the days ahead.
Even if you're camping every night, you can use food stops at cafes and refuges, as well as your transport connections to get your kit juiced up. Use every opportunity.
5. BioLite stove
BioLite don't just make some of the best wood-burning stoves for cooking, their ingenious products also double as an energy generator with which to charge your devices. Using the sticks and twigs around you as fuel, this option rivals a solar charger for energy you can replenish on the go.
How not to charge phones when camping
With the great options outlined above, we wouldn't recommend a crank powered charger for keeping your phone charged. Crank powered chargers are operated by hand and give you a ready energy source on demand. They do have their benefits and there are some great crank powered camping lanterns out there. However, the amount of time and effort required to get anything like a full charge for something like a phone is simply not worth it.
Tips on saving battery life in the wilderness
Half the battle is making sure you're not doing anything that wipes your phone's battery out. Here are some tip tips on how to retain your battery life while out in the wilderness.
Airplane mode is your friend
If you're in region where phone signal is sparse – which is so often the case in the wilderness – you might notice your battery draining quicker than usual. This is because your phone will be working hard trying to search for service. Switching to airplane mode when you don't need any signal stops this battery draining behaviour in its tracks. When you need a bit of signal, simply turn airplane mode off.
Reduce screen brightness
Just as how your best flashlight won't last anywhere near as long on its maximum brightness setting, either will your phone. Turn that screen brightness down and conserve your battery.
Use a map and compass to navigate
Modern hiking technology is fantastic and deservedly popular, while the navigation aids provided by today's apps are excellent. However, there's no getting away from the fact that using them places strain on your phone's battery life. Using a map and compass to navigate means that you can save your phone for other uses and give its battery a break. At Advnture, we always recommend knowing how to read a map and how to use a compass and would never set off into the backcountry without them.
Keep your phone warm in cold conditions
Your phone's battery is designed to operate at room temperatures, not in a freezer. Many hikers and mountaineers are caught out when their phone suddenly dies in winter conditions. Winter adventures are already more dangerous than summer ones and losing the safety net provided by your phone's applications can be extremely serious. To avoid your phone dying in winter, store it close to your body, so that your body heat keeps it at around optimum temperature. At night, get cosy with it in your sleeping bag.
In really hot conditions, the opposite is true, and your phone could overheat. Keep your phone out of direct sunlight to stop this from happening.
All the latest inspiration, tips and guides to help you plan your next Advnture!
Alex is a freelance adventure writer and mountain leader with an insatiable passion for the mountains. A Cumbrian born and bred, his native English Lake District has a special place in his heart, though he is at least equally happy in North Wales, the Scottish Highlands or the European Alps. Through his hiking, mountaineering, climbing and trail running adventures, Alex aims to inspire others to get outdoors. He is currently President of the London Mountaineering Club, training to become a winter mountain leader, looking to finally finish bagging all the Wainwright fells of the Lake District and hoping to scale more Alpine 4000ers when circumstances allow. Find out more at www.alexfoxfield.com