Best cheap hiking boots for women: quality walking boots that won't break the bank
Our pick of the best cheap hiking boots for women includes designs to suit different types of terrain, weather and walking preferences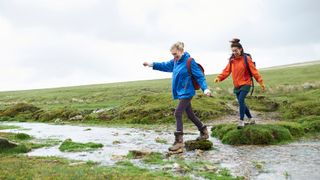 (Image credit: Getty)
If you're bound for the great outdoors, good hiking boots are an essential – they'll protect your feet from rough ground and bad weather, and keep you warm, dry and comfortable on country lanes and mountainsides alike.
The downside is that good walking boots can be very expensive, with many of the best hiking boots for women costing over £150/$200 (and some premium leather models coming in at over £200/$300). That said, there are some bargains to be had – and we've rounded up a selection of the best cheap hiking boots for women, which all offer a great amount of bang for your buck.
We've picked ten of the best budget hiking boots for women, including models suitable both for casual country hikes as well as more technical mountain terrain, plus a selection of warm leather boots, waterproof boots and breathable trainer-like boots that are ideal for warmer weather. These pocket-friendly options can all be bagged for less than £100/$150, so they're perfect if you're shopping for your first hiking boot, need a spare pair of boots or just want to grab a bargain. Plus, our buying guide below explains what features to look out for in a cheaper hiking boot, to ensure you're getting a real bargain and not compromising too much on quality.
And if you've got a bit more to spend, don't forget to check out our guide to the best women's hiking boots you can buy.
The best cheap hiking boots for women available today
Berghaus Expeditor Trek 2 boot
After one hiking boot that can do it all? The waterproof but lightweight Expeditor Trek 2 offers great quality for money
Specifications
RRP:
£100 (UK) / $140 (US)
Weight (per boot):
415g/14.5oz
Materials:
Suede upper with AQ waterproof breathable mesh lining, EVA midsoles, OrthoLite footbed, super grip OPTI-STUD outsole
Compatibility:
A brilliant all-rounder of a boot that can deal with most seasons and weather conditions
Reasons to buy
+
Great all-rounder
+
Waterproof
Reasons to avoid
-
The lighter grey colorway looks dirty fast
We often write about picking the right hiking boot for certain conditions – but what if you just want one great boot to rule them all, that you can wear year-round? We reckon we've found it in Berghaus' Expeditor Trek 2, which as Berghaus state, is a brilliantly balanced 'sturdy but light' boot. A combination of suede, mesh and a waterproof membrane render this boot both weatherproof and reasonably lightweight at 415g per boot. Cushioned soles make it comfortable from the get-go – and comfortable all day long. The Expeditor also offers good grip, even on wet rock. We don't have much to critique this boot on, except that we'd pick the black colorway over the lighter grey, which can stain easily. For the exceptional price, this is our top pick if you need a first walking boot that will venture anywhere you want to go – it really stands up when compared with more expensive models.
Peter Storm Women's Snowdon II Walking Boots
A leather workhorse of a boot that's reliably warm and waterproof – perfect for wet-weather conditions
Specifications
RRP:
£99 (UK) / $140 (US)
Weight (per boot):
600g/21oz
Materials:
Full-grain leather upper, EVA footbed, CMEVA midsole, moisture-wicking lining, high traction rubber outsole
Compatibility:
Wear it for tackling its namesake mountain and other hill trails in cold and wet weather
Reasons to buy
+
Warm
+
Good leather
+
Waterproof
Reasons to avoid
-
Not available in many sizes
-
Heavy
Peter Storm's Snowdon is a bit of a classic in the hiking boot world, and its second incarnation, the Snowdon II, is a chip off the old block. We're including it in our list of the best budget boots for women because it is that rare thing – a great quality all-leather hiking boot that you can bag for a genuinely bargain price. Ideal for taking up their namesake mountain, these workhorse boots are warm and fully waterproof. They also feature a good toe box for added protection on rocky ground, and the mud-shedding outsoles are grippy enough to keep you walking confidently on mountain trails in wet weather. There must be a catch, you may think – and there is, in the hefty weight and lack of breathability of the Snowdon II. But for wet weather use, they're an absolute steal, and would be brilliant worn in winter months and swapped out for a lightweight fabric boot in warmer conditions. If you can't find the Snowdon II in your size, the Peter Storm Rivelin is a similar model.
A solid and supportive pick best worn on less challenging paths
Specifications
Weight (per boot):
450g/16oz
Materials:
Dri-Tec fabric upper with waterproof membrane, EVA midsole, carbon rubber outsole
Compatibility:
Wear on well-groomed trails in changeable conditions
Reasons to buy
+
Good support
+
Good lacing system
Many cheaper fabric hiking boots feel rather flimsy – not so the firm Raven, which offers good support and a good lacing system to keep your foot and ankle protected as you hike. The Raven is waterproof enough to put up with rainy conditions but is still reasonably breathable, making it a good choice for changeable spring and autumn weather. Where the Raven doesn't perform as well as some of the other budget boots we tested out is grip. This boot doesn't sport deep lugs, so it can end up feeling a tad slippery on thick mud or wet ground. We'd keep it firmly on more established trails. While these soles don't grip brilliantly, they are light and comfortable underfoot, springing back nicely as you walk and making them a good choice for long days of trekking in fair weather. The toe box also offers great solid protection despite the boot's light weight.
Karrimor Isla Mid Ladies Weathertite Walking Boot
Affordable boot with good grip and ankle support – a good budget-conscious option for dry weather
Specifications
RRP:
£100 (UK) / $140 (US)
Weight (per boot):
350g/12oz
Materials:
lightweight suede and mesh upper with water-resistant weathertite mesh, Phylon midsole, thick lugged Karrimor, Dynagrip rubber outsole
Compatibility:
A supportive choice for heading out in good weather
Reasons to buy
+
Good grip
+
Decent toe boxes
+
Lightweight
Reasons to avoid
-
Not fully waterproof
-
Need breaking in
The main reason to buy Karrimor's Isla is, admittedly, the pocket-friendly price (you can often find these boots for considerably cheaper than the RRP). They're a fair pick if you're on a strict budget – we'd recommend them if you're after a first pair of hiking boots and don't plan on using them in foul weather. We wouldn't describe these boots as waterproof – they're only really water-resistant, and will put up with a light shower but won't keep trail juice out for long over soggy ground or in heavy rain. They're also on the stiff side, and take a few wears to break in and to start to mould to your feet. The upside to that stiffness is that they feel supportive around the foot and the ankle, which is ideal if you tend to roll your ankles in wider-fitting boots, or if you're carrying a heavy pack and feel unstable. The stand-out features when testing the Islas were the soles of the boot, which offer a good grip even on wet trails, and the reinforced rubber toe boxes, which will protect your feet on rocky ground. There's also a low shoe version available.
TOG24 Penyghent Unisex Waterproof boot
We reckon these unisex boots are a bit of a bargain considering their great build and fit
Specifications
RRP:
£120 (UK) / $150 (US)
Weight (per boot):
500g /17.6oz
Materials:
suede-and-mesh upper with waterproof membrane and DWR, EVA heel cup, rubber outsole
Colors:
Charcoal and Light grey / Taupe
Compatibility:
A great all-rounder for the great outdoors – and smart enough to wear in the city
Reasons to buy
+
Breathable
+
Waterproof
+
Great looks
Reasons to avoid
-
Unisex fit may not suit everyone
-
Relatively heavy
We usually shy away from hiking boots that claim to be unisex, as most boots that are gender-specific are designed using either a male or a female last, which tends to make them fit far better. That said, we were impressed with the good-looking, hard-working Penyghent, and on test we found that these boots fitted comfortably and were true to size. These TOG24 boots have a full price tag that does tiptoe above £100, but can be found for far cheaper, and we couldn't resist including them in our list of the best budget boots for women because you get a great package for your money here: smart classic looks, a waterproof membrane that stands up to rain, and thick, springy soles that offer good comfort. The mix of suede leather and mesh panels on the boot's upper is a nice compromise between leather and fabric, keeping the boots lightweight but warm and durable. We also found the Penyghent reasonably breathable on test in hot weather, unlike many leather boots.
Skechers Trego-Base Camp boot
Expect trainer-like comfort from these good-looking boots, which are aimed at casual walkers
Specifications
RRP:
£75 (UK) / $100 (US)
Weight (per boot):
390g /14oz
Materials:
Suede and textile upper, memory foam cushioned insole, and shock-absorbing midsole, rubber outsole
Compatibility:
A casual hiking boot ideal for dry weather walks on established paths
Reasons to buy
+
Great comfort
+
Well cushioned midsole
+
Nice looks
Reasons to avoid
-
Not waterproofed
-
Not as supportive as some others
Skechers are best known for their highly comfortable sneakers, and they've brought that knowhow to the good-looking Trego. This casual boot has a memory foam cushioned insole that we were impressed with on test – it makes taking on long distances a breeze. The springy sole also features decent lugs that offer good grip on varied surfaces. The mesh-lined ankle is comfortable and breathable, and can be laced tightly for a snug fit, although it's a tad low to offer good ankle support if you're straying from more established paths. The Trego isn't waterproofed, which is the only real downside here, although we did find the suede outer water-resistant enough to allow you to stride through mud. If comfort is at the top of your shopping list, especially over long distances, or if you just want casual, cheap hiking boots for women for dry weather that will also work with jeans, these are a nice pick.
Grisport Lady Hurricane Brown Boot
Tackle a storm in confidence in the tough leather Hurricanes
Specifications
RRP:
£89 (UK) / $124 (US)
Weight (per boot):
445g/15.5oz
Materials:
Waxed Leather upper with Spotex waterproof/breathable lining, Vibram rubber outsole
Compatibility:
Ready for all weathers, these waterproof boots are great when you need reliable grip
Reasons to buy
+
Reliable waterproofing
+
Robust
+
Excellent lacing
Reasons to avoid
-
Large and chunky to wear
These no-nonsense boots remind us of the hiking boots available 20 years ago – in a good way. The classic Hurricanes may not be the most striking or stylish boots in the world, but they're great as solid and dependable leather hikers that you can pull on day after day – they're waterproof, warm and give feet good protection. A waterproof Spotex membrane keeps feet dry even in pounding rain, and we really rate the lacing system, which stays put and keeps the cushioned top of the boot snug around your ankle. The Hurricanes are also surprisingly lightweight considering their chunky looks, weighing in at 445g per boot. These boots do look and feel rather massive when worn, and you may need to order a size up to get a good fit. A solid choice, both in looks and performance – these boots should last you for years to come if you take good care of them.
Hi-Tec Eurotrek Lite WP Womens boot
The comfortable Eurotreks are a good choice if you want warm leather on a budget
Specifications
RRP:
£80 (UK) / $110 (US)
Weight (per boot):
650g/23oz
Materials:
leather uppers with Dri-Tec waterproof and breathable membrane, EVA midsole and footbed, MDT rubber outsole
Compatibility:
As their name suggest, these boots work for European-style treks in cooler weather
Reasons to buy
+
Comfort straight out of the box
+
Waterproof
We don't see many decent leather boots with an affordable pricetag available for women, but Hi-Tec's Eurotrek is definitely one of them. These boots are also that rare thing – a leather hiking boot that is comfortable straight out of the box, and that doesn't require any breaking in. There's good cushioning underfoot, which makes up for some of the heaviness of the Eurotrek (this isn't a barely-there boot, and you'll notice you're wearing it after a few hours of hiking). The combination of leather and a waterproof membrane render the Eurotrek warm and waterproof enough to deal with tough wet ground – that's probably why it's recommended by those doing the Duke of Edinburgh awards. If you're getting out in all weathers and need to stick to a budget, these tough boots are worth the compromise on weight.
Decathlon Waterproof Mountain Walking Boots
Great comfort and good grip make this a decent summer walking boot for an excellent price
Specifications
RRP:
£45 (UK) / $62.50 (US)
Weight (per boot):
395g /14oz
Materials:
Textile upper with breathable membrane lining, PU midsole, non-slip rubber outsole with 4mm gripping studs
Compatibility:
Dry, warm weather hiking and summer walking holidays
Reasons to buy
+
Lightweight
+
Good comfort
+
Decent grip
Decathlon's sport and outdoor offerings definitely sit at the budget end of the market, but we've always been favourably impressed by the quality they offer. Their wide range of budget hiking boots for women begin at a seriously cheap price point (as low as £15/$20), but our top pick are the not-so-memorably titled Waterproof Mountain Walking Boots. These fabric boots are impressively lightweight at 395g per boot, and offer great comfort from the get-go – if you hate being weighed down by hefty boots and want the comfort of your favourite pair of trainers, these are a great pick. These boots are reasonably breathable, and also offer good grip that rivals more expensive boots on test. Where the Mountain Walking boots don't deliver is on waterproofing, despite their name. They do have an inbuilt 'waterproof' membrane, but while we found this kept feet dry in light rain, if you stumble into boggy ground or hike in heavy rain, it won't keep water out for long. That doesn't mean we don't rate these boots – if you own a set of properly waterproof winter boots, these are a great spare pair to pull out on warm dry days, and their light weight makes them a nice choice if you're packing for a walking holiday abroad.
Mountain Warehouse Pilgrim
This smart and rather retro-looking leather boot is delightfully comfortable and performs well in the wild
Specifications
RRP:
£100 (UK) / $104 (US)
Weight (per boot):
500g/17.5oz
Materials:
Leather upper with an IsoDry waterproof and breathable membrane, EVA cushioning, TPR rubber outsole
Compatibility:
Very versatile looks make this a nice boot to wear day-to-day as well as on casual hikes
Reasons to avoid
-
No protective toe box
-
Grip isn't brilliant
Hey, good looking! While we've found many hardworking hiking boots to include in our list of the best budget women's walking boots line up, we haven't tested many that also look smart. Not so the Mountain Warehouse Pilgrim. These handsome leather boots are buttery soft and impressively comfortable to wear. We love their rather retro looks, which are great worn with jeans and hiking trousers alike. And there's substance as well as style here – the Pilgrims are waterproof enough to tackle wet weather hikes (although not suitable for proper storms or for actually walking through water), and are also surprisingly breathable considering their leather construction. There isn't amazing grip – these boots are better kept on valley paths rather than boggy mountainsides. The Pilgrims run large, so consider ordering a half-size down.
What to look for in the best cheap hiking boots for women
Here's a guide to choosing hiking boots that will be best suited to your adventure type.
Price point
Obviously, we're talking about the cheaper end of the hiking boot market here, and there's always going to be a compromise on quality, even in the very best cheap hiking boots for women. That said, there are also great bargains to be had, and we recommend doing some savvy shopping. You'll often find last year's designs or earlier versions of a new hiking boot sold cheaply, which doesn't mean they don't deliver good performance. Most budget hiking boots won't use branded ingredient technology, such as Gore-Tex waterproofing or Vibram soles, as these are more expensive, but own-brand technology can still do a great job of providing functional waterproofing and good grip. Many cheap hiking boots for women aren't fully waterproofed – these are nigh-on useless in wet weather, but perfectly fine for dry conditions or for use on your summer walking holidays.
Main material
Budget hiking boots for women are usually either constructed with a leather or fabric upper. Leather tends to be warmer and is naturally water-resistant, but can be heavier and less breathable than fabric. Leather boots often require more maintenance and more breaking-in than fabric boots – while the latter offer more trainer-like comfort. As a general rule, we recommend warm leather boots for winter use, and more breathable fabric boots for summer use – it's a good idea to own a pair of each.
Waterproofing
If you want to wear your new boots in all kinds of weather, it's definitely worth making sure they are fully waterproof. While leather naturally offers some water resistance, a boot constructed using a waterproof membrane will keep your feet reliably dry will still letting them breathe to some degree. We also recommend trying new boots on and checking that you can lace them snugly around your ankles, to stop rain seeping in.
Soles
Good grip is one of the main reasons to pick hiking boots over more casual footwear when you're exploring country paths or rocky mountain trails. Look for a boot with a tough rubber sole that has deep 'lugs' (indentations that grip the ground as you walk). A solid rubber toe cap is also a good choice for protecting your toes when you're on rockier terrain.
Fit
Whether you're buying cheap hiking boots for women or pricier ones, it's important to make sure that the boots fit well to avoid blisters and discomfort when you're in the great outdoors. Try on boots while wearing the hiking socks you plan to use them with. Make sure there's no tightness or rubbing around the toes and the heel, and that there's room to flex your toes. When you lace your new boots up tightly they should feel supportive around your ankle. A good boot with a 'mid' height collar will offer decent support and stability, which is particularly good if you're walking on uneven and challenging terrain, and/or carrying a heavy pack.
An award-winning travel and outdoors journalist, presenter and blogger, Sian regularly writes for The Independent, Evening Standard, BBC Countryfile, Coast, Outdoor Enthusiast and Sunday Times Travel. Life as a hiking, camping, wild-swimming adventure-writer has taken her around the world, exploring Bolivian jungles, kayaking in Greenland, diving with turtles in Australia, climbing mountains in Africa and, in Thailand, learning the hard way that peeing on a jellyfish sting doesn't help. Her blog, thegirloutdoors.co.uk, champions accessible adventures.
All the latest inspiration, tips and guides to help you plan your next Advnture!
Thank you for signing up to Advnture. You will receive a verification email shortly.
There was a problem. Please refresh the page and try again.