5 types of rock you'll encounter when climbing outdoors
We get to grips with five of the most common rocks for climbing, plus a geologist's take on what to expect when you start adventuring vertically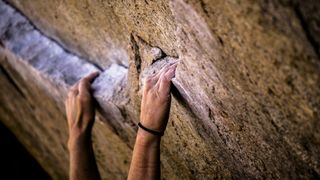 (Image credit: Tom Hoyle)
When you first start climbing outdoors, you usually just climb on whatever type of rock you have available. I cut my teeth on Colorado granite so I quickly fell in love with crack climbing before moving on to Utah's sandstone towers and enjoying the amazing traction there. You'll get good at whatever's available, much in the same way as Coloradoans tend to be amazing at skiing powder while Vermonters master the art of ice skiing.
Once you start to travel for rock climbing, however, you'll soon discover that different types of rock behave differently and you might find yourself almost back at the beginning as you grapple with surprising slick surfaces, unpredictable crumbly holds or challenging overhangs you haven't experienced before (kind of like a Colorado skier hitting the icy slopes of the northeast for the first time).
There are lots of different types of rock that all make for thrilling and diverse experiences when you're climbing, and in this article we get to grips with five of the most common rocks for climbing, plus we get a geologist's take on what you might expect when you start adventuring vertically.
1. Granite
If you've ever coveted climbers who get to climb in places like Yosemite, Joshua Tree and Rocky Mountain National Park, you'll be envious of their access to granite, which provides some of the best climbing in the world.
"My favourite is granite because it forms a wide variety of interesting shapes and features, tends to be very good quality, and there's loads of it in the South West where I grew up and have done a lot of climbing," says Alex Webber, a climber and geologist.
Granite is an extremely hard igneous rock with high content of quartz, which forms below the earth when magma cools and is reasonably coarse grained. It forms massive monoliths that are slowly weathered to form cliffs and domes (think, El Capitan and Half Dome).
Granite is the most popular rock in the US as the massive slabs it forms make for great climbing and when it does erode, it tends to do so in giant cracks that make for excellent crack climbing. Over time, eroded granite can become quite loose and crumbly which can become dangerous and result in massive rockslides such as one that occurred in Yosemite in early 2023.
"I really like the variety of holds, from tiny edges to big friction dependent slopers, and some holds that you have to spend 10 minutes even finding because they're just the slightest depression over a feldspar crystal or a small xenolith pebble. Often the feet are ridiculously small, as in standing on one individual crystal," says Webber, who warns that granite can be quite harsh on the skin, with sharp crystals that tear at your hands if you're not careful. It can also be quite condition dependent – extremely grippy in cold conditions but becoming slick in hot weather, so make sure to bring your climbing chalk for summer climbing.
2. Sandstone
Another popular rock for climbing on in the US is sandstone, a type of sedimentary rock composed of sand-sized grains that are deposited onto the earth and compressed over time. Much of the rock climbing in desert areas around Moab, Zion and Red Rock Canyon outside of Vegas consists of sandstone.
Whereas granite is smooth, sandstone in contrast is soft, rough and easily eroded. The roughness of sandstone means that it provides excellent traction for both your hands and your climbing shoes, making for excellent climbing adventures, though you can definitely expect it to rub off some layers of skin. It also makes for some great cracks and joints as well as really fascinating rock formations such as the rock towers in Colorado National Monument that can be super fun to scale.
One warning to climbers is not to climb on sandstone immediately after a rainstorm, since the rock is so soft your could break or erode holds, though it's unlikely you'll be heading out to climb when it's raining, but make sure you give it a few hours to dry thoroughly before you get your Cams out.
3. Limestone
Limestone is not nearly as common for climbing in the US as it is Europe, though if you want to get your hands on it you'll find some at Rifle Mountain Park in Colorado. Across the Atlantic, however, there's tons of limestone climbing in France and Spain.
Limestone is a type of sedimentary rock which is composed mostly of the minerals calcite and aragonite. Limestone forms when these minerals are deposited out of water containing dissolved calcium.
For climbing, limestone tends to be a bit of a divisive surface with some climbers loving it for its interesting features, vertical cliffs and fun overhangs, while others dislike how easily it can become worn and eroded.
"My least favorite rock is probably limestone, which I imagine is sacrilege to some people who spend time in Spain and France climbing huge limestone tufas and caves, but here in the UK my experience of limestone is that it gets really polished, and has tiny sharp holds that can be painful," muses Webber.
Many limestone holds behave like a skating rink on popular routes where other climbers' hands and shoes have worn them down, and don't even think about attempting to climb it when it's wet. That said, limestone can also be grippy and its tendency to erosion means it forms pockets, pinches and caves that can provide a really exciting challenge as you progress in climbing.
Limestone is generally preferred for bouldering and sport climbing rather than trad climbing because it can be difficult to place gear securely.
4. Slate
Slate is another rock that's not so common for rock climbing in the US, though you'll find some in North Carolina, but is common in North Wales, where slate quarries have attracted the likes of Alex Honnold tempted by the challenge of smooth, vertical cliffs and tiny holds.
Slate is a fine-grained metamorphic rock formed from a shale-type sedimentary rock composed of clay or volcanic ash.
"Slate is interesting because it forms very large smooth faces broken by tiny sharp edges, and it can be quite flaky," Webber explains.
The word 'slate' means 'to break off', and slate forms some really interesting flakes, cracks and tiny crimps that require excellent finger strength and stiff-sole climbing shoes like the Tenaya Masai.
5. Basalt
While basalt is found all over the world, it's not all that common for rock climbing on. However, there are a few top-class climbing spots in Oregon, British Columbia and Panama as well as The Grotto near Malibu and Table Mountain Colorado where you can experience the joys and challenges of climbing on basalt.
Basalt makes up almost all of the igneous rock on earth and is formed of the rapid cooling of lava rich in magnesium and iron.
Non-weathered basalt forms excellent towering columns with cracks and pillows with slopers that are generally brilliant for climbing, and is usually solid enough to place gear. The tiny volcanic gas bubbles make it porous and grippy, though it can also present as smooth and slick when wet. However, when weathered, basalt can become soft, crumbly and dangerous for climbing.
All the latest inspiration, tips and guides to help you plan your next Advnture!
Julia Clarke is a staff writer for Advnture.com and the author of the book Restorative Yoga for Beginners. She loves to explore mountains on foot, bike, skis and belay and then recover on the the yoga mat. Julia graduated with a degree in journalism in 2004 and spent eight years working as a radio presenter in Kansas City, Vermont, Boston and New York City before discovering the joys of the Rocky Mountains. She then detoured west to Colorado and enjoyed 11 years teaching yoga in Vail before returning to her hometown of Glasgow, Scotland in 2020 to focus on family and writing.