Smart approach – 8 tips for climbing in hot weather
8 top tips for climbing in hot weather to help you find the best crag and deal with sweaty palms and swollen feet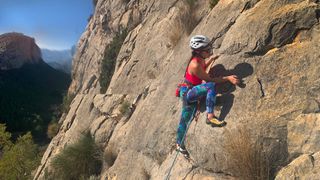 (Image credit: Jessie Leong)
You've waited out a long, harsh winter followed by a wet spring so you can get back to climbing outdoors and now, summer is here. Fifteen minutes into a half-hour approach, the sun is beating down on you relentlessly as you walk along the dry, dusty trail. By the time you arrive at the crag, you're feeling too sluggish to climb hard. It's practically impossible to get your climbing shoes on over your swollen, sweaty feet and your hands are all greased up with sunscreen that no amount of climbing chalk can counter. Is it time to call it quits and head indoors?
Summer is usually hot, and often humid, but that doesn't mean you can't climb outdoors – you just have to get smart about your approach. Check out our eight top tips for climbing in hot weather to help you find the best crag and deal with sweaty palms and swollen feet.
1. Seek shade
During the cooler months, when it's time to pick a crag you've probably become accustomed to avoiding shade, since that's where ice builds up. Come summer, however, shade is exactly what you want to keep the sweaty palms and swollen feet to a minimum.
Use a map to identify north-facing crags that get more shade and if there are lots of trees around, all the better. Another good tip is to find a spot near a lake or river where you can do a little wild swimming to cool off, or at least dip your feet to reduce swelling.
2. Check the forecast
You might think this is too obvious to include, since if it's raining, you're not going climbing outdoors and if it's sunny, you are, but there are other aspects to the forecast that are worth reviewing before you even get your approach shoes on.
First, use a reliable weather app to check the hourly forecast to see what the humidity levels are going to be like. Humid conditions make for sweatier hands as well as slicker granite, so while your instinct might be to climb early to avoid the heat of the day, you'll usually find that later afternoon and early evening are the least humid times, giving the rock a chance to dry off.
Second, check the wind speed. High winds don't sound very fun for climbing, but wind actually keeps the humidity low and dries the rock, plus it cools you off, so a light breeze may be your friend.
3. Carry layers
Obviously, you'll want to wear light, breathable clothing that gives your skin a little protection from the rock, but you don't want to overdress for your approach or you'll be too tired and sweaty to climb when you actually arrive. Wear a T-shirt made from quick drying fabric (not cotton) for the approach but carry a long sleeved base layer or super light fleece jacket like the Montane Protium Lite Pull On in your backpack for when you're on belay, just in case it gets cooler in the shade later on.
4. Dry your hands
Once you've picked the perfect crag and arrived there in the afternoon on a breezy day, one thing is for sure – if it's warm out, you're still going to get sweaty. To make matters worse, you'll definitely want to lather up with sunscreen, which means your hands will be super oily as well as sweaty. Don't think you can just wipe your hands on your shirt and call it good.
Bring a small camping towel and wipe your hands after you put sunscreen on. Next, use liquid climbing chalk instead of powder. Liquid chalk usually mixes chalk with alcohol or ethanol which dries out your skin, and this one by EVMT Brands comes with a small carabiner all ready to clip onto your harness.
5. Stash your shoes in the shade
Climbing shoes aren't the most comfortable piece of attire as it is, and they're worse when it's hot out. Your feel swell more and extra sweat means more clamminess and extra rubbing.
Take your shoes off when you're on belay and wear your approach shoes. Stash your climbing shoes in the shade of a tree or under your backpack when you're not wearing them, as heat can warp the rubber.
6. Wear socks
Speaking of shoes, this might be a time when you break the cardinal rule and wear socks with climbing shoes, which will make it easier to pull your shoes on when your feet are sweaty. Don't just go with any pair of cotton socks in your top drawer as they'll get – and stay – soggy. Climbing brands like La Sportiva make climbing socks like these ones on Amazon that are designed to wick sweat, dry quickly and fit under a snug shoe.
7. Hydrate
You're no doubt used to carrying a water bottle with you to the crag, but when it's hot out, remember to actually drink from it. When you're hiking and wearing a hydration pack, it's easy to sip on the go, but when you're busy climbing and belaying, your hands are never free so start the day well-hydrated, drink plenty on your approach and prioritize water breaks between belay sessions.
8. Have fun
Finally, brutal heat can definitely make climbing feel harder and it's easy to forget about the big picture and get grumpy. Don't forget you came out here to have fun and when winter returns, you'll be wishing you could be out at the crag, even in steamy conditions.
When the temperatures soar, drop your expectations a little around performance and resolve to just have a good time. Bring a four-person tent and turn it into a camping trip with friends, go for a swim to cool off and enjoy some easy going climbing and good weather.
All the latest inspiration, tips and guides to help you plan your next Advnture!
Julia Clarke is a staff writer for Advnture.com and the author of the book Restorative Yoga for Beginners. She loves to explore mountains on foot, bike, skis and belay and then recover on the the yoga mat. Julia graduated with a degree in journalism in 2004 and spent eight years working as a radio presenter in Kansas City, Vermont, Boston and New York City before discovering the joys of the Rocky Mountains. She then detoured west to Colorado and enjoyed 11 years teaching yoga in Vail before returning to her hometown of Glasgow, Scotland in 2020 to focus on family and writing.