If the mountains are calling and you can't go – head to Arc'teryx Academy
With affordable skills clinics, Arc'teryx Alpine Academy makes the elite sport of mountaineering much more accessible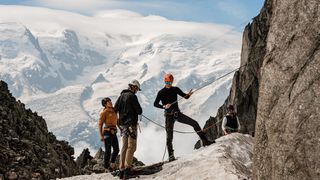 (Image credit: Arc'Teryx )
A cold wind whips at us as we step out onto the viewing platform at Pointe Helbronner on the Mont Blanc Massif. Just moments ago, we were snug in the warmth of the gondola and I'm dressed for the summer day that it is, in a light fleece over a wool T–shirt. Now, we're fumbling to pull on waterproof jackets, hats and gloves.
There are errors. A couple from Lithuania has forgotten to bring gloves, so we scramble to find extra pairs and fortunately, two of us read the instructions to bring both a light and a warm pair. An Israeli woman left her sunglasses at the hotel and with the glare up here, to go out on the glacier without them would be dangerous. One of our guides, Alain from France, produces an extra set from his backpack.
Once the warm clothing is donned, we begin grappling with harnesses and crampons, a first for many of us. Alain tells us that the typical way to attach an ice axe to a backpack can be dangerous for other climbers in tight spaces (like gondola cabins where they can get poked in the eye) and difficult to reach if you fall into a crevasse and instructs us to instead carry it in hand while hiking, or slide it in between your body and your pack if you're carrying trekking poles.
I've been rock climbing for years so the harness is no problem, but my rented crampons, hastily grabbed at 7 a.m., turn out to be too big and once we start walking, it's clear my hiking boots are going to slide right out of them. It takes another guide, Walter, to get down on his knees and pull them as tight as they'll go before we can continue.
Once they're secured, we can finally begin our glacier trek in earnest. We're here for the 12th Arc'teryx Alpine Academy in Chamonix, which offers 80 mountaineering clinics over four days ranging from beginner-level mountain trail running and bouldering all the way up to portaledging and ice climbing. I was signed up for Level 1 Mountaineering yesterday, where I'd hoped to get detailed training on things like using crampons and crevasse safety, but for the first time in 12 years, rain and lightning forced the cancellation of most of the day's clinics. Instead, we had a delightful but low tech hike to Montenvers followed by a mountain train ride down and as a result, I'm here preparing to hike across the Glacier du Geant to the Col d'Entreves without any real mountaineering experience.
Luckily, today's glacier trek is billed as beginner-friendly, but that doesn't mean it's easy and there's still a steep learning curve for our group of eight (two got turned away because they showed up in trail running shoes and no crampons). We're roped together in groups of five, each with a guide at the front, and we have to learn quickly how to walk in deep snow, wearing crampons and leaving the perfect amount of slack between each member of the party. Too much is dangerous if anyone falls into a crevasse, prompting a Tom and Jerry-esque sling shot of the person behind, while not enough means the person in front ends up pulling the climbers behind).
Everyone in the group is super fit and has lots of mountain experience, but still, the experience proves challenging. We've been boosted up 8,000 feet from Chamonix in under an hour, thanks to the Sky Way gondola, and walking on soft snow is always arduous. We've been instructed to walk uphill with our feet wider than usual and toes turned out like Charlie Chaplin, in part to avoid catching our crampon teeth in our pant legs, but the trail is narrow and this proves impossible.
The fact that we're surrounded by breathtaking peaks – Mont Blanc du Tacul, Mont Maudit, Mont Blanc, Aiguille d'Entreves and the Tour Ronde, just to name drop a few – doesn't help. Several times, I'm so busy gaping at the snow-shrouded scenery, glittering in the intense sunlight, that I trip and stumble a few steps.
Thanks to our experienced guides, however, we soon get into a decent rhythm and it's because of the guides' expertise and guidance that we're able to both learn some mountaineering skills and really enjoy ourselves on an adventure that could otherwise be stressful for novices.
The whole journey takes not much than three hours, and in that time we learn how to spot potential crevasses and get a quick guide to what to do if any member of our team falls into one (fortunately, we don't have to put this knowledge to the test). We also learn a little about how crevasses form, why the glacier looks brown in some areas (dust from the Sahara) and pink in others (an algae that lives up here).
It's this educational component that has me enthusiastically urging our shuttle driver back to Geneva the following day to take part in the Academy next year. He's lived in Chamonix for two years and has been unable to afford any guided excursions.
Mountaineering is, in every aspect, an exclusive activity. It requires skill, gear and knowledge that can only be gained with money, whether it be your own or someone else's. During our hike, Alain regales us with tales of taking clients up Mont Blanc. Most of them are surgeons and lawyers who think nothing of dropping thousands for the privilege of his expertise (or of forcing him to continue after his calf was pierced by a crampon tooth, but that's a story for another day). I really didn't know what I was getting myself into with this event, but by day two I'm wholly convinced that it makes mountaineering at least a little more accessible to a lot more people.
Unless you're already an experienced mountaineer, you need a guide to get you up into high alpine zones (and in fact, in certain locations you're only allowed up there with a guide, for safety reasons). If you're anything like me, you didn't grow up with friends or family who knew the mountains, and without expert guidance, the mountains might be calling, but you aren't going.
Going up to Col d'Entreves with a guide normally costs €400, and that doesn't include your gear rentals (€15) or your Sky Way ticket (another €48). Clinics at the Academy, on the other hand, which are led by the same team of expert guides, start at €65 and include your shuttle to Courmayeur and your Sky Way ticket.
Making access even easier, Arc'teryx has a gear library stationed at the Alpine Village all weekend, where you can rent the following for free:
Hardshell jackets
Hardshell pants
Harnesses
Technical crampons
Ice axes
Ice screws
Quickdraws, screw carabiners
Belay devices, dynamic lanyards
Just looking at that list, you can see how much money you'd potentially save, and be able to test out gear before you commit to it – I loved my Arc'teryx Beta Jacket and Gamma Hiking Pants but might not have forked out for them without trying them first.
Obviously, you still have the expense of getting to Chamonix (easiest route is to fly to Geneva then take a mountain shuttle starting at €20) and hotel rooms (starting at around €180 per night in July), but all in you you could reasonably attend three days of clinics for under a grand, especially if you're sharing a room, and come away with a lot of new skills and confidence.
There are also free events every day, such as trail runs, bouldering comps, yoga classes, concerts and film screenings, meaning if you can only afford one or two clinics, you can still gain knowledge, hang out and soak up the festival vibe.
Furthermore, if you have old gear that's in need of some TLC, bring it along. In the Alpine Village are hardworking folks sitting behind sewing machines ready to fix that tear or replace the zipper on your favorite hardshell jacket or pair of hiking pants, for free, as part of Arc'teryx's ReBird program. The cost of admission could save you hundreds on having to buy new gear.
Finally, the Arc'teryx Alpine Academy is great fun. There's live music, VR headsets so you can experience backcountry skiing, big wall climbing or heliskiing without leaving the village, a bouldering wall, food vendors and of course, plenty of cold beer on tap. For anyone that's been longing for the mountains but doesn't have the skills or gear to get started, the Arc'teryx Alpine Academy might be just what you need to take your first step.
The Arc'teryx Alpine Academy will return to Chamonix in 2024. Details can be found at www.chamonix.arcteryxacademy.com
All the latest inspiration, tips and guides to help you plan your next Advnture!
Julia Clarke is a staff writer for Advnture.com and the author of the book Restorative Yoga for Beginners. She loves to explore mountains on foot, bike, skis and belay and then recover on the the yoga mat. Julia graduated with a degree in journalism in 2004 and spent eight years working as a radio presenter in Kansas City, Vermont, Boston and New York City before discovering the joys of the Rocky Mountains. She then detoured west to Colorado and enjoyed 11 years teaching yoga in Vail before returning to her hometown of Glasgow, Scotland in 2020 to focus on family and writing.