What is a boulder field in hiking?
What is a boulder field in hiking? We explain this common feature in high altitude adventures and discuss how to stay safe when crossing a field of big rocks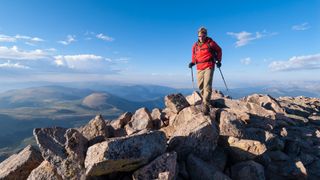 (Image credit: Adventure_Photo)
If you're planning on spending a lot of time up high this year, you might have come across the term 'boulder field' in a few trail descriptions on your favorite route finding app and be wondering to yourself, what is a boulder field anyway? In this article, we explain what a boulder field is, how it's formed, and most importantly, what you need to know in order to hike across one safely.
What is a boulder field?
Much as the name suggests, a boulder field – otherwise known as a block field – is a large expanse of land covered by boulders, or large rocks. Notable boulder fields are found largely in the northern hemisphere everywhere, from Longs Peak in Rocky Mountain National Park and Hickory Run State Park in the Appalachians, to Snowdonia National Park in Wales and on Scafell Pike in the Lake District. Boulder fields can occur on slopes or relatively flat stretches of land.
How are boulder fields formed?
Boulder fields are a bit different to scree fields, even though they share some similar traits. Not only do they feature large-sized boulders as compared to the small rock fragments we call scree, but they are formed differently. Scree fields are the result of periodic rockfall and, consequently, scree tends to come from the top of a slope and over time end up at the bottom.
Boulder fields, on the other hand, are believed to be formed as part of the freeze-thaw cycle, also known as frost weathering, where water trapped inside the rocky surface of the land expands and contracts as a result of temperature fluctuations and breaks up the rock. In other words, the boulders in a boulder field are usually found at the site where they were created, and haven't fallen or rolled into their current position.
What do you need to know before hiking a boulder field?
In addition to the previously mentioned locations of famous boulder fields, you are quite likely to encounter boulder fields when hiking at high altitude, such as on Colorado 14ers and California 14ers, usually towards the top of the mountain after you've gotten above treeline. The main reason boulder fields are mentioned in trail descriptions is because they can be quite hard going as compared to hiking on a nice, soft, well-marked hiking trail. For this reason, there are a few things to keep in mind when you're heading out on a hike that involves any significant stretch of boulder field:
1. Navigation is more difficult
This can be a little difficult to understand until you've experienced it, but boulder fields are easy places to lose your sense of direction. Imagine you're hiking on a trail through a forest. Often, though not always, it's virtually impossible to lose your way since the trail is clear and the trees form a sort of corridor to guide you. This is especially true in areas like National Parks where trails are well maintained. However, once you get onto a boulder field, there often isn't much in the way of a trail at all. Gone is the handy corridor of trees and in its place a seemingly endless stretch of gray boulders in all directions.
Sometimes the summit is already in view, which helps, and occasionally there are wooden signposts prompting you onwards, but more often than not, your only navigational cues you'll find are in the form of rock cairns, which being gray themselves and made of rock, can be practically camouflaged.
All of this is to say, the experience of hiking in a boulder field is often a little disorienting and hikers often do get lost in this type of hiking terrain. In 2005, a hiker named Michelle Vanek disappeared on a boulder field while climbing Mount of the Holy Cross, and to date has never been found. Furthermore, even if the summit is clear on the ascent, sometimes it's difficult to find your way back down to the trail as you descend. For this reason, it's really important to have researched your route, bring a good compass and understand how to read a map when you're navigating boulder fields.
2. They require more energy and effort
Part of what makes hiking in a boulder field so tough is that you're not walking normally along a trail; rather you're often hopping or clambering from boulder to boulder. This requires quite a bit more agility, uses more energy, and raises the stakes as it increases your risk of falling, and the ground is not at all soft.
Though you might be able to stay upright and step or hop from boulder to boulder, often this type of terrain requires scrambling and the use of your hands as well as your feet. For this reason, it's highly advisable to bring a pair of trekking poles to help you stay upright, especially during your descent, so that you can plant your poles ahead of you then step down carefully (this can be quite tough on your knees). It's also a good idea to wear sturdy hiking shoes or even hiking boots with thick soles to protect your feet from being bashed against the rocks. Trainers really won't cut it. Also, boulder fields aren't great for a lot of dogs, so you may want to pick a different trail or leave your canine companion at home if you typically hike with your dog.
Finally, make sure you have ample reserves of food, water and energy for this part of the hike, as it will certainly be the most difficult. Before disappearing, Vanke had run out of water and energy, and turned back in a boulder field as a result, leaving her partner to continue without her. If you're arriving in a boulder field and you're already exhausted and out of water, turn back rather than entering.
3. It takes longer to go short distances
Perhaps you've already figured this out, but hiking (or hopping) across a boulder field takes longer than just about any other type of terrain, except maybe hiking in sand dunes. Take this into account when planning your hike. If you typically cover a six-mile round trip summit hike on a well-marked trail in three to four hours, you might safely set off at 9am and still be back at your car for lunch. If, however, the last half mile before the summit is a boulder field, which you're going to have to cross twice, you'll want to add a couple of hours to your hike time and set off no later than 7am to make sure you avoid any afternoon thunderstorms or lose light in the colder months.
4. Boulder fields are usually exposed
As we've already described, you'll most often encounter a boulder field on a hike when you've emerged above treeline, which means you no longer have that lovely cocoon of trees to protect you from the wind, and you'll be at high altitude which means lightning can be more of a risk. If there is bad weather, you won't find any shelter, but there are a few things you can do:
Check the forecast before you set off and change your plans if there is stormy weather coming.
Carry a bothy bag, otherwise known as an emergency shelter.
Make sure you start hiking early, so you'll be back off the boulder field by midday to avoid afternoon thunderstorms.
Know when to turn back if conditions change or you tire quickly.
All the latest inspiration, tips and guides to help you plan your next Advnture!
Julia Clarke is a staff writer for Advnture.com and the author of the book Restorative Yoga for Beginners. She loves to explore mountains on foot, bike, skis and belay and then recover on the the yoga mat. Julia graduated with a degree in journalism in 2004 and spent eight years working as a radio presenter in Kansas City, Vermont, Boston and New York City before discovering the joys of the Rocky Mountains. She then detoured west to Colorado and enjoyed 11 years teaching yoga in Vail before returning to her hometown of Glasgow, Scotland in 2020 to focus on family and writing.