Can you rely on budget hiking boots?
We consider if you can rely on budget hiking boots and advise on when it's okay to spend a little less and when you really need to splash the cash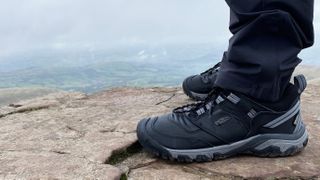 (Image credit: Alex Foxfield)
Can you rely on budget hiking boots? Do you really need to be spending substantial dollar on those Gore-Tex-emblazoned, Vibram-soled, Italian leather boots, when you could be heading to the trails for less?
It's often said that one of the great things about hiking is that it's free for anyone to go and do. However, that's not strictly true, as there are a few bits of hiking kit that are absolutely essential: waterproofs, hiking footwear, a decent backpack, a means to navigate etc. All these things cost money, yet they are each vital. Heading up a mountain in your everyday trainers, wearing denim jacket and with no map is a recipe for disaster.
There's no getting away from it – hiking boots are expensive. At the time of writing, the average price of the selected pairs in our best hiking boots guide is around $210.
In contrast, our selection of the best budget hiking boots averages out at around a more affordable $130. But here's the question, can you rely on budget hiking boots like these? Is it worth going even cheaper? Or will you be left regretting your frugality when left with blisters on day two of your trekking vacation?
What is it that makes some hiking boots so expensive?
Earlier this year, I had the pleasure of taking a guided tour around Aku's Montebelluna factory, to learn more about how hiking boots are made. A premium Italian trekking and mountaineering footwear brand, Aku are a good study in why some hiking boots cost so much.
For a start, all their footwear is handmade in Europe, with factories in Italy and Romania, which means labor costs are relatively high but also ensures closer quality control, while the supply chain has less of an environmental impact too. They use high quality, durable components throughout, including premium leather in the uppers. Then there's the inclusion of Gore-Tex waterproof membranes and Vibram soles, which Aku have to pay Gore-Tex and Vibram for the pleasure of using.
We've heard industry professionals go as far as to say that not having that Gore-Tex label, that stamp of quality, is tantamount to economic suicide. The reputation of the world-famous breathable waterproof membrane is such that many serious hikers wouldn't set foot on a wet trail without it. Meanwhile, when it comes to a hard-wearing and grippy outsole that you can rely on, Vibram have a similar reputation.
However, a boot that has Gore-Tex and Vibram along for the ride will be more expensive because you're basically paying for three brands instead of one.
The good news for your wallet is that you can get around this cost. There are brands that are able to craft quality hiking boots and still sell them reasonably cheaply. These brands are big enough to have invested in, or developed, their own technologies – meaning they don't have to shell out to the likes of Gore-Tex – while still being enough of an established name that it doesn't really matter from a sales point of view. Think adidas, Merrell and Columbia.
These brands' hiking boots are so mass market – they make so many of them – that they benefit from economies of scale, so each boot costs less to produce. The use of synthetics instead of leather in some of their products also lowers the price. On top of this, they may make use of cheaper labor costs – adidas outsources much of its production to Asia, while Merrell have factories in several countries, from the US to China, Vietnam and Indonesia.
Just because they're generally cheaper than some, doesn't mean Merrell and adidas don't make great hiking footwear. Like more premium manufacturers, they also partner with Gore-Tex and other third parties for some of their pairs. They're just able to make them generally cheaper than some of the smaller, more expensive brands.
Do you even need an expensive boot for your activities?
How much you decide to spend on a pair of hiking boots may come down to what kind of hiking you plan to do in them. As a general rule, the more casual your walks, the less you need to spend. Easy well-surfaced trails in dry summer conditions are very different to rugged mountain ridges and highland bog in the driving rain. Boots designed for the latter will have to be more durable and have additional features, like protective rubber rands and reinforced toe boxes, to protect you from the elements and the terrain, so they tend to be more expensive.
This is highlighted by the fact that winter hiking boots, with their crampon compatibility, insulation and high levels of protection, are the most expensive of all – our roundup of the finest options averages out at around $330 per pair! However, unless you're entering mountaineering territory with spikes on your feet and an ice axe in your hand, you definitely don't need to be spending this sort of money.
So, if you're in the market for a pair of boots for easy trails and you don't see yourself venturing out in gnarly conditions, a cheaper pair will probably suffice. There's also the lighter option of hiking shoes to consider too, which are generally cheaper than their higher cut booty brethren.
However, if long backpacking days in the mountains are your thing and you still want to save on your boots, we'd say you won't want to spend less than $120, which takes you into the mid-range. So, can this class of boot be relied upon?
The buy cheap, buy twice argument
Durability is a serious consideration. Let's say you spend $200 on a premium pair of leather hiking boots that you care for properly and clean frequently with suitable products, like Nikwax's Fabric and Leather Footwear Kit. A quality pair could last you around 10 years. That's $20 per year. Whereas a cheaper synthetic pair that you pick up for $100 might only last for three or four years. Yes, while the price may be broadly similar, over many years you'll have to keep buying new boots, which is obviously worse for the planet, not to mention less convenient for you.
Which budget brands are actually really good on the trail?
There are plenty of reputable brands making good budget hiking footwear that we've had the pleasure of testing on the trails. As mentioned, adidas, Merrell and Columbia can be relied on for quality mid-range footwear at a good price, while other established brands like Berghaus and The North Face tend to adhere to high standards and manage to retail many of their products at attractive price points.
Specific boots we'd recommend include the legendary Merrell Moab – it's the world's best-selling hiking boot for a reason, combining an excellent price with solid performance. We'd also recommend Haglöfs' Skuta Mid Proof Eco and Keen's Explore Mid Waterproof as two of the better budget boots around today.
If you are tempted to go uber-cheap, Decathlon's offerings – such as the Trek 100 hiking boot – do the job well and are preferable to other budget retailers or the kind of boots you'd find in bargain bins.
So, can you rely on budget hiking boots?
You can rely on some budget hiking boots for casual walks and backcountry hiking too. Our advice would be to do your research on your chosen pair, reading several reviews before committing to a purchase. Of course, it's always worth trying them on in person and don't forget to wear the hiking socks you expect to be pairing them with! We wouldn't advise going mega-cheap – fortunately, brands like Columbia, Merrell, Adidas, Berghaus, Haglöfs and Keen make some excellent mid-range boots that won't break the bank.
In the long run, it may be more economic to invest in a high-quality, leather pair, particularly if your planned adventures include more challenging mountain routes. However, this doesn't mean you have to pay full price. Keep your eyes out for sales and don't feel like you need to buy the newest releases. The boots that the likes of Scarpa, Danner, Aku, Hanwag and Lowa first released several years ago will be perfectly good and they may have dropped the initial sale price.
All the latest inspiration, tips and guides to help you plan your next Advnture!
Alex is a freelance adventure writer and mountain leader with an insatiable passion for the mountains. A Cumbrian born and bred, his native English Lake District has a special place in his heart, though he is at least equally happy in North Wales, the Scottish Highlands or the European Alps. Through his hiking, mountaineering, climbing and trail running adventures, Alex aims to inspire others to get outdoors. He is currently President of the London Mountaineering Club, training to become a winter mountain leader, looking to finally finish bagging all the Wainwright fells of the Lake District and hoping to scale more Alpine 4000ers when circumstances allow. Find out more at www.alexfoxfield.com