Do you need a camping pillow?
Do you need a camping pillow? We explain the benefits of carrying a camping pillow plus the four main types of camping pillow to help you choose the best one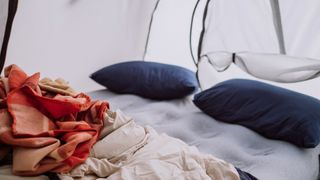 (Image credit: Getty Images)
Do you need a camping pillow? Nobody expects to have the best night's sleep of their life when they're camping, but getting some decent rest definitely helps your mood and energy levels the following day, and a camping pillow can certainly help with that.
The chances are you've already put a lot of thought into the gear that will help you get a good night's sleep at camp. Starting with your best sleeping bag, you've probably researched the different types of sleeping bag to find the shape that works best for your sleeping style and made sure to get the right sleeping bag temperature rating for where you're going and the type of camping you're doing. Next up, you no doubt spent some researching sleeping pads, from learning about R-values to weighing up inflatable vs foam pads. Despite all that time and expense, if you ended up just rolling up a fleece jacket to use as a pillow, you wouldn't be alone.
Perhaps it's because camping pillows haven't been around all that long and they seem like they take up too much space in your backpack, or maybe its because you just expect to have a stiff neck after a night of sleeping on the ground, but a lot of us campers and backpackers have totally overlooked camping pillows as essential gear and consider them to be a luxury at best or at worst, dead weight. And while the rolled up jacket approach isn't the worst solution in the world, with a whole new world of camping pillows out there, we think it's worth giving this item a second glance, whether you're car camping or ultralight camping.
Why do you need a camping pillow?
Using a pillow generally is a good idea for most people, as it helps keep your neck in a neutral position which keeps you from waking up with a stiff, sore neck. When you're in bed, your soft mattress yields a bit to your body weight which means you can get away with a little less support, but on the hard ground, it's even more important to have something under your head.
The benefits of using a camping pillow are that you'll probably get a better night's sleep than you will without one, and that means you'll be better equipped, physically and energetically, for the following day's adventures. It's even more crucial if you're on a long backpacking trip because the hormones that allow your muscles to repair and grow are secreted during sleep, according to the Sleep Foundation. And who wants to carry a heavy backpack when they have a sore neck anyway?
If you're car camping, you can easily just bring a pillow from home, though it won't be waterproof and might not cope well with humid conditions, plus it might come home smelling like campfire smoke. If you're backpacking, you can still go with the rolled up clothing option, but with so many different types of camping pillow, you can also find a pretty comfortable option that will hold up against some moisture, doesn't add weight to your pack and won't cost you an arm and a leg.
Types of camping pillow
There are four different types of camping pillow that are suited towards different types of camping, from the ultra lightweight inflatable pillows and stuff sacks to the more comfortable and luxurious compressible pillows.
Inflatable camping pillows
These are by far the best choice for backpackers and ultralight campers. Weighing next to nothing, these pillows take up so little space in your backpack that you won't even notice them, and they can even be clipped to the outside of your pack using a carabiner. They're generally waterproof and you simply inflate them to whatever degree you find comfortable using the valve. There are all different shapes and sizes, but many have small cells so they're foldable, meaning you can double their width if you need more support. These are most likely the least comfortable option, as they're a bit like sleeping on a balloon, but they're better than using your clothing, or your arm.
Pros: extremely lightweight and packable
Cons: least comfortable option
Compressible camping pillows
This is a bit of a broad term to describe non-inflatable pillows that essentially just look like a smaller version of your pillow at home. These can be made using a variety of insulated material like waterproof down, sleeping bag insulation, microfleece and foam, and therefore come in a variety of sizes and weights, from just a couple of ounces to nearly a pound. The idea is that these can compress down while in your backpack so they don't take up quite as much room, but when you're ready for bed all you need to do is toss them into your tent and they're ready to use. These will be the most comfortable option, especially if you go with a foam one, and they're definitely the best choice for car camping since they're bulkier.
Pros: most comfortable option
Cons: bulkier and heavier
Hybrid camping pillows
There are also camping pillows that are a combo of the two previous options, meaning they're made with a thin layer of compressible fabric but they're inflatable. These are sort of the best or worst of both worlds, depending on whether you're a glass half-full or empty type of person. They're more comfortable than an inflatable pillow and also lighter than a compressible pillow, but they're also not as comfortable as a compressible pillow and heavier than an inflatable pillow. It's a bit of a conundrum, but these are probably best for car campers, people who can't make up their minds and backpackers who absolutely cannot go without a decent pillow.
Pros: More comfortable than an inflatable pillow, lighter than a compressible pillow
Cons: Less comfortable than a compressible pillow, heavier than an inflatable pillow
Stuff sack camping pillows
It's a bit debatable whether this one actually counts as a camping pillow because it's just what it sounds like – a stuff sack that you fill with soft things to make a pillow. Yes, you can just just use the stuff sack for your sleeping bag for the same purpose, but these are usually made of a softer fabric, like fleece, so they feel nicer against your face and are more similar dimensions to an actual pillow. Needless to say, how comfortable these are depends on what you place inside them, and even if it's your fleece jacket again, it's likely to be a bit lumpy, but they take up no space at all, weigh almost nothing and can be used as a carry bag during the day, so they're great for backpacking.
Pros: lightweight, packable, can be used to carry other items
Cons: only as comfortable as what you place inside it, usually lumpy
All the latest inspiration, tips and guides to help you plan your next Advnture!
Julia Clarke is a staff writer for Advnture.com and the author of the book Restorative Yoga for Beginners. She loves to explore mountains on foot, bike, skis and belay and then recover on the the yoga mat. Julia graduated with a degree in journalism in 2004 and spent eight years working as a radio presenter in Kansas City, Vermont, Boston and New York City before discovering the joys of the Rocky Mountains. She then detoured west to Colorado and enjoyed 11 years teaching yoga in Vail before returning to her hometown of Glasgow, Scotland in 2020 to focus on family and writing.