Vomiting bugs aren't just for cruise ships – stay safe in the backcountry with food safety and hygiene
Simple guidelines to cut down on your risk of tummy troubles in the backcountry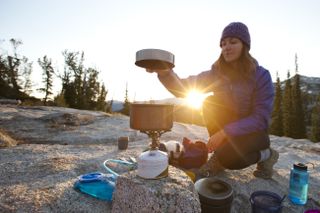 (Image credit: Getty)
Tummy troubles aren't just for passengers on crowded cruise ships and they're not restricted to dodgy-looking street food stalls when you're backpacking across Central America either. Norovirus and other vomiting bugs are finding hikers and campers out in the wilderness, and the culprit is bad hygiene.
Last year, we reported that hundreds of Grand Canyon hikers had come down with a vomiting bug and more recently, NPR reported on a Norovirus outbreak that took place along the Pacific Crest Trail in 2022. When you're packed onto a crowded bus, it's easy to understand how bugs can travel from person to person, but even out in the remote backcountry, where you interact with very few people, you can still come down with a contagious bug that can very seriously derail your backpacking adventures.
In the case of the PCT outbreak, disease detectives from the CDC were naturally concerned that the source might be from contaminated drinking water. They traveled to a cabin that makes a popular rest stop for hikers and determined that the water was safe. However, when they swabbed the toilets, door handles and other surfaces that hikers touch, they found traces of human fecal contamination in every single sample.
The problem, it seems, is that when we get out into the wild, we forget some basic principles of hygiene that it turns out are a good idea to carry on with – in particular, washing your hands.
Since the pandemic, many of us carry hand sanitizer as a matter of course and for hiking and camping, the easy-squeeze delivery might just mean you don't wash your hands at all when you're outdoors. The issue with this approach is that hand sanitizer doesn't work against Norovirus, which can live on surfaces for a long time, is highly contagious and delivers stomach pain, vomiting and diarrhea.
Now, if you're truly out in the backcountry where the only structure you come into contact with is your tent and you're not visiting any cabins, there's probably very little risk of contracting a vomiting bug on the trail unless you're transporting fresh food. But if you are using any amenities in a campground or on a hiking trail, don't get fooled into thinking you're safe because it's peaceful.
To cut down on your risk of tummy troubles in the backcountry, follow our simple guidelines for hygiene and food safety.
1. Wash your hands
Hand sanitizer has its place, but to really protect yourself against bugs like Norovirus, there's no replacement for good old-fashioned soap and water. Carry a biodegradable soap like Dr Bronners with you on the trail and use it to properly wash your hands, thumbs and all, like it's March of 2020.
If you're using a natural water source like a lake or river, collect some water and take it at least 200 ft away from the water source to wash your hands, or use a micro towel to wipe it off rather than dipping your hands in the water. Wash your hands after you go to the bathroom and before you handle food to keep yourself safe.
2. Boil your water
Though it's essential to carry a water filter with you when you're hiking and backpacking, there are some microorganisms that are really best treated with boiling, and Norovirus is one of them. The safest course of action is to treat any water that you're going to drink or eat with by boiling it over your camping stove for three minutes.
3. Pick you water sources wisely
Even though the Norovirus outbreak on the PCT didn't come from a water source, drinking water in the wild can definitely be the root cause of tummy troubles, especially if you're just on a day hike and don't have your stove with you to boil water. When sourcing water in the wild, a good rule of thumb is to avoid standing water at all costs and look for running water and groundwater sources, which we discuss in more detail in our article on finding safe water sources in the wild.
You should still ideally use a water filter like the Lifestraw or purification tablets, and if you don't have them you'll need to take stock of the situation and decide whether you really need to drink water or if you can make it back to the trailhead without. Clearly you don't want to get dehydrated, but a bout of diarrhea will leave you even more dehydrated.
4. Practice food safety
When you're hiking and backpacking, the biggest part of food safety is most likely remembering to wash your hands, since you're probably going to be cooking dehydrated and freeze-dried meals rather than fresh food, and that's a good call since this type of food won't spoil in warm conditions.
If you're car camping and have the ability to bring a cooler, then you might bring meat, dairy and pre-cooked meals that can go bad and leave you with food poisoning if they're not kept cold, or hot. Freeze or refrigerate all food at home until the very last moment, use a block ice rather than cubes and pack your food carefully so that the food you want first is closest to the top to avoid pulling food out of the cooler multiple times. If you are traveling with uncooked meat or fish, double-wrap it so the juices don't contaminate other foods. You can learn more in our article on how to pack a cooler for camping.
Finally, bring hand sanitizer and antibacterial wipes so you can wipe down your camping table and utensils.
All the latest inspiration, tips and guides to help you plan your next Advnture!
Julia Clarke is a staff writer for Advnture.com and the author of the book Restorative Yoga for Beginners. She loves to explore mountains on foot, bike, skis and belay and then recover on the the yoga mat. Julia graduated with a degree in journalism in 2004 and spent eight years working as a radio presenter in Kansas City, Vermont, Boston and New York City before discovering the joys of the Rocky Mountains. She then detoured west to Colorado and enjoyed 11 years teaching yoga in Vail before returning to her hometown of Glasgow, Scotland in 2020 to focus on family and writing.