What are hoodoos?
Learn all about the fascinating natural rock formations that make your desert adventures extra special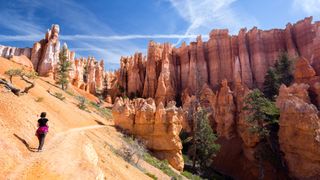 (Image credit: Nigel Killeen)
If you're lucky enough to go hiking in the desert out west, you'll likely be astonished by how much diversity there is in the terrain. Like most of us, I grew up thinking that the desert was just a giant sandpit with a single cactus standing in the middle of it, so I couldn't believe my eyes when I made my first trip out to Utah and found myself strolling amongst the otherworldly rock formations that inhabit the landscape of places like Zion, Arches and Bryce Canyon National Parks. It felt like I had landed on another planet.
In addition to deep, lush canyons and impossibly balanced rocks, the red sandstone has been artfully carved by wind and water over millenia into unbelievable fins, arches, spires and hoodoos. Of all of these sights, the hoodoos might be one of the most remarkable features of the desert landscape. But if you haven't ventured out west yet, you might be asking yourself, what are hoodoos anyway? And if you've seen them in the flesh, you might be wondering how they got there, and why they're called hoodoos. Read on to answer all your questions about this fascinating natural phenomenon, then grab your hiking boots and go and explore them as soon as you can.
What are hoodoos?
Hoodoos, also known as tent rocks, fairy chimneys and earth pyramids, are rock formations. A hoodoo is a thin spire or column of weathered rock, usually found in the desert. It is different from a rock spire in that hoodoos often have a non-uniform thickness, leaving some to compare them to totem poles or mushrooms, while spires have a more uniform tapering from base to tip. Hoodoos can be anywhere from as tall as you are to up to 200 feet high. Hoodoos are found in Europe, Asia, the Middle East and Canada as well as in the western United States.
What causes a hoodoo?
As you might expect from a rock formation, hoodoos are caused by erosion. They typically form when a layer of harder rock, such as limestone or basalt, covers a softer rock like sandstone or mudstone. Cracks in the hard rock top layer allow water to seep through and erode the soft rock beneath, slowly carving out individual hoodoos while the hard rock above forms a cap and over time, the rock beneath it emerges as a spire. The hard cap on top essentially presses down, giving the hoodoo strength, but eventually the hoodoo will collapse or erode away entirely.
Why are they called hoodoos?
The word "hoodoo" means a system of magical beliefs and practices linked to the religion of voodoo, that originally belonged to West Africans who were brought to North America and the Caribbean as slaves. It's a bit of an odd name for a rock formation, but then again, if you've ever been wandering in the desert and come across some of these rock columns, they're a bit of an unusual sight so it's not such a stretch to understand why they were so named, and according to the Canadian Encyclopedia, this is the most likely reason for their designation.
Can you climb hoodoos?
If you love rock climbing and bouldering, this is going to be your first question and it's understandable – they are very exciting-looking to those of us who love to get on belay. Sadly, due to the fact that, as we mentioned, hoodoos are quite fragile and prone to erosion, you cannot climb them. You can hike amongst them however, so please leave your climbing shoes at home and bring your hiking shoes instead to really appreciate these natural wonders.
What National Park has the most hoodoos?
Bryce Canyon National Park in Utah has by far the greatest collection of hoodoos of any National Park and indeed the world, owing to the fact that its high altitude contributes to a high freeze/thaw process that increases erosion. In fact, the park has a series of 12 hoodoo amphitheaters which each house dozens of hoodoos and the largest amphitheater is 12 miles long. The most famous hoodoo is Thor's Hammer which is both very tall and supports a very large hammer at the top, making it look like a hammer.
You can also view hoodoos in Zion and Arches National Parks, both in Utah, and Theodore Roosevelt National Park in North Dakota.
Outside of the National Parks system, you can discover hoodoos elsewhere in Utah in Goblin Valley State Park and Grand Staircase-Escalante National Monument and in northern New Mexico in Bisti De-Na-Zin Wilderness, though you'll want good navigation skills, a topo map and compass to explore there safely. Finally, you can cross the border and see the calcite hoodoos at Drumheller and East Coulee up in Alberta.
All the latest inspiration, tips and guides to help you plan your next Advnture!
Julia Clarke is a staff writer for Advnture.com and the author of the book Restorative Yoga for Beginners. She loves to explore mountains on foot, bike, skis and belay and then recover on the the yoga mat. Julia graduated with a degree in journalism in 2004 and spent eight years working as a radio presenter in Kansas City, Vermont, Boston and New York City before discovering the joys of the Rocky Mountains. She then detoured west to Colorado and enjoyed 11 years teaching yoga in Vail before returning to her hometown of Glasgow, Scotland in 2020 to focus on family and writing.