The three little words that could save your life on a mountain
A simple guide to respecting the mountain when you're hiking and mountaineering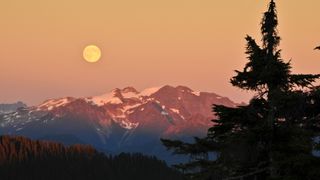 (Image credit: VW Pics / Contributor)
"Mountains are not stadiums where I satisfy my ambition to achieve, they are the cathedrals where I practice my religion."
This epitaph is inscribed on a memorial to Anatoli Boukreev at Annapurna base camp, about five thousand feet below where the Kazakh mountaineer died in an avalanche in 1998. He wasn't the first to perish on the Himalayan mountain, nor will he be the last. As we've written about in our article on the world's most dangerous mountain, if you're lucky enough to ever stand before Boukreev's memorial on your attempt to summit, your odds of surviving your expedition stand at just 70 percent.
Hiking and mountaineering are, by their very nature, dangerous, with falls, weather and avalanches among the many hazards that can turn your passion into a death sentence in an instant. This week alone, another two mountaineers were declared dead after an avalanche on the Tibetan mountain Shishapangma.
Navigational skills, satellite messengers and hiking gear made with high performing fabrics are all a vital of keeping yourself safe on the mountain, but there's another element that's often repeated in the mountaineering community, yet overlooked in the push to reach the summit and that's three little words that could save your life: respect the mountain.
"Respect the mountain"
My friend Ellen Miller is a celebrated mountaineer based in Vail, Colorado. In the spring of 2002, Miller summited Everest for the second time, becoming the first American woman to reach the world's tallest peak from both the north and the south sides in a single year. Previously, she had climbed several of the Seven Summits – Denali, Mount Elbrus and Kilimanjaro – and all 54 of Colorado's 14ers. Those are just some selected highlights from her illustrious climbing career.
When I met her in 2009, she had just climbed Lhotse and was on her way to summit Manaslu the following year. She went on to climb Nuptse in 2013, then started to spend more time at home, in the Rocky Mountains of Colorado, where she led a trail running group twice a week. Over the years, as we gathered at the foot of the mountain in our trail running shoes, I can't recall how many times I heard her recite the phrase, "respect the mountain." To her, a climber who had lost many friends to the mountains, it was like a mantra.
Respecting the mountain is perhaps the most important piece of wisdom anyone who owns a pair of hiking boots can adhere to. Treating the mountain with reverence comes naturally to indigenous cultures. If you've seen climbing films like Sherpa and 14 Peaks, you'll know that to its native people, Everest isn't just a pile of rocks. In the language of Tibet, it is known as "Chomolungma," which means goddess mother of the world. Sherpas believe that the summit of Chomolungma is home to the Buddhist goddess Miyolangsangma and when climbers die on the mountain, it's because she is angry. Mount Kailash, or Mount Meru in ancient texts, is considered sacred in four religions. Incas have long left ritual sacrifices atop the tallest mountains in the Andes.
For westerners, however, mountains have come to bear a different meaning. They've become, in the quote often attributed to Boukreev, stadiums where we satisfy our insatiable ambitions to achieve recognition. And the result can be deadly, even for those who claim to respect the mountains, like Boukreev.
Whether you're attempting an eight thousander or a Colorado 14er, you might not be able to escape the jaws of nature when the time comes, but venerating the mountains rather than seeing their summits and faces as trophies to collect can not only save your life, it might give you a renewed sense of appreciation when you're hiking.
This was true for Nan Shepherd, author of The Living Mountain, who wrote, "often the mountain gives itself most completely when I have no destination, when I reach nowhere in particular, but have gone out merely to be with the mountain as one visits a friend with no intention but to be with him."
Respecting the mountain can be expressed in a number of behaviors, from basic hiking etiquette to knowing when to turn back, but if the concept is new to you, read on for some ideas to get you started with a new way of approaching hikes and treks.
1. Plan, prepare, don't push
Respecting the mountain means understanding what it could chuck your way and being ready. Nine years ago, a member of my community went up a Colorado 14er, North Maroon Peak, unprepared but for an admirable sense of adventure. Without a map or compass, he became lost and never made it off the mountain alive. That night, a storm blew in and nearly claimed his hiking partner too.
Hiking isn't just about bravery or fitness, though those things are part of it. You need to know how to read a mountain weather forecast and if it's poor, don't push. Research your route and if it's beyond your capabilities, don't push. Learn to be self-sufficient so that you don't endanger the lives of others in your pursuit of a peak.
2. Leave nothing behind
Respecting the mountain means not leaving anything but your footprints. Everest is a great example of a huge conflict in this regard. The very Sherpas who worship it must lead westerners up it in order to survive; as a result it's so covered in human trash it's been nicknamed the world's highest garbage dump. Respect the mountain as you would respect a friend's house on a visit, and pack out all your rubbish. Even the orange peels.
3. Take nothing away
The principles of Leave No Trace go beyond not littering. To truly leave no mark of your presence, you must also leave everything as you found it. Don't pick wildflowers, stack rocks or take home pinecones. Those structures are all homes for tiny organisms that live on the mountain.
4. Support the locals
Unless you're trying to set a new record, hiking isn't a team sport. In fact, though we recommend hiking with others for safety, hiking alone can be a beautiful experience and help you enjoy the more meditative aspects of being in nature. But when we get lost in striving for the summit, we can become overly solitary, and unconsciously take from a mountain community without giving anything in return. Indigenous cultures pay their respects to mountains with sacrifices, but we can do so by supporting the local economy. Hike with local guides, visit locally-owned businesses like hotels and restaurants and in doing so, you'll support the community that lives off the mountain.
Then of course, you've got the local wildlife, on whose land you're trespassing. Walk quietly, stay on the trail, enjoy animals from afar with your binoculars, don't feed the wildlife and observe wildlife safety.
5. Be humble
Finally, the biggest aspect of respecting the mountain is to recognize that, in comparison, you're a mere mortal. Be humble. Even with all the technology in the world, you're no match for avalanches, rockslides and blizzards. Know when it's time to cancel or change your plans, even if you've spent a lot of money getting to the trailhead. Forget about the stadium show and let the mountain be the cathedral where you practice your religion, quietly and with humility.
All the latest inspiration, tips and guides to help you plan your next Advnture!
Julia Clarke is a staff writer for Advnture.com and the author of the book Restorative Yoga for Beginners. She loves to explore mountains on foot, bike, skis and belay and then recover on the the yoga mat. Julia graduated with a degree in journalism in 2004 and spent eight years working as a radio presenter in Kansas City, Vermont, Boston and New York City before discovering the joys of the Rocky Mountains. She then detoured west to Colorado and enjoyed 11 years teaching yoga in Vail before returning to her hometown of Glasgow, Scotland in 2020 to focus on family and writing.