This stove from 1989 is still my best piece of camping gear
It's versatile, stable, easy to refuel, and has been keeping us in good food for decades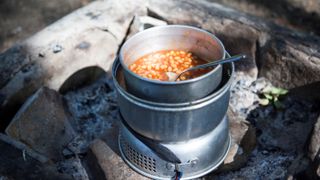 (Image credit: Multiart)
In just about all the ways, I've embraced the ultralight approach to backpacking over the past decade or so. I've ditched my sleeping bag for a Sea to Summit camping quilt and downsized from a rectangular sleeping pad to the Therm-A-Rest ProLite Apex. My Sierra Designs Flex Capacitor backpack only adds 2lb to my load, but carries up to 60 liters of gear. For the fastest and lightest adventures, I even have a camping stove that's smaller than a walnut.
So the first time I went camping with my boyfriend, I could barely conceal my amusement when he pulled out his archaic Trangia camping stove. Compared to my Alpkit Kraku Ultralight, it looks prehistoric and it's positively ginormous. Why would anyone haul such a clunky relic along the trail with them, when you can boil water in two minutes with a Soto Windmaster then pack it away in a pocket? Well, by the time we were feasting on bacon and eggs the following morning after a chilly surf, I'd come up with seven great reasons, and it now comes with us on every backpacking trip.
What is a Trangia stove?
If you're under the age of 30, a Trangia stove is an outdoor stove that's been manufactured in a small Swedish town named Trångsviken since 1951. The design is a complete cooking system (that comes with a burner, saucepans, windshield, handle and strap) that uses liquid fuel. The whole thing packs away inside itself into a disc that's 8.6in / 22cm in diameter and 4.1in / 10.5cm high, and weighs as little as 1.8lb / 845 grams. While there are different models today with varying capacities, the general idea is the same – a stove with pans that are also bowls that can fit inside your backpack to whip up near-gourmet meals in the wild.
I won't deny it – these are old-school devices. My boyfriend got ours back in 1989 for a six-month cycling trip across Europe, and honestly it looks exactly like you'd imagine something bought the year the Berlin Wall came down would look like. But nearly a quarter of a century on and it still works brilliantly. And best of all, if you don't have a flux capacitor to take you back to the 1980s, the company is still turning out some half million of them each year.
I'll admit, when there are two of us, it's an easier proposition to pack the Trangia – one of us can take the stove while the other packs the two-person tent. But it is doable for a solo backpacking trip, especially since it can be safely packed outside your backpack, and if you're anything like me and love eating well on the trail, you'll want to consider one of these throwback stoves. Here's why:
1. It's versatile
Trust me, I've done more than my fair share of minimalist trips where every backpacking meal I've brought relies on simply being able to boil a pot of water and then eat straight out of the pot. What's not so convenient, however, is then having to wash that same pot if I want a cup of camping coffee.
Our Trangia has two saucepans, a frying pan (that is also a lid) and a kettle, so the other night, we could sauté chorizo and vegetables in one pan, set it aside while we made couscous in another, then mix it all together and each have a bowl to eat out of. In the morning, we still had the kettle to boil water for tea without doing any washing up. Genius.
2. It's super stable
It's true that a modern camping stove is so light that you won't even notice it in your backpack, but the light weight can pose a real challenge when you set up camp in gusty conditions and can't find a level surface to set up on. Those teetering tripod designs can take off if you don't build a windblock, sending your camping macaroni cheese all over the ground.
Enter the Trangia, with a wide solid base that sits directly on the ground, meaning the only way it can topple over is if you kick it like a football.
3. It comes with its own windshield
With most contemporary stoves, the flame from your fuel canister is exposed to the open air, meaning that you often have to position your body to block the wind from extinguishing it. In a Trangia, the burner sits inside the windshield, so you can cook in a gale if you need to.
4. You can buy the fuel anywhere in the world
If you're going on a thru-hike, one of the challenges posed by canister-based stoves is that you may not be able to find a compatible replacement canister where you're going, and of course, they're not particularly easy to recycle. I'll qualify this point by saying that modern Trangias are compatible with multiple types of burner, such as gel and gas, but what we love so much about ours is that it comes with the original, environmentally-friendly spirit burner for alcohol-based fuels.
For a shorter trip, we fill ours up with methylated spirits (find out here what it's called in your country), which burns in all conditions and gets about 25 minutes of burn time, which is more than adequate for a couple of nights in the wild. For a longer trip, it does mean that you have to also carry a small amount of fuel with you, but this is stuff you can buy for a few bucks at any hardware store in the world.
5. It's pretty fast
I know, I know, the Jetboil boils water in 100 seconds and in a survival situation, that could be crucial. The Trangia might not be quite that fast, but in a few minutes it's boiling away nice and I must say that in general, I don't need my food to be ready that quickly when I'm at camp. I'm quite happy listening to the birds and watching the waves while it heats up, thank you very much. On a side note, it's also really easy to control the heat with the burner, much like turning the burner up or down on your stove at home.
6. It's ultra durable
What can I say except for the fact that ours has been cooking away since the end of the Cold War and shows no signs of giving up? There are no spindly legs that can snap off or canister attachments that can wear out, just sturdy pieces of lightweight aluminum that last for decades. That's a bonus for your wallet and the planet.
7. You can pack it away dirty
Obviously, you're going to want to wash up when you're backpacking over several days (that's why I always bring a handy bottle of Dr Bronner's) but when you're heading home, you can easily just pack your Trangia up dirty and throw it in the dishwasher when you get back. It's totally self contained, so all the dirty dishes just go inside it, whereas if you have a lightweight system where your stove goes inside your pot (or you keep your hiking socks inside your pot for that matter), you won't want to pack yours away dirty. Wrap the strap around the Trangia and pack it away knowing it will all stay together until you're ready to deal with it. Easy.
All the latest inspiration, tips and guides to help you plan your next Advnture!
Julia Clarke is a staff writer for Advnture.com and the author of the book Restorative Yoga for Beginners. She loves to explore mountains on foot, bike, skis and belay and then recover on the the yoga mat. Julia graduated with a degree in journalism in 2004 and spent eight years working as a radio presenter in Kansas City, Vermont, Boston and New York City before discovering the joys of the Rocky Mountains. She then detoured west to Colorado and enjoyed 11 years teaching yoga in Vail before returning to her hometown of Glasgow, Scotland in 2020 to focus on family and writing.