What type of trail running shoes do you need?
Is rugged always better or should you go as ultralight as possible? We talk you through the 5 basic types of trail running shoes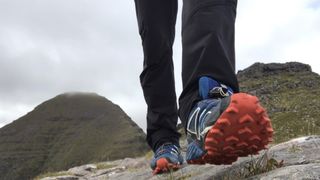 (Image credit: Alex Foxfield)
So you've decided to get off the tarmac and onto the soft stuff – congratulations! Trail running can be a stupendous way to get deeper into the backcountry, faster, take your love of running to the outdoors or just give your knees a bit of a break from the old tarmac. That said, you're going to need a new pair of shoes before you head out there, and with so many people hitting the trails these days, the trail running shoe market is exploding with different models that are best for different types of trail.
Basically, it's a great time to be a trail runner, but it can make it all a bit difficult to know what shoes you need. Is rugged always better or should you shed as many ounces as possible? Do you want to feel the trail or bounce off it like it's a trampoline? The answer of course is that it depends what you're going to do in them. Trail running might mean a long, reasonably fast pace on a soft trail in Kansas City or an all-day slog on steep, rocky terrain in Colorado's high country. Different types of trail running shoes are designed to take on different types of terrain and for this article, we've done our best to divide them up into five basic categories.
We'll be honest, when it comes to types of trail running shoes, the lines have got a bit blurry and while details like drop used to be defining features of certain types of shoes, these days you might be able to find zero, low, medium and high drop all within one category. Further, you might find some overlap between categories, but by the time you've finished this article, you should be clear on what features to look out for, and of course, we've given you our favorite recommendations for each type so you can take the trails without delay.
Barefoot and minimalist trail running shoes
Yes, barefoot running shoes is a contradiction in terms, but it's a real thing and something you may want to consider if you have a lifelong history of struggling to find shoes that work with your feet. Barefoot shoes have come a long way from Vibram's FiveFingers, with their separate toe pockets, and the term now encompasses a wide range of lightweight shoes like the Altra Superior 4.5 that have zero (or very low) drop, low stack heights, foot-shaped uppers and allow for sensational trail feel underfoot, otherwise known as minimalist or low profile shoes.
The main purpose of these shoes is to mimic, as closely as possible, how you'd run if you were barefoot without actually being barefoot. It means the soles of your feet do get a little protection from the trail without changing your biomechanics. Though that might sound appealing if shoes have always been troublesome for you, if you have in fact worn shoes for your entire life up until this point, it's important to ease into running in barefoot shoes, perhaps only using them once a week at first.
Traditional trail running shoes
For lack of a better term, traditional trail running shoes really just refer to regular trail running shoes and some call them "light" trail runners because they don't boast all of the features of shoes meant for more rugged adventures. They're generally quite lightweight with decent grip and have less trail sensitivity than a barefoot shoe. Many have a low drop, but that isn't always the case.
Compared to a road running shoe they'll have a sturdier midsole and perhaps a tougher upper so you can comfortably take them off road, however they might not offer the best protection on really rocky trails or the best grip on muddy trails. If you're planning on running on hard-packed trails rather than mud or technical terrain, look into a style such as the Inov-8 Trailfly G 270 V2.
Technical trail running shoes
Trail running in itself is a misleadingly broad term that basically covers any running not on tarmac, which means that it can involve easy running on a soft path or technical mountain running. For adventures that entail the latter, you're going to need a more technical shoe. In a nutshell, that means deep lugs that give you aggressive grip on slick and steep terrain, a carbon plate in the midsole to absorb the impact of uneven terrain beneath your feet and help propel you forward when you don't have the rebound of a hard tarmac surface, and burly uppers that protect your toes from rocks and roots. These may or may not be waterproof and should come with gaiter attachments to keep stones out of your shoes.
In case you can't tell from the description above, you're going to add a few ounces and lose some trail feel in order to gain all of this protection, and if you're really not planning on running technical terrain, these shoes will be too burdensome. But if you're looking at scree, mud and snow, you'll want to check out a model such as La Sportiva Bushido II. Interestingly, these shoes can also double as reliable hiking shoes if you like to slow it down or hike the steep parts.
Maximalist trail running shoes
Though maximalist shoes are still a little controversial in the trail trail running community, they've gained a lot of popularity over the last 10 years or so and it's probably safe to say they're here to stay. Maximalist shoes feature a massive, chunky, soft midsole, giving you tons of padding between your feet and the ground. Increasingly, these come with a rocker design, though it's not mandatory that they do.
Maximalist shoes for trail running are an acquired taste, but those who have acquired it may be running longer distances (think, ultra marathons) or looking to prevent or offset wear and tear to their joints with all that cushioning. They feel super plush on and aren't as heavy as technical shoes which can be really appealing. That said, the bigger they are, the more it feels like running in platforms, so they can be a little less stable on rugged terrain and leave you more exposed to a rolled ankle. They are, however, very comfortable for smoother trails, so if that's where you're planning on putting your feet, try the Hoka Tecton X (or pretty much any pair of Hokas for that matter).
Road to trail running shoes
Finally, if you're planning on running on mixed terrain, meaning lots of trail but enough tarmac thrown in to make you think twice about going too minimalist or rugged, you can always consider a really specific type of shoe known as a road to trail running shoe. There's definitely going to be some overlap between this category and traditional trail running shoes, but basically this type of shoe offers lugs for grip on the trail as well as some bounce for the tarmac sections.
These shoes can come in all drops, but for a lower drop model check out the Scarpa Golden Gate ATR which give good grip and bounce, and for a medium drop the La Sportiva Karacal are great value.
All the latest inspiration, tips and guides to help you plan your next Advnture!
Julia Clarke is a staff writer for Advnture.com and the author of the book Restorative Yoga for Beginners. She loves to explore mountains on foot, bike, skis and belay and then recover on the the yoga mat. Julia graduated with a degree in journalism in 2004 and spent eight years working as a radio presenter in Kansas City, Vermont, Boston and New York City before discovering the joys of the Rocky Mountains. She then detoured west to Colorado and enjoyed 11 years teaching yoga in Vail before returning to her hometown of Glasgow, Scotland in 2020 to focus on family and writing.