Technical mountain running vs trail running: know the difference
Understanding the four key differences between technical mountain running vs trail running could save your life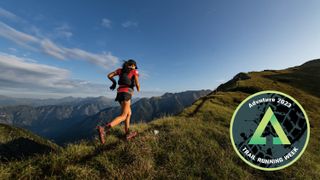 (Image credit: Getty)
Getting off the tarmac and onto the soft stuff is really life-changing for a lot of runners, myself included. Many of us find that the unique combination of a more forgiving, but uneven running surface along with changes in incline and stunning scenery provides a blend of challenge and reward that's hard to beat. But the unpredictable nature of running off-road can lead some runners into hot water.
Last year, I spoke to Colorado Search and Rescue (CSAR) Public Information Officer Anna DeBattiste on this subject for a piece I was writing on backcountry survival for trail runners in Colorado. She explained that part of the problem comes when experienced trail runners take on trails that are actually technical mountain runs – and they're unprepared for the conditions that await them.
It turns out that there's a big difference between trail running and technical mountain running. If you're thinking of uplevelling your runs to involve some more exciting-sounding terrain or races, or you're a flatlander heading to the high country and planning on continuing to run while on vacation, you'll want to read on to make sure you understand the four key differences between technical mountain running vs trail running so you can prepare and stay safe.
Technical mountain running vs trail running: terrain
The chief distinction between a technical mountain run and a trail run is terrain. Defining trail running terrain is easy, because it essentially involves any run that takes place on an off-road track. It can be on a dirt path or a gravel road, and further, it can take place in lots of places – in a park, alongside a farmer's field, through a forest, on a long distance hiking trail or up a mountain. Even if it is taking place on a mountain, that doesn't necessarily mean it's automatically technical, however. You could run up Mount Evans, a Colorado 14er just outside of Denver, entirely on the tarmac road for example, while lots of mountains in Scotland involve a grassy ascent and descent with no tricky sections.
A technical mountain run on the other hand always involves a mountain and always involves technical terrain. That can mean you're scrambling as well as running and hiking and tackling tricky terrain, such as scree running and crossing boulder fields and ice fields. You may be on trail for part of it, but there will be sections that are entirely off trail and marked by cairns. If you're heading out into the backcountry in high mountain ranges like the Rockies, or up a 13er or 14er, you should expect technical terrain and know how to navigate.
Technical mountain running vs trail running: elevation
Speaking of mountain ranges, another feature that can set technical mountain running apart from trail running is elevation. Again, a trail run could take you up a mountain so it could involve elevation change, but it doesn't have to. In fact, there's lots of great trail running in Kansas City, which isn't exactly known for its mountains.
It goes without saying that technical mountain running occurs on areas of higher elevation, and this is significant not only because you can expect steep slopes that require a higher degree of fitness and greater care on the ascent. In many areas, you'll want to train for high altitude before you set off on a technical run, and if you're visiting the area or traveling in for a race, give yourself a few days at least to acclimate. It's generally a good idea to assume you're going to need more hydration than at sea level, and will move slower than your sea level pace and not try to maintain your usual clip.
Equally as important is understanding that, because technical mountain runs will take place at higher altitude, the weather conditions can be much more extreme. It will be colder up high than it was in town or even at the trailhead, the risk of lightning strikes is higher, you can be running in thick fog and any moisture down low can be sleet, hail or rain up high. Brutal, and potentially life-threatening.
If the weather down low is already blustery or unpleasant, you should stick to a lower lying trail for a run rather than heading for the hills.
Technical mountain running vs trail running: gear
There is certainly some crossover in terms of the clothing you'll need for technical mountain running vs trail running, for example:
However, if you're going for an hour-long run along a low lying trail, you might not carry water and if it's warm, you may leave your running jacket behind. However, CSAR advises you bring all the of the following gear when setting off on a technical mountain trail:
For a long distance but non-technical trail run, you'll want many of these items too, but as you can see, as a general rule, technical mountain running requires more gear.
Technical mountain running vs trail running: distance
There's no difference between the distance of a technical mountain run vs a trail run, and in fact, either one can be long, medium or short distance. A technical mountain run could entail a two-mile steep ascent followed by the same downhill and still be super technical, or it could string together several mountains for an ultra experience, such as the The La Plata Enchilada in Colorado which runs along Parrott, Madden and Gibbs peaks near Durango.
Similarly, you could head out for a pleasant half-hour run along The Vail Trail and it definitely counts as a trail run, or you could take on a Grand Slam race like the legendary Leadville 100, which goes for 100 grueling, high altitude miles but is mostly on forest trails and mountain roads.
This article is part of Advnture's Trail Running Week 2023 (running from Monday 27 March to Sunday 2 April), our in-depth look at how to train smarter, choose the right gear, and have fun when things get muddy.
All the latest inspiration, tips and guides to help you plan your next Advnture!
Julia Clarke is a staff writer for Advnture.com and the author of the book Restorative Yoga for Beginners. She loves to explore mountains on foot, bike, skis and belay and then recover on the the yoga mat. Julia graduated with a degree in journalism in 2004 and spent eight years working as a radio presenter in Kansas City, Vermont, Boston and New York City before discovering the joys of the Rocky Mountains. She then detoured west to Colorado and enjoyed 11 years teaching yoga in Vail before returning to her hometown of Glasgow, Scotland in 2020 to focus on family and writing.