Are water shoes good for hiking? Can you go from sea to summit in the same pair?
We consider whether or not water shoes are good for hiking, revealing the products that we think tick the boxes when it comes to different kinds of walks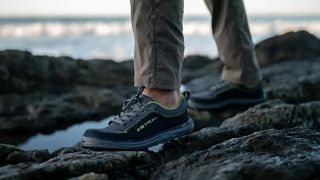 (Image credit: Astral)
Are water shoes good for hiking? If you're asking this question, you're probably after the footwear equivalent of James Bond's 1976 Lotus Espirit, which the suave British action hero drove into the Mediterranean Sea during The Spy Who Loved Me. No, we're not talking about secret rocket launchers in the midsole, we're talking about the ability to seamlessly transition between the big blue and the land – the ability to go from sea to summit.
Anyone who's donned water shoes for a spot of coasteering or canyoneering will know that a quality pair boasts excellent grip on wet rock and protection from abrasion, which are two desirables in hiking shoes too. However, water shoes, with their neoprene uppers and sock-like fit, often bear more resemblance to a wetsuit than something for the backcountry trails.
So, can you realistically take a pair of the best water shoes and use them to tackle a named trail or even summit a mountain? In essence, are water shoes good for hiking? The short answer is yes, certain water shoes are good for certain kinds of hikes but it really does depend on the individual shoe, as some are better suited than others.
In this guide, we take a look at how water shoes are different to hiking shoes, which ones we'd recommend for the trails and give our overall verdict on their suitability.
How are water shoes different to hiking shoes?
Designed for amphibious adventures, water shoes are an essential for those who spend plenty of time in and out of the water. Kayakers, scuba divers, snorkelers, beach dwellers and wild swimmers, among others, all benefit from the design of a good pair of water shoes.
Many of the finest water shoes feature a neoprene upper. Neoprene is a kind of rubber that's used on wet suits and is completely waterproof, highly insulating, stretchy and durable. However, it's not an ideal material for hiking, as it has zero breathability, unlike leather or polyester-based synthetics.
However, some water shoes feature a fast-drying synthetic mesh upper and closely resemble lightweight hiking shoes. The key difference here is that these kinds of water shoes are designed to get thoroughly wet but then drain and dry fast, whereas standard hiking shoes are designed to repel wet conditions in the first place, often with a waterproof membrane like Gore-Tex.
The area that water shoes and some hiking shoes have most in common is the outsole. Both these kinds of footwear are designed to provide solid traction on both dry and wet rock, as well as protection from cuts and abrasions. These kinds of soles are great for the kind of wet rock scrambling encountered when coasteering. In both, you can often expect aggressive treads, hard-wearing rubber and deep lugs.
For example, Vibram's V-Aqua barefoot style water shoes boast the brand's MegaGrip compound, which gives magnificent grip on both wet and dry ground. It's the same compound featured in hiking footwear like Aku's Rock DFS GTX approach shoes, Danner's Trail 2650 Campo GTX hikers and Merrell's Agility Peak 5 trail running shoes.
So, which water shoes are OK for hiking in?
Best for rocky adventures: La Sportiva TX Canyon
Looking more like a hiking boot than a traditional water shoe, La Sportiva's TX Canyon is a holey cousin of the excellent TX Guide Leather approach shoe and is designed for unbeatable grip and protection when traversing wet rock. There are compromises, namely weight, price and the fact they're hardly the most subtle pair for bar afterwards.
Best for beach walks: Chaco Torrent Pro
These comfortable water shoes are great for strolls along the beach. They're quick-draining, quick drying, vegan friendly and won't look out of place at the pool party. However, they're not the grippiest or most protective, so not great for adventures involving rock.
Read our full Chaco Torrent Pro review
Best for comfort over long distances: Astral Brewer 2.0 / Brewess 2.0
A versatile water shoe that has sneaker-style good looks. Its slightly rockered sole and sturdy midsole makes them more comfortable over longer distances than most water shoes.
Read our full Astral Brewer 2.0 / Brewess 2.0 review
Overall verdict
The term water shoes covers a huge range of styles, so some are better as hikers than others. However, many pairs are perfectly suited to short hikes where you expect to be in and out of streams, walking along the beach or taking on a short boggy trail. In fact, they're arguably better suited to these kinds of adventures, thanks to their quick-drying qualities and low weight. If wet rock is involved, as it often is on canyoneering missions, you'll want an aggressive rubber sole with the high levels of traction you'll need, such as with the La Sportiva TX Canyon.
However, more technically challenging coastal or mountain trails call for footwear with greater ankle support and more protection than water shoes provide. Comfort is also a huge consideration on longer hikes. Water shoes are designed to keep you comfortable when you intend to get wet. On a big mountain day, one of the main aims is to avoid getting wet. A cushioned and waterproof boot can feel like a snug protective cocoon for your feet on those kinds of hikes, certainly preferable to something with loads of holes in it.
Sea to summit? Not quite, unless the summit is a relatively modest hill. So, we wouldn't recommend going up a mountain in water shoes. Nevertheless, when all is said and done, hiking in water shoes is certainly better than hiking in flip flops.
All the latest inspiration, tips and guides to help you plan your next Advnture!
Alex is a freelance adventure writer and mountain leader with an insatiable passion for the mountains. A Cumbrian born and bred, his native English Lake District has a special place in his heart, though he is at least equally happy in North Wales, the Scottish Highlands or the European Alps. Through his hiking, mountaineering, climbing and trail running adventures, Alex aims to inspire others to get outdoors. He is currently President of the London Mountaineering Club, training to become a winter mountain leader, looking to finally finish bagging all the Wainwright fells of the Lake District and hoping to scale more Alpine 4000ers when circumstances allow. Find out more at www.alexfoxfield.com