How to hike in snow: everything you need to know
Our guide to how to hike in snow helps you plan ahead and make a few small adjustments to your walking technique so you can have fun in all conditions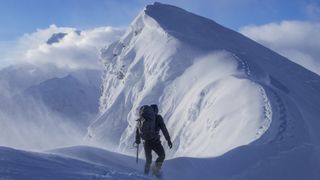 (Image credit: Buena Vista Images)
Hiking through crisp snow is breathtakingly beautiful, but it's also more difficult and tiring than regular hiking, especially if you're unprepared. Our guide on how to hike in snow helps you to plan ahead, make a few small adjustments to your walking technique and stay on track so you can have fun in all conditions. If you're going to be hiking in snowy conditions a lot, you'll also want to take a look at our winter hiking tips and read our article on avalanche safety if you're going up steep slopes.
How to hike in snow: going uphill
Take exaggerated steps by bringing your knee up much higher than you normally would to get your foot clear of the snow, then keep your weight back a bit as you stamp your foot into the snow to make sure what you're stepping into is safe.
Kick your toe hard into the snow if you're ascending a steep slope.
Make sure your front foot is stable before shifting all your weight into it.
Try the duck walk if the snow feels slippery, by turning your toes out.
How to hike in snow: going downhill
On the downhill, the risks of falling are much greater so slow it down.
Kick your heel hard into the snow with each step and make sure the foot is stable before taking the next step.
If the slope becomes very steep or there is some scrambling involved, don't be afraid to employ the "skootch" by sitting down (ski pants or waterproof trousers are a good idea here), planting your feet downhill then bending your knees to slide your bum down to your feet.
You can also turn around to face the slope and use your hands and feet to clamber down steeper areas.
How to hike in snow: more tips for success
1. Wear good hiking boots
Hiking boots are the best type of footwear for snow. There are definitely people who seem to hike anything in trail running shoes – this is partly because they like being able to feel the trail underfoot – but unless you want wet, cold feet, you'll be happier with the protection of waterproof hiking boots which will keep your feet dry and warm and also protect you from bashing your feet on harp rocks that are hidden by snow. Make sure you get a pair with really good soles such as Vibram soles with deep tread to provide plenty of grip. Ideally, pair yours with gaiters because if the snow is more than a few inches deep, it will fall inside your boot with each step and you'll end up with cold, wet feet anyway.
The same boots will be usable for summer hiking, but you might also want to consider a pair of specialized winter hiking boots.
2. Give yourself more time
Walking in deep snow is much slower going than walking on dirt or even packed snow, and it will be slower still if you're breaking trail. Leave more time than usual and also don't expect to be able to hike as far as you can in summer.
3. Look for tracks
Breaking trail – walking on untouched snow – is hard work, so if someone has already been up the trail before you, it's easier to follow their footprints. They've already put in the work for you by packing down the snow with each step, so if you step where they stepped, you usually won't sink down any further. This also helps you see where there are deep holes or problem spots.
You will, however, need to continue to navigate in case the person you're following got lost or was taking a different trail so you don't follow them into a dangerous situation.
4. Take turns breaking trail
You should really be hiking with friends if you're out in the snow, so if you can, take turns breaking trail. You break trail for about 1/4 mile then trade off with someone else in your group. If you are hiking with your dog, you can let it go ahead and help to break the trail too.
5. Use trekking poles
Even if you don't use trekking poles in summer, they will be your best friend for hiking in snow. You won't be as stable as you are on dry ground as the earth beneath your feet can move and slide.
Any time you are stepping into untouched snow, you can use your pole to test the ground before your step. Stab your pole into the ground until it tsouches something solid – this helps determine how deep the snow is so you can be prepared if you're about to step into something really deep, or take a different route. Also, the chances are no matter how careful you are, your foot will move once you weight it, so plant your poles first to help keep you upright. On the downhill, after you kick your heel in, plant both holes a little in front of you and use your arms to bear some weight and take a little of the strain off your quad muscles.
If you post hole – meaning, sink up to your thigh in deep snow – poles can help you climb back out.
If you don't have poles, you'll definitely want to be wearing waterproof, insulated hiking gloves since in deep snow, chances are you'll be using your hands as well as your feet.
6. Learn how to navigate
Snow can cover a lot of the markers we use to navigate, and even a familiar trail can become disorienting, especially if you're up above treeline. You'll want to navigate as you go – not get lost then try to correct yourself – so stop often and get your bearings to make sure you're heading in the right direction. Start with our articles on how to use a compass and how to read a map and consider taking some skills classes if you're going to be doing lots of hiking in snow.
7. Know when you need to get a grip
While you won't need grips for all snowy hikes, when you're walking in true winter conditions you can make life easier (and safer) by using walking grips, such as snowshoes, crampons, Yaktrax or microspikes. Each of these have different applications, for example snowshoes work as flotation in deep, fluffy snow by spreading your weight out while Yaktrax provide grip in packed snow.
All the latest inspiration, tips and guides to help you plan your next Advnture!
Julia Clarke is a staff writer for Advnture.com and the author of the book Restorative Yoga for Beginners. She loves to explore mountains on foot, bike, skis and belay and then recover on the the yoga mat. Julia graduated with a degree in journalism in 2004 and spent eight years working as a radio presenter in Kansas City, Vermont, Boston and New York City before discovering the joys of the Rocky Mountains. She then detoured west to Colorado and enjoyed 11 years teaching yoga in Vail before returning to her hometown of Glasgow, Scotland in 2020 to focus on family and writing.