How to pack a backpack
By Jasper Winn published
If you know how to pack a backpack properly, you'll be self-sufficient and ready to take on a multi-day adventure.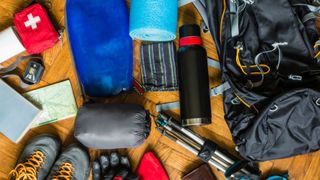 (Image credit: Getty)
It's no surprise that backpackers know how to pack a backpack. Do it wrong and you become the go-to cartoon image of a backpacker, someone who's sweating, buckle-kneed, staggering along under a huge and bulging bag hung with spare boots, a dangling kettle and a cast iron frying pan. The way to avoid being the caricature and having an easier and more comfortable experience is to know how to load that all-important backpack.
Advance technology and new materials have led to the evolution of better and more ergonomic backpacks, as well as weight-saving kit to go inside them, so it's never been easier to pack light. But there are still some guidelines and even a few rules that can make the difference between comfort and struggle when carrying your world on your back.
The pack
First and foremost, make sure you have the right sort of backpack. This is a whole topic in itself, and pack preference is quite subjective, but for a backpacking trip it is useful to have a pack with a few pockets and easily accessible sections where you can stash things you might want to locate and source quickly and easily. Extra layers, and waterproofs for example. And snacks.
Although it's tempting to go for a pack with large volume capacity – remember, the bigger a bag is, the more you'll put in it. We'll get on to this, but for a successful backpacking trip, you need to be ruthless with your selection and rejection of gear. Don't tempt yourself into carrying more than you need.
Beyond that, make sure you're completely comfortable wearing the pack, and that the harness doesn't sit awkwardly or rub you.
Making a list, checking it twice
Think through a coming journey and make a checklist, not only of your normal trip carry, but adding things you might need for the specific adventure ahead: do you need a water filter, particular maps, gaiters? Assemble all the kit before you start packing. Sounds obvious but there's nothing more annoying than finding you've forgotten to put your sleeping bag liner in with the rest of your sleeping kit in its waterproof bag and so having to unpack and start again.
Less is more
Before you start putting things into the backpack, have another look at what you're taking. That thing you're going to haul along 'just in case'… what are the chances you'll really need it? And if you do, is there something else you're already carrying that might work as well? (A titanium mug for a second pot, for example.) Knowing what you really need – and learning to need less (though better) kit – are two skills that come with more experience.
Don't overstuff your backpack – there's little more frustrating when out on the trail than having to wrestle all your kit out and back in just to get to something wedged in tight. Something that works for me when it comes to packing for a multi-day or weeks' long hike is to pack everything into the smallest backpack it will physically fit into and then take it all out again, add absolutely nothing, and repack it all into a slightly bigger rucksack. That means my kit is packed loosely enough to rootle through easily, and there's extra room inside to add supplies or anything else picked up along the way.
Get your balance right
Most people have their own system of organising and packing what they need, to suit their own style, but there are some basic rules. Keep the heaviest items low down and as close to your back as possible so the most weight is being carried close to the hip belt and isn't either pulling you backwards or swinging about over your shoulders and unbalancing you as you walk or scramble. Make sure that nothing hard or pointed, (cookware, tent pegs), lies up against your back - especially if using a lightweight pack with a minimal frame. If I'm using a cut-down foam mat for a sleeping pad, I'll often fold it and put it inside against my back to provide extra padding. Consider ease of access and being able to get to things in relation to how often – or how quickly in the case of waterproof clothing and first aid kits – they might be needed.
Dry proofing the essentials
You'll be easier in your mind if you pack anything that must not get wet in a light drybag, even if you're using a waterproof packpack. 'Belt and braces' is a good policy, especially when it comes to keeping sleeping bags and warm clothing dry. It's best to place sleeping gear towards the bottom of the pack so it doesn't have to be taken out – especially if it's raining – before you've set up camp.
Fragile - or small, hard items - can be wrapped in a sleeping bag if not needed during the day. Also insulate spare batteries if walking in the cold months, when they drain quickly.
General organisation
If you have a tent that erects fly-sheet first you can separate out the inner and keep just the flysheet, poles (if not using walking poles) and a few pegs at the top of the pack to get basic shelter up quickly at the end of the day. Then you can relax and set up the inner and unpack everything else undercover whatever the weather.
I think of organising the equipment I'm carrying into 'rooms'. So I put everything for sleeping into a 'bedroom' bag. Cooking equipment in a 'kitchen' bag, with another soot-, fuel- and grease-proof bag inside that for pots and stoves. And so forth. There's little more annoying than finding your spoon isn't with the rest of the cooking utensils just as you're getting going on the rice and chilli beans.
Nylon, draw-string storage bags are cheap, super lightweight, and come in all sizes, so they are good for organising your kit into those 'rooms' – especially if you use different colours for different bags, for quick identification purposes.
I carry one small drawstring bag near the top of my pack, which is the equivalent of an old sailor's 'ditty' bag; a place to put odds and ends that might be needed, though one doesn't know where or when. It's where I put some string, Duct tape (a length wrapped round a pencil to save space), tiny tube of superglue, spare batteries for any electrics like GPS, a small back-up torch and the like. I usually put my first aid kit in there, too.
Hydration
Having one or more zipped access points into different sections of the main part of a backpack isn't so usual in modern lightweight packbacks, but most still have at least one outside large front pocket (good for folded maps, snacks) and/or two deep side pockets. Side pockets often take a litre or similar water bottle, and that's handy for on-the-move hydrating, but try to balance the weight in the two pockets reasonably closely; I tend to use tins of sardines as my movable backpack ballast.
Some backpacks have a dedicated pocket for a hydration bladder, with a portal for the drinking tube to exit by your shoulder. These reservoirs then sits centrally on you back, within the body of the pack, which alleviates the need for a balancing act, and having the tube easily accessible means you're more likely to keep well hydrated. Having water inside my pack does make me nervous, but the bladders are extremely well made these days.
Easy access
Most backpack designs have either an external or internal top lid pocket. This is a good place to keep things you might need quickly during the day, or when you first get into camp. This is where i put my ditty bag with its torch, first-aid and repair stuff if there's room. It's also where if keep another tough waterproof bag where I keep my wallet, keys and other valuables, and often my phone too. This bag gets clipped onto the 'key-clip' that most backpacks have in their top compartment; if there isn't one I sew something in myself.
If a backpack has pockets on the hipbelt wings they can be handy for compass/GPS, on the go snacks; but they need to be loose enough not to compromise the fit of the belt, and shouldn't interfere with the swing of your arms if filled.
Each day, before breaking camp, try and predict from the map and the weather forecast what might happen during the day and what you might want to have at the top of your pack or in an outside pocket where it's easy to get at. If you're climbing higher, that might mean a beanie cap and a warm layer; if it's going to be hot, then suncream and sunglasses; or if passing a village, then some money and possibly a phone charger.
Straps
I keep my waterproofs – whatever the forecast, and whether it's a poncho, jacket or full set of foul-weather gear – on the outside of my pack. I stuff them into a long, narrow bag to make a 'sausage' several feet long but thin – more of a Frankfurter really - which I bend over the top of the pack and secure with the side compression straps.
Compression straps are important for their designed purpose too. You should have a volume of kit that's compact enough to leave a good bit of space in your backpack; cinch the straps in tight to stop things moving as you walk and keep everything inside in its place.
And now you're ready to hit the trail. Try not to spend the first hour worrying about what you've left behind. Whatever it is, you'll quickly learn to live without it.
After a wild childhood in west Cork, Jasper Winn began embarking on long cycles, walks, horse journeys and kayak trips across five continents – adventures he's decanted into books, magazine articles, radio and television documentaries. Keen on low-tech but good gear, Jasper is an advocate of slow adventures by paddle, pedal, saddle, boot and sail. He has circumnavigated Ireland by kayak and cycled across the Sahara. Twice. Having ridden north-to-south across Algeria he discovered the only way to get back was to turn round and pedal north again.
All the latest inspiration, tips and guides to help you plan your next Advnture!
Thank you for signing up to Advnture. You will receive a verification email shortly.
There was a problem. Please refresh the page and try again.